Vol. XXII • Issue 4 • August 23, 2019 •
Message From The Principal
Dear ELC & LS Parents,
Our Grades 1 to 5 students should have brought home their Club Booklets today. Please take the time to go through the possible after-school activities your child can to sign up for this first semester. Deadline to turn in Club Forms is next Friday, August 30.
Parent Orientations are happening on Tuesday and Wednesday next week (see schedule below). We will be meeting as a whole group first and then you will be dismissed to attend the class orientation by your child's Homeroom Teacher. Some points to note:
If you have multiple children in either the ELC or LS, it would be good to have both parents attend so you can 'divide and conquer'. If only one parent is attending, decide on which child's orientation you would like to sit in, then inform the teacher of your other child so you can make arrangements to get the information you would be missing.
We will have Teacher Aides on supervision duty during the orientations but if you have 'Yayas' who can come and look after your child while you are in the meeting, please make that arrangement.
If your child is a bus rider and you plan to have him or her ride home with you instead, please make sure to send a note stating this arrangement to (1) your child's HR Teacher, (2) the (ELC/LS) Office, and (3) the Transportation Office.
Finally on Wednesday, August 28, our Grades 3-5 students will start sitting for their Measures of Academic Progress (MAP) Tests. Your children will be taking three exams–Math, Language Usage and Reading.  Please make sure that your child gets enough sleep prior to the test and have a good breakfast on the day of the test. There is no need to study or review for MAP tests.
We are facing a three-day weekend with the national holiday (National Heroes Day) on Monday, August 26. Have a safe and relaxing weekend!
May Godspeed,
Important Dates
AUGUST
26
No School
(National Heroes Day)
27
LS Parent Orientation (2:15pm)
28
N-PK Parent Orientation (11am)
K-2 Parent Orientation (2:10pm)
Start of Fall MAP Testing (G3-5 only)
29-30
Head Lice Inspection
KIDISMS

Fire Drills and Faith
Principal: I'm so glad it's cloudy this morning.
2nd Grader: Yes! That's God giving us this great big shade.
Simple Joys
Teacher: What's the best thing about your summer break?
4-year old: Going to McDonald's!
Before Anything Else…
"…there's something I have to tell you, I looove Iron Man!"
–  Applicant Interview,July 2019
The Checklist Manifesto
Principal:    Did you have many friends in your old school?
6-year old:  Yes, 194! I listed them all down.
Parent Orientation Schedule
| Date (Day) | Event | Time | Venue |
| --- | --- | --- | --- |
| August 27 (T) | LS (G3-5) Parent Orientation * | 2:15 p.m. | LS Library, Classrooms |
| August 28 (W) | N-PK Parent Orientation | 11 AM | ELC Library |
| | K-2 Parent Orientation * | 2:10 p.m. | ELC-MPH, Classrooms |
* For the parents of our English as Second Language (ESL) students in Grades 1 to 5, the Grade-level ESL Parent Orientations are held about an hour earlier on the same day as their respective parent orientations.
LS Christmas Production Auditions
UN Day Information Meeting
Upcoming Lower School PTA Coffee Talk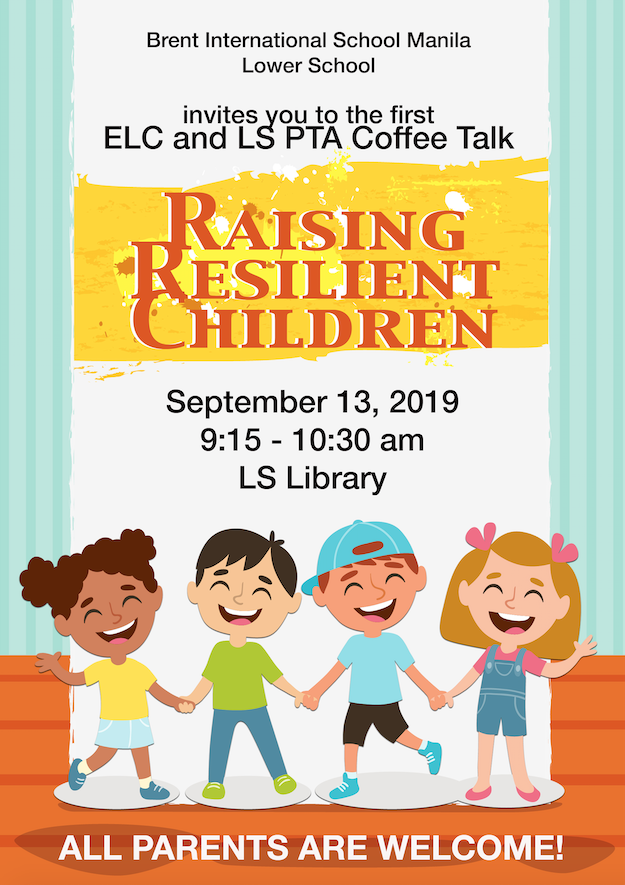 Calendar of Activities
News and Notes
•  Please be sure to complete the Student Data Sheet, Clinic Form, Corporate Text Messaging and review other important documents in the First Day Folder of your child given on the first day of attendance. Thank you!
•  Please be sure to send a healthy snack daily for your child's afternoon recess break.  We strongly discourage the drinking of soda in the Lower School.  ID Account deposits will not be accepted in the school offices.  Please send your deposits to the Main Cafeteria or Cashier.
•  Our "Late-Start Thursday" schedule beginson August 8.  All students should arrive at school by 8:40 am.  We are not able to provide before school care as all faculty are involved in school-wide meetings.
•  Brent International School requires all parents/visitors to sign in and get a visitor's ID card. Permanent ID cards are available for all parents through the Security Office in the Administration building. When displaying a permanent ID card, parents are no longer required to get a visitor ID card each visit.
•  For Bus Services/Concerns you can contact the Transportation Office at (049) 511-4354 or Trunk Line (049) 511-4330 to 33 or (02) 779-5140 to 46 ext. 518. Any Transportation concerns after 4:30 pm, please call the Ms. Zusie Bico at 0918-912-4230.
•  Both ELC & Lower School foster and encourage its students to be independent. Therefore, parents, yayas, and drivers may walk students to their classrooms during the first week of school, after which students are expected to walk to their classrooms independently from the front entrance.
 •  Attendance is checked at the beginning of each day. If you know that your child will not be in school, please call the ELC (Verna) at (049) 511-4330 to 33 or (02) 779-5140 to 46 ext. 711 or Lower School (Abby) at ext. 111 by 9:00 A.M.  We view absences as "explained" or "unexplained," so please send in a note/excuse letter ahead of time for planned student absences, going out of town, etc., for consideration/approval.
Students arriving after 8:00 a.m. Mondays to Fridays except Thursdays at 8:40 a.m. are considered tardy and should not be permitted in to class without a pass from the ELC/Lower School Office.  Exceptions are made for late buses and heavy traffic days (accidents/out of the ordinary) on the south super highway, etc.
Please note that five or more tardiness per semester will eliminate a student for consideration of the Annual Perfect Attendance Award.
•  If your children are leaving early, before the end of the school day, a parent/guardian must come by the school office to sign them out and secure a student pass.  Also any changes to your child's dismissal pattern (going home with a friend, car instead of bus, etc.) must be submitted in writing (with parent signature) at least one day prior to the change.  The homeroom teacher and bus coordinator (if they ride) need to be informed.  This is for children's safety and security.  We appreciate your assistance in knowing their whereabouts during dismissal and mode of transport home.
•  Cellular Phones, Electronics, and Other Valuables. Parents and guardians are requested to help make sure that students do not bring valuables to school such as cellular phones, electronic devices, large amount of cash, and expensive jewelry. When the children are swimming or involved in sports, remember that all jewelry and watches are removed for safety purposes. Students are not allowed to wear valuables on sporting/P.E. days. These items are very difficult to find once they have gone missing and there is no need for them in the ELC and Lower School.
•  Temporary Change in Contact Information.  For general information as well as security, medical and legal reasons, we ask for your support in completing our Temporary Contact Information form if travels require you temporarily leave a student in the care of another individual. Copies of the form are currently available in each of the school offices and can be downloaded from our website. We ask that you please submit the completed form to your child's school office before your travels take place.
•  Birthday parties of any type are not allowed in classrooms/cafeteria. Birthday parties of any type are not allowed in classrooms nor in the Cafeteria. Parties that are acceptable throughout the year and in general include Christmas and end of the school year parties only.
If a student wishes to distribute invitations for a private party they must be given to all students in the class or to none at all. If they wish to only invite select students/part of the class the invitations must be distributed in another manner or mailed to the invitees. Addresses and phone numbers of students in a particular homeroom class may be obtained by the student recording them from classmates during recess time. Due to personal privacy the school is unable to release this information.