Vol. XXI • Issue 33 • April 26, 2019 •
Message From The Principal
Dear ELC & LS Parents,
Hard to believe that it will be the last two days of April when we come back next week. Then May is here! The final weeks of school usually go by so fast. I do ask for your close attention to year-end requirements and deadlines (found in the May Calendar of Activities below) so that everything will go smoothly.
We continue with our celebration of our Festival of the Arts this afternoon with the Solo & Ensemble Recital at 2:30 p.m., and the various music recitals participated by our fourth and fifth graders this coming week. Let us not forget our final event, the Annual Dance Recital, which is participated by our dance students from Grades 1 to 5.
| Event | Date & Day | Time & Venue | Participated by |
| --- | --- | --- | --- |
| Recorder Recital | April 29, Monday | 9:30 AM, Theater | G4 Students & G5 Music Class |
| Orchestra Recital | April 29, Monday | 5 PM, Theater | LS/MS/US Orchestra students |
| G5 Band Recital | April 30, Tuesday | 1:30 PM, Band Room | G5 Band Students |
| Annual Dance Recital | April 30, Tuesday | 4PM, Theater | LS/MS/US Dance Students |
After-school Clubs finally ended yesterday (April 25). This means that all Grades 1 to 5 students will now be going home soon after class dismissal which is 2:25 p.m. for the ELC and 2:35 p.m. for LS. Please make sure to pick up your child on time, as we will not have regular supervision for them.
May 1 (Wednesday) is Labor Day holiday. There will be no school then and offices will be closed.
The much-awaited LS Track & Field Meet will be on Saturday, May 4. This is open to all Grades 3 to 5 students and they are encouraged to join as many events they want. Letters for after-school training have gone home this week. For more information, you may email Coach Manas at gmanas@brent.edu.ph.
Lastly, we have one final House event for the year and that is House Swimming! Save the date: May 7, Tuesday! Come cheer for your child and his or her grade level teammates at the following block times:
HOUSE SWIMMING TIMES

| Grade Level | Block | Time |
| --- | --- | --- |
| Nursery/Pre-K | Block 1A | 8:10 – 8:50 a.m. |
| Kinder | Block 1B | 8:50 – 9:30 a.m. |
| Grades 1 & 2 | Block 2 | 9:30 – 10:45 a.m. |
| Grades 3 & 4 | Block 3 | 11:35 a.m. – 12:55 p.m. |
| Grade 5 | Block 4 | 1:15 – 2:35 p.m. |
May Godspeed,
Important Dates
April
24-30
Festival of the Arts Week
May
1
No School (Labor day)
4
LS Track & Field Meet (Open to G3-5)
5
LS House Swimming
13
No School (Elections)
22
N/PK/K Moving Up Day
29
Baccalaureate Service
Lower School Awarding Ceremony, 8:15am
G1-12 Moving Up Day
KIDISMS

Charge it to Experience
Secretary: Teacher, the Principal would like to see you.
Kinder Student: Teacher, why are you in trouble?
Elementary, my dear Watson!
Student 1:  How can you tell that the Principal, Miss Jingco, and the ESL Miss Jingco are really sisters?
Student 2:  It's the hair!
Student 3:  No, it's not! It's the name!
A Never Ending Story
"I also just had a haircut. But then it grows.
Then I have to get a haircut again. It's really boring."
– 5 years old
Catch Me If You Can
Aunt:  If you do that, the police might catch you. You don't think you can get away with that?
6-yr Old:  Yes, I can! I have a get-away car!
Annual Festival of the Arts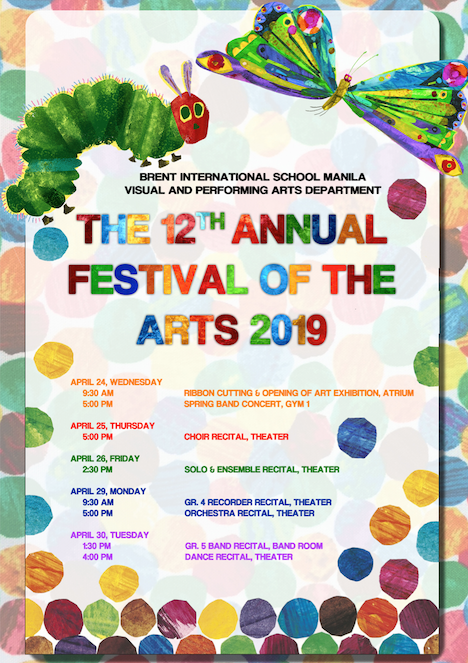 Calendar of Activities
News and Notes
•  Birthday parties of any type are NOT ALLOWED in classrooms nor in the Cafeteria. Parties that are acceptable throughout the year, and in general, should only include Christmas and end of the school year parties.
If a student wishes to distribute invitations for a private party they must be given to all students in the class or to none at all. If they wish to only invite select students/part of the class the invitations must be distributed in another manner or mailed to the invitees. Addresses and phone numbers of students in a particular homeroom class may be obtained
via the homeroom contact information sheet and for other classes by the student recording them from friends during recess time. Due to personal privacy the school is unable to release this information without permission from parents.
Guidelines
Birthdays are recognized in class and during Chapel.
Handing out of tokens or 'goodie bags' to classmates is allowed but they need to be reasonably minimal, mostly composed of pens/pencils, erasers, stickers, etc. Food in 'goodie bags' are discouraged as we have a number of students with severe allergies to various food items/ingredients.
Bringing in of cupcakes (at the most, and not whole cakes that will have to be sliced and served) to share with classmates is permissible. Again, please be aware of food allergies.
For the ELC, parents of children this young often want to have a blowing of candles as part of their memento of their child's birthday. Bringing in of a small cake with candles for the sake of candle blowing will be allowed however, this cake is not to be consumed in school and therefore will have to be brought back home.
No other food is to be bought at (such as pizza) or brought to school to celebrate a student's birthday. Parents, yayas or drivers will be told to bring them back home. If this is refused, the food will not be served in the classroom but instead will be placed in the Faculty Lounge for teachers to share.
•  Please be sure to send a healthy snack daily for your child's afternoon recess break.  We strongly discourage the drinking of soda in the Lower School.  ID Account deposits will not be accepted in the school offices.  Please send your deposits to the Main Cafeteria or Cashier.
•  Brent International School requires all parents/visitors to sign in and get a visitor's ID card. Permanent ID cards are available for all parents through the Security Office in the Administration building. When displaying a permanent ID card, parents are no longer required to get a visitor ID card each visit.
•  For Bus Services/Concerns you can contact the Transportation Office at (049) 511-4354 or Trunk Line (049) 511-4330 to 33 or (02) 779-5140 to 46 ext. 518. Any Transportation concerns after 4:30 pm, please call the following: Zusie 0918-912-4230 or Meng 0918-913-2756.
 •  Attendance is checked at the beginning of each day. If you know that your child will not be in school, please call the ELC (Verna) at (049) 511-4330 to 33 or (02) 779-5140 to 46 ext. 711 or Lower School (Abby) at ext. 111 by 9:00 A.M.  We view absences as "explained" or "unexplained," so please send in a note/excuse letter ahead of time for planned student absences, going out of town, etc., for consideration/approval.
Students arriving after 8:00 a.m. Mondays to Fridays except Thursdays at 8:40 a.m. are considered tardy and should not be permitted in to class without a pass from the ELC/Lower School Office.  Exceptions are made for late buses and heavy traffic days (accidents/out of the ordinary) on the south super highway, etc.
Please note that five or more tardiness per semester will eliminate a student for consideration of the Annual Perfect Attendance Award.
•  If your children are leaving early, before the end of the school day, a parent/guardian must come by the school office to sign them out and secure a student pass.  Also any changes to your child's dismissal pattern (going home with a friend, car instead of bus, etc.) must be submitted in writing (with parent signature) at least one day prior to the change.  The homeroom teacher and bus coordinator (if they ride) need to be informed.  This is for children's safety and security.  We appreciate your assistance in knowing their whereabouts during dismissal and mode of transport home.
•  Cellular Phones, Electronics, and Other Valuables. Parents and guardians are requested to help make sure that students do not bring valuables to school such as cellular phones, electronic devices, large amount of cash, and expensive jewelry. When the children are swimming or involved in sports, remember that all jewelry and watches are removed for safety purposes.  Students are not allowed to wear valuables on sporting/P.E. days.  These items are very difficult to find once they have gone missing and there is no need for them in the ELC and Lower School.
•  Temporary Change in Contact Information.  For general information as well as security, medical and legal reasons, we ask for your support in completing our Temporary Contact Information form if travels require you temporarily leave a student in the care of another individual. Copies of the form are currently available in each of the school offices and can be downloaded from our website. We ask that you please submit the completed form to your child's school office before your travels take place.