Vol. XXIII • Issue 37 • May 14, 2021 •
Message From The Principal
Dear ELC & LS Parents,
This will be our final newsletter for the year. It's simply amazing how time went by so fast. The Lower School teachers and I are not able to express our gratitude enough for all the support, collaboration and encouragement that you as parents have given throughout this school year. Your children have done really well and we are ever so proud of what they have accomplished. THANK YOU!!!
Next week from Monday to Friday, May 17-21, we will be set up to receive library materials that have been checked out to your children, as well as non-consumable materials that your children's Homeroom Teachers have asked for you to return. All library materials will be received by Media Center personnel in the Main Cafeteria while non-consumable materials will be received by the LS Office from 8AM-4PM. Thank you in advance for taking the time to work on this, as well as settling accounts, in time for the release of report cards on May 26 (Wednesday).
We shall also be celebrating all the wonderful experiences and great learning your children have gained all throughout the year this coming week. Nursery through Kinder will be having their Moving Up Celebrations on Wednesday, the 19th, while Grades 1 to 5 will be on Friday, the 21st. These days will also be their last day of school. We look forward to seeing you then!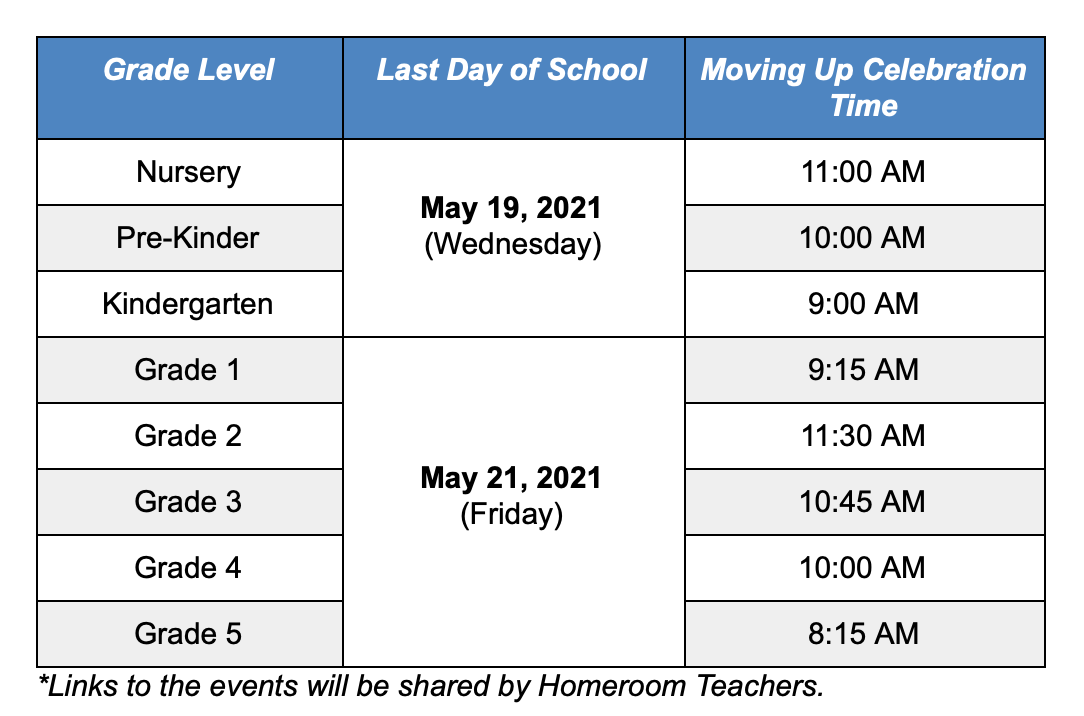 Finally, it surely has been an unconventional year. Looking back though, it's just awe-inspiring how much we were able to accomplish despite being 100% online. From their daily lessons to Dress Up Days, Christmas Productions, LS Student Council Fun Events, Spelling Bee, Art Exhibitions and the Spring Concert—the children have really shone and shown how they can be true learners for life!
I wish all of you safe travels to where the summer months may bring you. Take care, God bless and see you next school year!
Warm regards,

Age Matters
Teacher: Who do you live with? Do you live with family, friends or do you live alone?
1st Grader: Teacher, if I lived alone I wouldn't be in first grade!
Money Talks
Teacher: What would you do if you had Php 100?
2nd Grader: I'd buy four pieces of bubble gum.
Teacher: What would you do with the change?
2nd Grader: Keep it… so I can buy bubble gum again on another day!
Throwback Thursday *
"Miss Jingco, it's Friday tomorrow and there's no school!
Can we do a 'Sweet Day, Thursday' instead?"
– LS Students
* Just reminiscing some face-to-face days here. 🙂 – MRJ
Get Accustomed to It!
Teacher: Customary units for measuring liquids are ounces, pints, or gallons. Which one of those should we use for a mug of hot chocolate?
9 year old: Likely ounces. But for how much coffee you drink in a week, teacher, it's definitely measured by the gallon.