Spiritual Life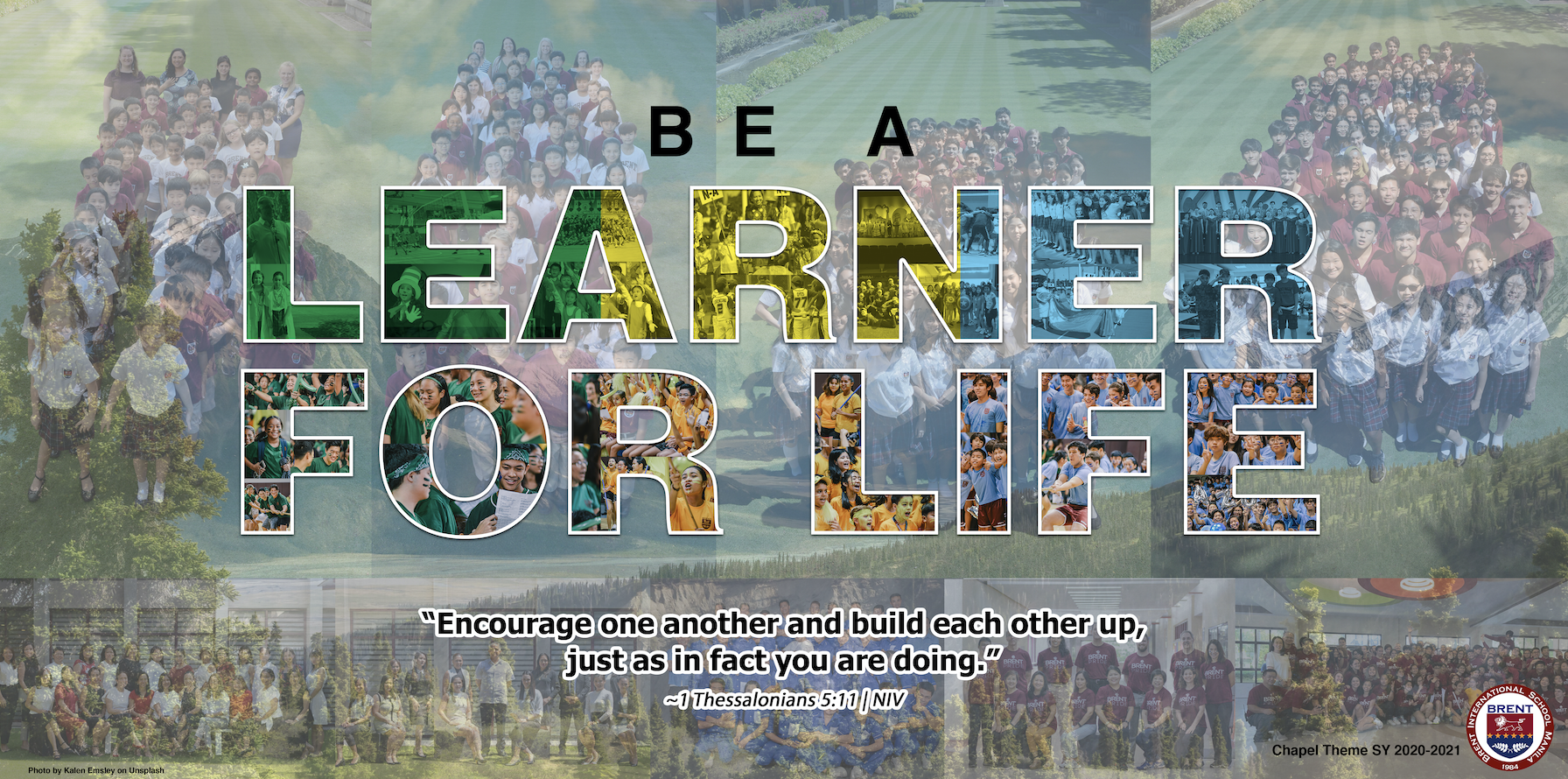 I'd like to begin with a prayer.
Heavenly Father, bless this school year 2020-2021. Guide and protect our families and us. We pray for all those who are sick and the suffering due to the pandemic. Strengthen the young, the elderly, the unemployed and the medical doctors, nurses and volunteers and front liners and their families. These we humbly ask in God's most holy and powerful name Father, Son and Holy Spirit. Amen. Thank you for praying with me.
Welcome everyone to the new School Year 2020-2021!
Our Chapel Theme this school year is
"Be a Learner for Life".
The accompanying Bible verse is
"Encourage one another and build each other up, just as in fact you are doing."
~ 1Thessalonians 5:11
The Chapel theme speaks for itself. Learning starts the day we were born or even while we were in our mother's womb. I don't know how far you remember. The first word, the first step, your favorite story and game or stuff toy, a friend. Then came your first day in school. Meeting a friend or two. Having the best day of your life.
There was the difficult 1 + 3… which you successfully solved with the help of your ever ready and dependable fingers and counting skills. Dealing with a bruise from a fall or someone mean and rude with a friend, teacher and parent. Writing your first journal or essay. I'm sure you might have kept a paper somewhere.
In the Chaplain's office, one can see a few drawings, and notes, pictures and stars on the wall. They are from our PTA and teachers, staff and from some of you and which you have generously given when you were in lower, middle and upper school. Thank you.
I am proud of these gifts and most of all for the many beautiful stories, the laughter, problems, life challenges and prayers that you've shared with me. Each one learns as you take on life's situations to the best of your abilities and pursue your dreams and passion. The journey and life goes on. We are proud of you!
We have learned and continue to learn each day. From the time you wake up, the sunshine and the rain; achievements and failures; the good and rough times, and the countless opportunities that allow us to see others and ourselves grow. We learn from them and are thankful. Indeed, life is the best teacher.
Brent School expected school-wide learning results (ESLRs) speaks of our Chapel theme. Brentonians are encouraged to be LIFE-LONG LEARNERS
demonstrate intellectual curiosity;
are self-directed;
integrate and apply what they learn to improve their own lives;
understand the values of continuous learning;
reflect on and evaluate their learning for the purposes of self improvement; and
use a range of learning strategies and time management skills to enhance learning.
In this time of crisis and pandemic, it is of utmost importance to help each other, work together and pray for everyone and the whole world. As we begin another school year, may we as our Chapel theme bible verse says, "Encourage one another and build each other up, just as in fact you are doing". ~ 1Thessalonians 5:11
Josh Groban lends his beautiful voice to a song full of encouragement and hope.
"You raise me up, so I can stand on mountains. You raise me up to walk on stormy seas. I am strong when I am on your shoulders. You raise me up to more than I can be"
As we go through this difficult time, may we take courage and strength in the knowledge and assurance that God is always with us.
God bless you and keep you safe and strong in His mercy and love.
Have a safe and wonderful school year 2020-2021
Fr. Benjamin A. Jance III
School Chaplain/Community Relations Officer