College Visits will continue during the 2020-2021 school year! Virtual visits will be scheduled during Independent Study, Student Wellness, and after school. Students can sign up for a virtual visit through Maialearning. Note: Some visits require an additional registration before students gain access to the visit. Information is posted on Maialearning.
UPDATES FROM THE ACTIVITIES OFFICE
The election season is around the corner so get ready to vote for the Executive and Grade Level Councils. All US students should join us on Tuesday, October 6, for the Executive Council Elections during Student Wellness. The following week we begin the grade level council elections on Tuesday, October 13 through Friday, October 16.
All events are on the Distance Learning Google calendar here with the full election schedule below.
Tuesday, October 6 – all US in attendance – Executive Council election
Tuesday, October 13 – Grade 12 attendance only – assembly for Senior Council elections
Wednesday, October 14 – Grade 11 only – assembly for Junior Council elections
Thursday, October 15 – Grade 10 only – assembly for Sophomore Council elections
Friday, October 16 – Grade 9 only – assembly for Freshman Council elections
PLDT MAINTENANCE THROUGH WEDNESDAY, SEPT. 30
Please note that our teachers are aware of the maintenance scheduled by PLDT and that they will make adjustments as needed for those with connectivity issues over the next few days.
NEW!!! IB ORIENTATION WORKSHOP FOR GRADE 10 PARENTS
Your child in grade 10 will receive an invitation for the preliminary orientation session about the International Baccalaureate Diploma Programme (IBDP). We would like to provide you with as much information as we can share about the program that your child will undertake in grades 11 and 12. This invitation is also open to parents of our Middle School and Grade 9 students.
Your presence and support is strongly encouraged at one of the upcoming sessions. To register for one of the dates below click the link. Once you have registered, the IB office will send you the zoom link for your chosen date.
There are two remaining dates that you can choose from.
Thursday, Oct 8, 8:00-9:30 am
Thursday, Nov 5 2:45-4:00 pm (Final date option for parents)
IB CALENDAR OF DEADLINES FOR 2020-2021 SCHOOL YEAR
All deadlines for the various IB projects, orals, research papers, EE, etc. are noted below. Parents please help our students stay organized with their IB assignments and due dates throughout the upcoming year.
IB ADAPTATIONS FOR 2020-2021 SCHOOL YEAR
UPCOMING: PROGRESS REPORTS
The electronic version of your student's 1st quarter progress report will be available via BASIS on Friday, October 9. The US Office will send a notice via corporate text and email once the report is available online.
PARENT TEACHER CONFERENCES (PTC) ON MONDAY , OCTOBER 12
Mark your calendars, the Upper School PTCs are coming up via Zoom meetings on Monday, October 12. Parents can begin signing up on Monday October 5 for 12 minute PTC sessions with each of your child's teachers. Students will have a regular schedule of classes on October 12. Lessons will be asynchronous with learning materials provided in advance. There will be no teacher contact on this day.
NEW!!! LIBRARIES CURBSIDE PICKUP OF BOOKS
Students and Parents will now be able to check out books from our school libraries beginning September 28 via Curbside Pick up. Books will be available for pick up at the school drop-off. Books will be checked out, loaded into bags, and properly labeled with names prior to pick up.
No overdue fines will be charged during school closure but we do encourage everyone to be responsible in returning books on time.
To support social distancing efforts, libraries are operating with limited staff. Wait times for holds placed online may take a bit longer than usual. Thank you for your patience.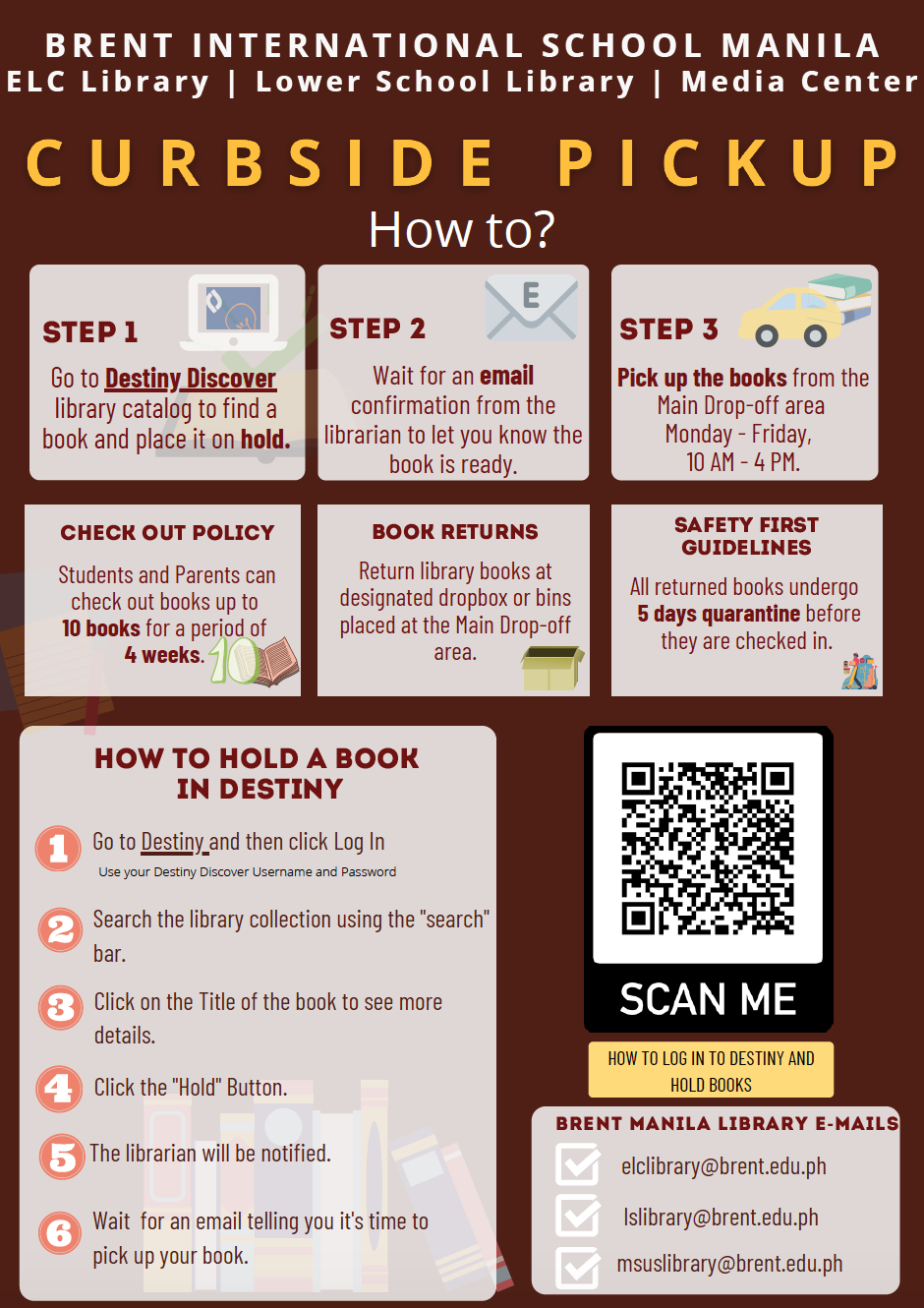 Curbside Pickup Hours: Monday – Fridays, 10 AM – 4 PM
Curbside Checkout, Pickup Procedures
 1.  Placing books on hold. 
Students need to login to

Destiny Discover

and use the online catalog to search for books and put on hold the ones they wish to borrow. If students do not know their login information, contact: ELC Library – elclibrary@brent.edu.ph; Lower School Library – lslibrary@brent.edu.ph; Media Center (MS/US Library) – msuslibrary@brent.edu.ph


Parents may also borrow books for their personal reading and on behalf of their child. Please email your respective library to have a separate account created.

Only books on regular circulation are

available and allowed

to be checked out. 

Students and Parents are allowed to hold and check out a maximum of

10 books for a period of 4 weeks

.  All 10 books can be checked out from just one library or can be an accumulation of books from the ELC Library, LS Library, and Media Center.
2.  Watch for an email notification that the books placed on hold are ready for pick up.
Students/Parents will be notified via email when the books placed on hold are ready. It is important that email addresses are up-to-date.

Confirm the receipt of the email and schedule a time for curbside pickup.

Library staff will pull out the books, check those out to the student's/parent's library account, and place them in a bag.
3.  Pick up the books.
After receiving the notification and arranging the pickup schedule, drive/bike/walk over to the school drop-off to pick up the books.

Once arriving at the Main Drop-off, approach any of the Security Personnel on duty at the desk and inform them about the books for pickup.

Books will be packaged in a plastic bag for streamline handling.

Grab and enjoy!
Curbside Returns Procedures
– A designated dropbox or bin is placed by the Security Desk at the Main Drop-off, for book returns.
– All returned books will have to be quarantined for 5 days before those are checked in. These items will still show on your account until they can be physically handled and checked in by the library staff.  
– It is only after books are checked in before new holds by students and parents are processed. 
Curbside Pickup FAQs:
Need help to register a library account?
– For parents who would like to register, click the link below to sign up: https://forms.gle/gMUzXGrrPCKhKA6m6
– For students library accounts, send an email to:
ELC Library – elclibrary@brent.edu.ph
Lower School Library – lslibrary@brent.edu.ph
Media Center (MS/US Library) – msuslibrary@brent.edu.ph
Need help with login to Destiny Discover and placing a hold?
– Here are the steps on how to log in to Destiny and Hold books. (video)
– Here are the steps on how to log in to Destiny and Hold books. (PDF)
Can I just get a couple of books without placing holds?
– No. Placing a hold on books in Destiny Discover is necessary for the library staff access and monitor the books (being) borrowed. Book requests sent through email will not be entertained.
Are the books I check out safe? 
– The school's library staff adheres to safe materials handling and facilities cleaning practices. If there are any concerns about the safety of the books checked out, – quarantining those items for 24 hours before touching them is advised. Please do not use cleaners such as Lysol or Clorox wipes on library books as these can cause damage to them. The library will charge anyone who is responsible for damaged materials.
Are games, kits, puzzles, curriculum, and teaching materials allowed to be checked out by students and parents?
– No. Instructional materials used by teachers, as well as reference books such as encyclopedias are not allowed to be checked out. 
Can I pick up holds for multiple people?
– Yes. Pick up for holds by multiple people is allowed but needs to be coordinated first with the library staff. Kindly inform the library concerned via email prior to the schedule of pick up. 
I no longer want to pick up my hold, but cannot cancel it. What should I do?
– If you cannot unhold a book, send an email to the library where your book hold is placed in order to let them know. They can unhold the book for you.
Here are the email addresses of our libraries:
ELC Library – elclibrary@brent.edu.ph
Lower School Library – lslibrary@brent.edu.ph
Media Center (MS/US Library) – msuslibrary@brent.edu.ph
Are library books being quarantined when returned?
– The library is currently quarantining returned books and library materials for 5 days. This is why returned books will remain in the student's or parent's account for a couple of days before being marked as returned. This is in alignment with the recommendations of experts from the Center for Disease Control (CDC), as well as the Institute of Library and Museum Services. 
NEW !!! FROM THE US COUNSELING OFFICE
Grade 11 students: MARK YOUR CALENDARS! Your first Zoom Counseling Lesson will be October 5th & 6th during your Study Hall. For students who do not have a study hall, we will be meeting on October 7th during Student Wellness. Before this meeting, you will need to complete the Criteria & Preferences activity on Google Classroom.
Every month this semester, the Upper School Counselors will provide parents with a "Coffee Talk" presentation on various subjects. Some of our talks will be pre-recorded videos and some will be live.
This month's pre-recorded Coffee Talk covers Maialearning 4.0, the new and improved version of the College & Career platform used at Brent. This video is useful for new parents, grade 9 parents, and parents who want a refresher on how their students use Maialearning. Watch the Coffee Talk here!
After watching the video, if you have any questions, please post them to the Coffee Talk Padlet.
October's Counselor Coffee Talk will be on Financial Aid for College/University.
TAILORING OFFICE AND SPIRIT SHOP OPERATING HOURS (EFFECTIVE SEPTEMBER 14)
Tailoring Office: every Monday, 8:00am to 4:30pm
Spirit Shop: every Friday, 8:00am to 4:30pm
Brentonians are adapting their skills to respond to the needs of a changing world while using technology in an ethically responsible manner. Let us all be safe and healthy while online learning! #BrentPride … #BrentManila
SAT TEST DATES FOR SCHOOL YEAR 2020-2021
Depending on government directives, the school is still scheduled to administer the SAT on December 5, 2020.
CLOSING OF SCHOOL – CANCELLATION OF CLASSES
Please be aware that the storm signal for Laguna is not the same as that of Metro Manila. Weather reports regarding Manila, therefore, may not apply to the conditions at Brent.
Brent International School Manila adheres to the Storm Signal Guidelines established by PAGASA – (the Philippine Atmospheric, Geophysical and Astronomical Services Administration). Accordingly, when storm signals are posted over Biñan, Laguna, classes will be affected as follows:
Storm Signal #1 Normal Operation: All classes will proceed as scheduled.
Storm Signal #2 No In-Person Classes or Activities: No students or teachers are to report to campus; however, classes may continue in the distance learning environment as announced. School offices will remain open for the day. Administrators and office support staff report as usual if it is safe to do so.
Storm Signal #3 and #4 No In-Person Classes or Activities: No students or teachers are to report to campus; however, classes may continue in the distance learning environment as announced. Offices and building operations will be closed.
Below is the daily schedule the US will follow during distance learning instruction starting on Tuesday, August. 25.
BRENT'S DISTANCE LEARNING EXPECTATIONS AND PROTOCOLS
Please note that we have provided the names of all US faculty on our website for ease of communication: https://brent.edu.ph/academics/upper-school/faculty/ . For the most part Faculty emails are their first initial and last name followed by @brent.edu.ph. If there is anything else we in the Upper School can do to help you better understand our learning program, please feel free to contact us at upperschool@brent.edu.ph.