NEW!!! Your Invitation to Graduation!
NEW!!! From the Activities Office
NEW!!! Changes to Bus Schedules
Starting Monday, May 16 there will be no activities and no second bus. All bus riders must take the first bus. See the attached student bus schedule.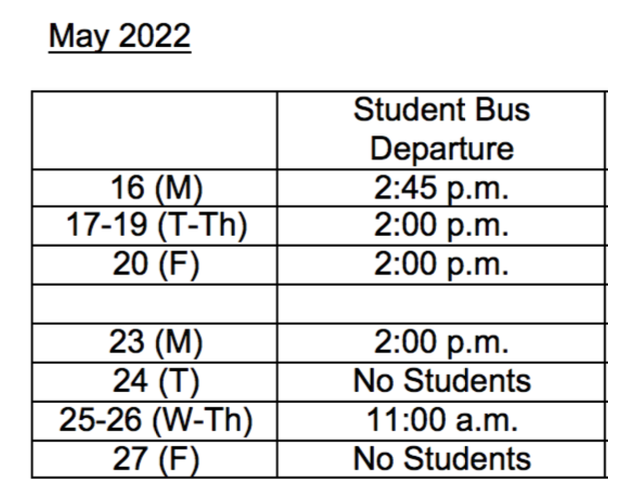 Students can begin returning their textbooks starting on May 17th at the Textbook Room on the 4th floor beside the bandroom. Students must also return their school IDs and locks to the US Office. Students will need cash to make purchases at the cafeteria following turning over their IDs. Students who are cleared by the Media Centre (all textbooks and borrowed items), Accounting (no outstanding balance on Lions Card/tuition), and the US Office (locks and school ID), will be able to receive their Ganza on Monday, May 23rd. Clearance must be completed to receive copies of report cards.
NEW!!! Report cards released on May 26
Report Cards will be available on BASIS on Thursday, May 26 for all students whose accounts are cleared. Report Cards will also be mailed home to parents.
Dear Senior Parents,
The end of the school year is fast approaching, and we want to highlight some important end-of-year events for our seniors. We are hopeful these events will be in person, but the last two years have shown us things change within a matter of weeks and days. We will continue to monitor IATF Guidelines up to each event and adapt as needed.
As we prepare to celebrate our Seniors' momentous day on Friday, May 27, we will do so similarly to our current Hyflex Teaching and Learning setting. The Upper School will look at all facilities at our disposal to ensure our seniors can enjoy these end-of-year events in person while providing an enjoyable online experience.
Please view the tentative schedule of in-person events for our graduating Class of 2022.
Sincerely,
Dr. Sonia Bustamante
We are excited to share with you our latest Forward May 2022 issue, click here. We hope you enjoy this last issue for the school year '21 – '22. On behalf of the Forward Team, "Thank you for your support this school year!" Happy reading!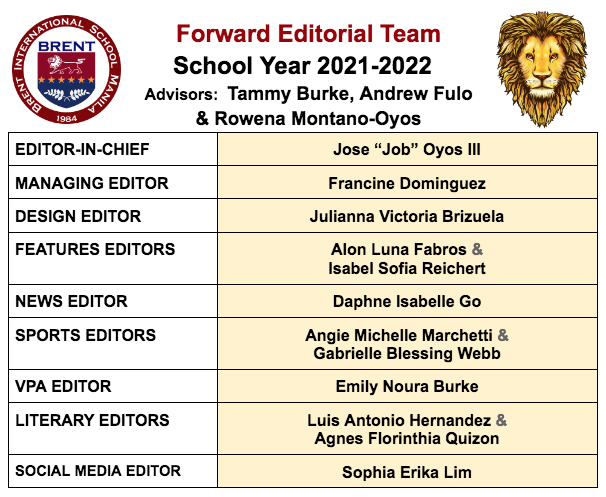 NEW!!! Congratulations on Science Week
Thank you to all those you participated in the House Science Jeopardy Competition. Some of the grade level competitions were very very close. The results of the competition are as follows:
1st — AZURE with 6500 points
2nd — EMERALD with 5500 points
3rd — GOLD — with 5200 points
Thank you to the 5th graders for their Science Fair contributions and displays in the Cafeteria. Until next year, keep studying your Science!
Science Department
Re-Enrollment for 2022-2023
Dear Brent Families,
April 18, 2022 was the deadline to reserve a slot or withdraw in preparation for the 2022-2023 school year. Please take care of this important task if you have not done so already. It is important to guarantee your child a slot.
Please see the Reservation and Re-Enrollment form on Brent's website (About tab, Resources) for details on how to complete the form and pay the US$ 1,000.00 fee. If you are not yet sure of your plans, it is still wise to reserve a slot now as a 100% refund is available until June 17, 2022.
If leaving Brent, please email registrar@brent.edu.ph to complete the withdrawal process.
Thank you!
Jason Atkins
Headmaster
Bus Routes for School Year 2022-2023
Dear Parents,
While we will offer busing next school year 2022-2023, we cannot guarantee an immediate return to all of our pre-pandemic routes. If you are interested in busing next school year, please contact our transportation office at (02) 8 779-5140 ext. 518, or email transportation@brent.edu.ph, and they can help you with signing up. We ask that you complete this process on or before Friday, June 17, 2022.
The School Bus Service Fees / Schedule for next school year has both a Current Bus Routes list and a Possible Bus Routes list. When you sign up, indicate your preferred route from either list. Transportation will keep you informed as they combine routes and make necessary adjusts depending on total signups.
Thank you for your understanding and flexibility as we continue to rebuild our busing program after two years of dormancy during the pandemic. We appreciate your continued support of the people and programs here at Brent
International School Manila.
Sincerely,
Jason Atkins
Headmaster
Upper School Counseling Newsletter
In Person Classes & Protocols
To all our Upper School students who are back on campus, here are our daily protocols.
NEW!!! Lions Being Safe Together
Please note that each US teacher's email address can be found in your student's BASIS account. For the most part, faculty email addresses are first initial and last name followed by @brent.edu.ph. Also may we ask that you please email the US office at upperschool@brent.edu.ph to update us regarding your child's current or future absences. If there is anything else we in the Upper School can do to help you better understand our learning program, please feel free to contact us at upperschool@brent.edu.ph.