Vol. XXIII • Issue 22 • January 22, 2021
College Visits will continue during the 2020-2021 school year! Virtual visits will be scheduled during Independent Study, Student Wellness, and after school. Students can sign up for a virtual visit through Maialearning. Note: Some visits require an additional registration before students gain access to the visit. Information is posted on Maialearning.
UPDATES FROM THE ACTIVITIES OFFICE
NEW!!! MENTAL HEALTH WORKSHOP
Brent senior Ami Chen has organized a Mental Health Workshop by Clinical Psychologist Chris Carandang on Monday, January 25 at 3 PM. Mr Carandang will share tips and guidance on how to cope with the challenges we are all facing amidst the current pandemic and will discuss topics including Parenting, Mindfulness and Play Therapy. All students, faculty, and parents are welcome!
More information and sign up details are available on the poster below .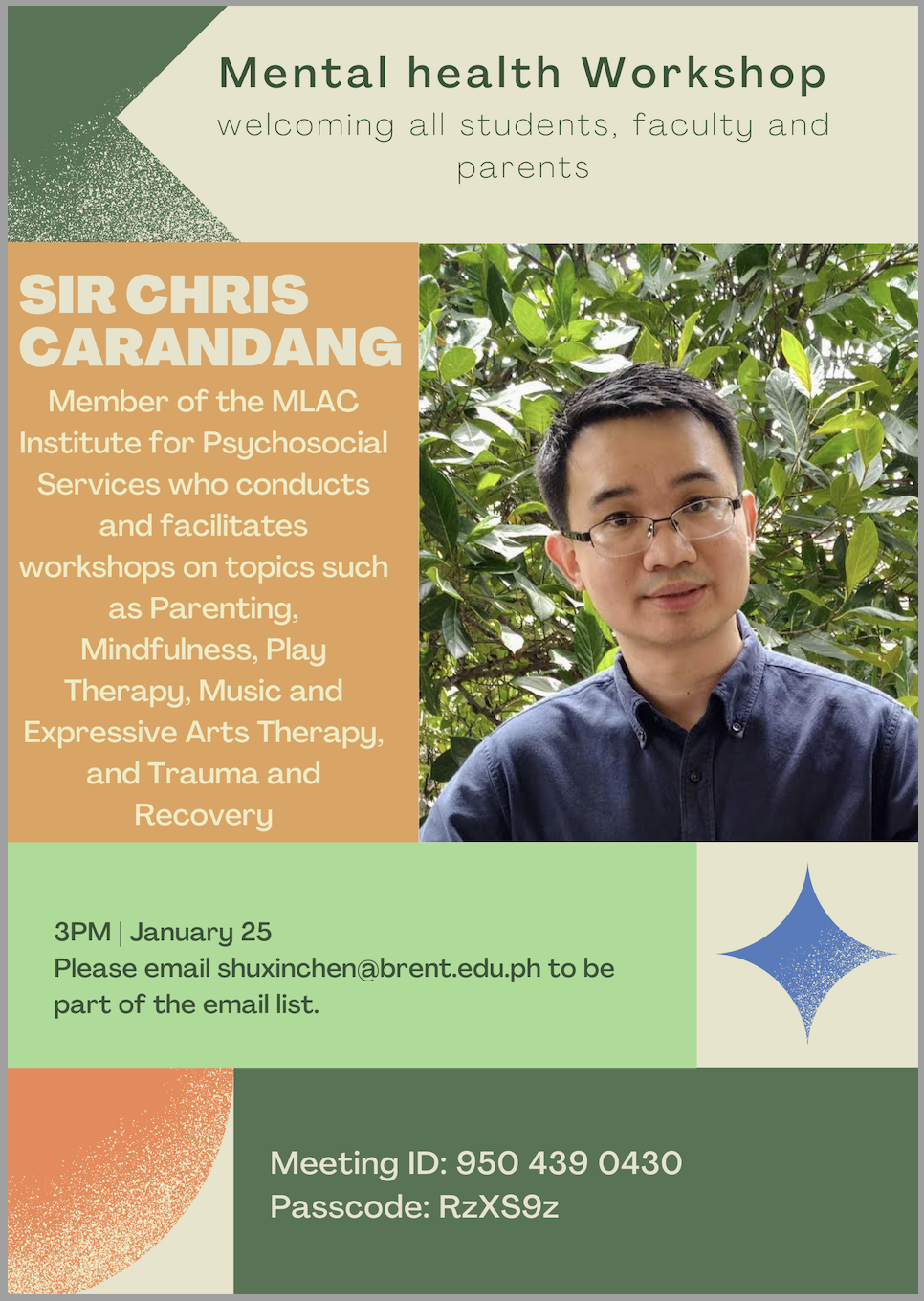 The online version of the First Semester Report Card is available through the BASIS Parent and Student Portals for Grades 4-12. The instructions on accessing the reports can be found below. If you have any questions, please send an email to basis@brent.edu.ph. An electronic copy of the report card will also be sent home this week. If you need to discuss any Grade Report data with your child's teachers, please contact the Upper School Office and we will arrange a time for a Parent-Teacher Conference.
UPDATE ON THE MAY 2021 IB EXAMS
The IBO has sent out a communication to schools around the world to better understand their ability to administer remote and in-person the May 2021 IB examinations safely and effectively considering factors like the mode of delivery of the curriculum and local government health requirements. In February, the IBO will again communicate with schools regarding the data they receive. We expect that this update will contain IB's decision about how the May 2021 IB examinations will proceed whether they are remote or in school. We will keep you posted on the developments. Meanwhile, Brent will continue to deliver high quality instruction to prepare students to develop quality internal and external assessments and to sit the exams in the event that schools will administer the May 2021 IB examinations.
TEACHERS WORKSHOP ON STUDENT WELLBEING
Amy Lauren Smith will lead a virtual workshop entitled Student Health & Well-Being for Brent teachers and educators from around Asia on January 30 – 31, 2021. Ms. Smith will discuss steps to make preventative, holistic health education a priority for students to meet the rapidly increasing mental and emotional needs of today's children. Ms. Smith teaches Middle School Health at the Hong Kong International School and has presented at international education conferences. She also serves as the Education Editor for Choices, Scholastic's health magazine for teens.
An online payment feature has now been integrated into BASIS. This will allow parents to make credit card payments using Mastercard, Visa JCB, AMEX, and debit card with Mastercard and Visa logos.
Brent has partnered with BDO and iPay88 to handle the payment processing. This means BASIS will not be handling financial transactions directly but will facilitate the connection between clients and the payment gateway (iPay88), who in turn authenticates and processes the payment to the bank.
Since we are at the initial stages of implementation, we will start with the Lion's Card payments (e.g. school resources, APAC, books, cafeteria, etc.). As we progress through the school year, we will be including payment for tuition fees.
To view instructions on how to make payments through BASIS, please click on this step by step instruction link. If you have any questions or concerns, please contact us:
Accounting Office:

cpermito@brent.edu.ph

. ; +63 (2) 8779-5140 local 412
BASIS Help Desk:

basis@brent.edu.ph
During the first semester, we featured "Tech Talk" a weekly series that focused on tips for online learning, health & wellness, and online etiquette. This second semester, we bring you a new series entitled "Practice Self-Care". As it is our school's goal to educate the whole child, we support our students not only in academics but also in other aspects of their well-being.
To our dear Lions, we are proud of how well you've done during the first semester. We pray that this semester is going to be even better for you. As online learning continues, we would like to encourage you to practice self-care. This includes physical, mental, emotional, social, and spiritual being. Stay safe, Lions! We got this!🦁
February 5, 2021 – No Class Day. We will hold Day 2 classes when we return to classes on Monday, February 8.
February 12, 2021 – Chinese New Year. We will hold Day 2 classes when we return to classes on Monday, February 15.
Please note that we have provided the names of all US faculty on our website for ease of communication: https://brent.edu.ph/academics/upper-school/faculty/ . For the most part Faculty emails are their first initial and last name followed by @brent.edu.ph. If there is anything else we in the Upper School can do to help you better understand our learning program, please feel free to contact us at upperschool@brent.edu.ph.