Vol. XXIV • Issue 11 • October 15, 2021
Welcome to the 2021-2022 School Year!
NEW!!! Virtual College Visits
College Visits will continue throughout the 2021-2022 school year! Virtual visits will be scheduled during Independent Study, Student Wellness and after school. Students can sign up for a virtual visit through Maialearning. Note: Some visits require an additional registration before students gain access to the visit. Information is posted on Maialearning.
NEW!!! Updates from the Activities Office
The GANZA Staff would like to invite you to share with us a photo of yourself in your learning/work space at home. We plan to include these keepsakes in our GANZA this school year as these are also memories during online learning. Please email your photos to publications@brent.edu.ph on or before November 19, 2021. A photo of yourself while doing class/club activities in your learning/work area at home.
Here are some samples: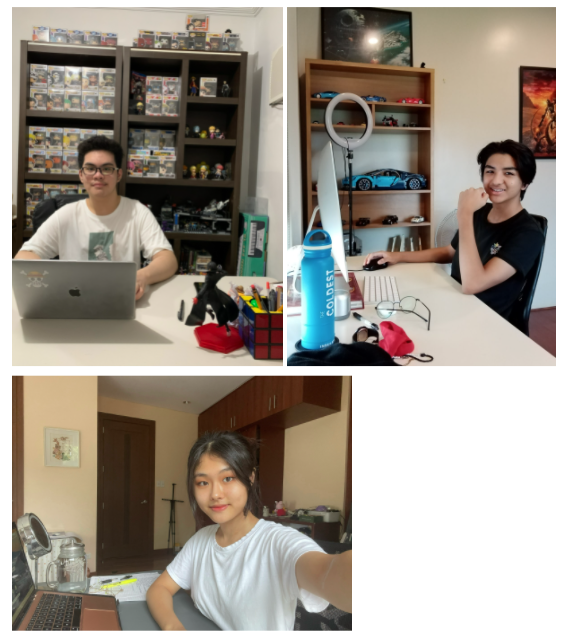 If you have not already done so, please access the electronic version of your student's 1st quarter progress report via BASIS. Here is a short tutorial on how to access the report. Please sit with your child and discuss the report. It provides a "snapshot" of student progress at the midway mark of the first semester. The report includes the running grade and teachers' comments on important achievements as well as areas for growth that will help inform your conversations with teachers at the PTC.
NEW!!! From the Upper School Counseling Office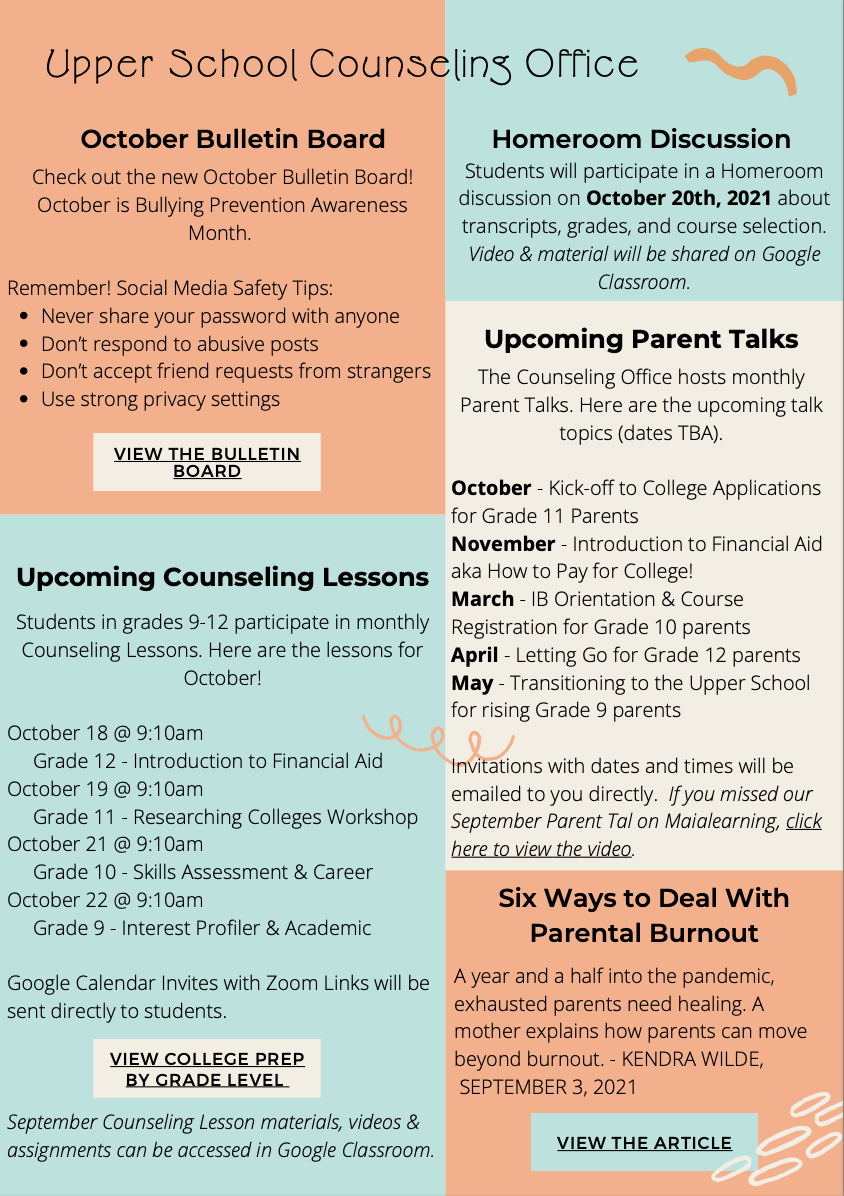 Message from the Headmaster
Dear Brent Families,
The Philippines government recently announced approval for a face-to-face pilot program proposed by the Department of Education. This has naturally led to many questions about whether Brent International School Manila will be participating. The pilot is still in the process of being finalized, but given this is such a high interest topic, let me provide a bullet point summary of what is currently known.
Brent is continuing to communicate directly with the Department of Education through the Regional Director for Calabarzon, and we have requested to be considered for any programs implementing face-to-face classes.
DepEd is still finalizing the official list of participating schools.
Our region, Calabarzon, currently has only 5 remote schools that would qualify as low risk areas, and none of those are in Laguna.
The few schools that qualify must receive a written waiver from parents and permission from local government units for the pilot to push through.
Only Kindergarten to Grade 3 and vocational students from senior high schools would be included.
Any classes conducted would be only every other week, and be limited to 3-4 hours a day.
The above points are still subject to change, especially considering that joint guidelines of the Department of Education and the Department of Health have not been finalized and no start date has been given. The points represent, though, our most current information.
Brent has implemented all the known health and safety standards expected for face-to-face instruction including: personal protective equipment, sanitation, detection and referral, ventilation, contact tracing, quarantine, coordination, and contingency measures. Unfortunately, we cannot change the risk level of the region in which we reside.
Regardless of its limited scope, the approved pilot program is a positive indicator that the country as a whole is beginning to look toward opening schools in the future. We are eager to have our students back in classrooms, and we will continue working with the government to make that a reality.
Whenever the opportunity is given we will carefully assess all guidelines and the potential impacts they may have on both our students' health and education. This will include input from our families. We plan to send a survey regarding your comfort level in sending your children back to school after clear guidelines for our return to classes have been established by the governing authorities.
In the meantime, we are proud to continue delivering a quality online program, and we remain hopeful for the future. God bless you all.
Sincerely,
Jason Atkins
Headmaster
Get in the Act and do some Math!!!
Upper School students are invited to join the Math Contests Sign up Google Classroom, code: xnkv2x2, to receive updates on math contests at Brent. In particular, all students are invited to participate in the 2021 Canadian Senior and Intermediate Mathematics contests, November 18, 2021. These contests are two-hour written competitions sponsored by University of Waterloo. The Canadian Senior contest is for Grade 11 and 12 students. The Canadian Intermediate contest is for Grade 9 and Grade 10 students. Motivated students from lower grades may also participate. To register, complete this Google Form by October 15, 2021.
In February, Brent students will participate in the Pascal (Gr. 9), Cayley (Gr. 10) and Fermat (Gr. 11) contests.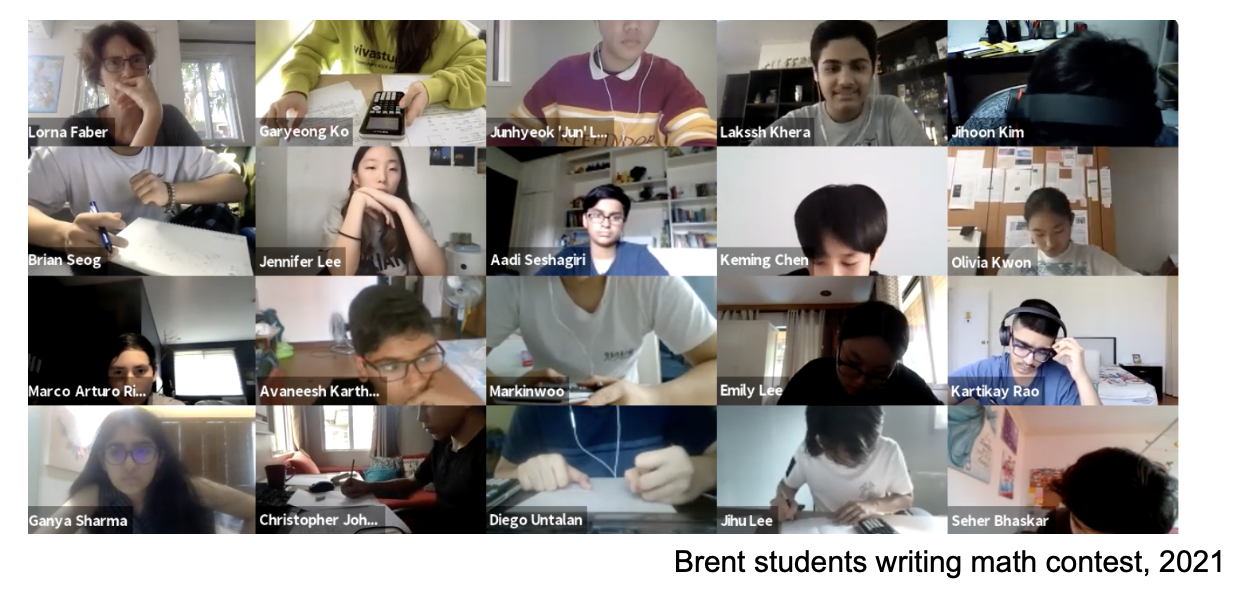 Ganza Photos – Past the Deadline
For those students who missed the September 10 deadline, please submit your photos as soon as possible for our 2022 yearbook. The Ganza photo guide should serve as your reference. Do not hesitate to email the Publications Office if you need guidance and assistance. We are here to help! (publications@brent.edu.ph).
For those that have not yet attended, we invite all grade 10 parents to our third and final Preliminary Orientation Session for the International Baccalaureate Diploma Programme (IBDP) on Thursday, November 4, 2021, 2:45pm to 4:00pm. The presentation will provide an overview of the program that your child will undertake in grades 11 and 12. Our IB Coordinator and one of our college counselors will be present at each session to discuss how the IB impacts your child's college applications. This invitation is also open to parents of our grade 9 students. Please register here to confirm your attendance.
All Grade 10 parents should receive the zoom link for the presentation via email prior to the event. Grade 9 parents can register on the form to receive the zoom link via email.
IB Calendar of Deadlines for 2021-2022 School Year
All deadlines for the various IB projects, orals, research papers, EE, etc. are noted below. Please look at the bottom of the calendar for tabs specific to your grade level. Parents please help our students stay organized with their IB assignments and due dates throughout the upcoming year.
IB Adaptations for 2021-2022 School Year
Grade 12 IB students and parents, please note that in response to the impact that the current global Covid-19 (Coronavirus) pandemic has had on schools, the IBO has made some important adaptations to the May 2022 exam session. We would like to share with you the complete May 2022 IB Adaptations document issued by the IBO as well as the May 2022 Adaptations for Economics, Music, and TOK.
The adaptations center around the IB's removal and/or amendment of some assessment components or requirements in specific subjects to allow teachers to address course objectives with flexibility and fairness in preparation for the May 2022 exams. Some of the adjustments include changes to examination times for components and modified marks and weightings. Senior students can best make use of these documents by finding their courses in the booklets and checking for any updated information.
For any questions or concerns, please do not hesitate to contact your child's subject teachers and/or the IB coordinator at ib@brent.edu.ph
Below is the schedule for SAT exams at Brent. Please note the following regarding testing:
Brent students must register through the College Board's website. Offices at Brent do not assist students with registering for SAT dates.
Slots for testing at Brent are usually full WEEKS before the published Deadline to Register below. Register earlier than you think you need to.
SAT at Brent is open to our enrolled students, but also to students from other schools. There are enough slots for Brent students if you register early.
If slots are already full at Brent for a specific SAT date, on College Board's website look for other schools offering SAT and then register at one that has available slots. If all other schools are also full, register for the next available SAT date at Brent.
Let your Guidance Counselor know if these suggestions do not work for you.
For information about High Stakes Testing, please check this Counseling Office video. To discuss your student's specific high stakes testing plan, please contact your student's counselor.
We can never emphasize enough the importance of taking good care of our physical, mental, social, and spiritual well being especially during this time of pandemic. We are aware that our family finds online learning more challenging than when we were doing our in-person learning. Everyone is trying to do their best to cope and stay positive to be successful during these difficult times. We as a PRIDE will remain committed to do our best to "Abound in Hope" and welcome another new school year full of hope and positivity. Just like last school year's series on Tech Tips and Practice Self-Care for successful online learning. This school year's weekly posts on "A Happy School Life" will give tips and reminders to help students make online school more manageable. Tips include having a better study routine, being physically & mentally healthy, boosting productivity, overcoming procrastination, and more. So, hang in there! We got this! It's going to be another year full of FUNtastic learning!
Distance Learning Calendar
Please note that we have provided the names of all Upper School faculty members on our website for ease of communication: https://brent.edu.ph/academics/upper-school/faculty/
For the most part, faculty email addresses are first initial and last name followed by @brent.edu.ph. If there is anything else we in the Upper School can do to help you better understand our learning program, please feel free to contact us at upperschool@brent.edu.ph.