Charles Henry Brent, our school's founder, was born in Canada in 1862. After his ordination
in the Anglican Church of Canada, he moved to the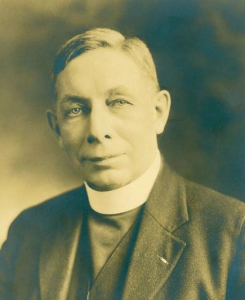 United States and in 1901 was elected Missionary Bishop of the Philippines for the Protestant Episcopal Church.
The Bishop founded Brent School Baguio in 1909. Originally a boarding school for the sons of American families stationed in the Philippines, more than one hundred years later the original Brent School in Baguio is currently a co–educational boarding and day school with an international student population.
In 1984, the Board of Trustees of Brent School established Brent International School Manila in Pasig, Metro Manila. This second Brent school assumed the traditions, the style, and the educational system of its mother school and graduated its first twelve students in 1986. In 1994, the Board of Trustees accepted an invitation from the Chairman of the Subic Bay Metropolitan Authority to open a third Brent school in Subic for children of foreign investors and those of the local community. In 1997 the three schools were incorporated separately, and each now has its own Board of Trustees under the Corporation. (Locate the tab "Other Brent Schools" to view the websites for Baguio and Subic.)
Brent International School Manila is an international, coeducational, day school associated with the Episcopal Church in the Philippines. The school, located in Biñan, Laguna, approximately twenty kilometers south of Metropolitan Manila, is a duly formed corporation under the laws of the Republic of the Philippines. The Philippine Government and the Philippine Department of Education recognize the school through Presidential Decree 2022. Brent is an institution of the Philippine Episcopal Church, an autonomous Province of the Anglican Communion. The governance of Brent International School Manila is by an appointed and self-perpetuating Board of Trustees. Board members are chosen from diverse backgrounds to reflect the diversity of the school's constituency as well as support the goals and initiatives of the school. The Headmaster bears the responsibility for successful management at all levels of operation. The President and CEO of Brent Schools Inc. serves as the link between the Trustees, the Administrative Team and the School's constituency of parents and students. Each school division has its own principal who is responsible to the Board of Trustees through the Headmaster.
Also in 1997, Brent International School Manila began construction of a new campus in Mamplasan, Biñan, south of Manila and Alabang. The campus opened for the 1999-2000 school year. The Pasig campus closed at the end of the 2007-2008 school year.
Our rich past has deep meaning today, symbolically and in practice. Brent invites students from all religious faiths and backgrounds, and provides a quality Western-style education in a nurturing atmosphere of acceptance and tolerance. Our positive sense of community, and ability to support students in mind, body and spirit, is proudly traced to our unique inception in 1909.