Day By Day
Belief fuels enthusiasm
Nothing great in the world has ever been accomplished without passion
~ Georg Wilhelm Friedrich Hegel~
RIDE THE WAVE OF PASSION
A Story by MAC ANDERSON
What happens when you believe something with all your heart? Belief fuels enthusiasm, and determined enthusiasm explodes into passion. It fires our souls and lifts our spirits.
In 1991, when Successories hired Tim Dumler as a corporate account manager, he shared his goal of becoming number one in the company with his manager, Neil Sexton. But Neil, quite frankly, had serious doubts that Tim could make it through the first month, much less be number one.
Neil's first two interviews with Tim were conducted over the phone, and he passed those with flying colors. But when Neil met Tim for the first time, he was shocked when Tim told him he was legally blind. He began to lose his sight when he was in the third grade from a disease called macular degeneration. Tim acknowledged he would have problems entering orders into computers, but he had a possible solution. He told Neil about a machine he could hook up to magnify the letters on the screen to two inches high. Tim was willing to buy it if he could have the job.
After the conversation, Neil came to my office and explained the situation. I said, "Neil, let's give him a chance," but I must admit, I had serious doubts that Tim could do it.
Well, we were dead wrong. We grossly underestimated Tim's passion and his determination to succeed. Even though it took him much longer to enter the orders, Tim made it work. He came early. He worked late. Whatever it took, he did it.
In 1991, Tim's first year, he was at the top of ten experienced corporate sales reps, with more than $500,000 in sales. In 1994, he was number one again with $700,000 and again in 1997 with $950,000. His customers loved him because when you can't see, you become a great listener. His peers loved him because of his caring, positive attitude.
He was certainly an inspiration to me too, I asked him one time, "Tim, how do you stay so positive?" He said, "Mac, it's unfortunate that I'm visually impaired, but I have to tell you that fighting through the adversity has made me a better person. I have come to realize that I have a lot more than I don't have. I love my family, my work, and the people I work with. I've been blessed in many ways."
Tim's passion has propelled him to great success.
Excerpted from the Simple Truth book
The Nature of Success by Mac Anderson
The wave of PASSION can become an unstoppable force!
But as for you, be strong and do not give up, for your work will be rewarded." ~ 2 Chronicles 15:7
Take care and God bless.
Fr. Benjamin A. Jance III
School Chaplain
Year-End Videos
Life Lesson
Prayers, Poems and Artworks
Saint of the Month

St Augustine of Canterbury
(Feast day: May 26)
A Roman Abbot who was sent to England by Pope Gregory the Great in 596. He was the first Archbishop of Canterbury given responsibility for converting the Anglo-Saxons. His goal was to become a normal part of the landscape. He didn't go looking for converts, but anyone who wanted to join was welcome. https://www.staugustinesanglican.com/about
Augustine founded Christ Church, Canterbury, as his cathedral and the monastery of SS. Peter and Paul (known after his death as St. Augustine's, where the early archbishops were buried), which came to rank as the second Benedictine house in all Europe. Canterbury thus was established as the primatial see of England, a position maintained thereafter. In 604 he established the episcopal sees of London (for the East Saxons), consecrating Mellitus as its bishop, and of Rochester, consecrating Justus as its bishop. https://www.britannica.com/biography/Saint-Augustine-of-Canterbury
Collect: O Lord our God, by your Son Jesus Christ you called your apostles and sent them forth to preach the Gospel to the nations: We bless your holy Name for your servant Augustine, first Archbishop of Canterbury, whose labors in propagating your Church among the English people we commemorate today; and we pray that all whom you call and send may do your will, and bide your time, and see your glory; through Jesus Christ our Lord, who lives and reigns with you and the Holy Spirit, one God, for ever and ever. Amen
Monthly Calendar
Brent Cares / Service Learning
Brent School has, over the years kept a strong Service Learning arm as an important part of its holistic approach to the Brent Educational System. Students, teachers, staff and administrators participate actively in the after school activity by giving of their time and resources in reaching out to those in need. The whole school goes into full support mode when the need arises, especially during the typhoon season. The generous time and preparations that everyone gives to those in need are concrete expressions of the values that Brent stands for.
Brent's Expected School-wide Learning Results touch on the need for self-development, sincerely reaching out to our community certainly develops the minds and hearts of those in our school. Being responsible in all that we do at school and at work reinforces the service-learning element.
Helping another might be viewed as giving of your time and/or of sharing your talents and resources. It is, and more. It is in fact, a two-way street. The child and person who goes out of his/her way in return gets something that contributes to her/his own wellbeing. "You never know when one act, or one word of encouragement, can change a life forever." ~( Zig Ziglar)
There is an inherent and spontaneous reward that comes from helping one another. Jesus speaks of such reality when He said: "for I was hungry and you gave me food, I was thirsty and you gave me something to drink, I was stranger and you welcomed me, I was naked and you gave me clothing, I was sick and you took care of me, I was in prison and you visited me…. Truly I tell you, just as you did it to one of the least of theses who are members of my family, you did it to me." ~ (Matthew 25:35-36, 40)
Indeed, the joy that one receives in giving far surpasses anything that anyone can ever wish for.
Clubs
Name of Club
Students
Advisors
Brief Description
Best Buddies
Gr. 6 -12
P. Leighton /
P. Valley
Aims to create one-to-one friendships between students and develop student leaders.
Blood Typing Committee
Gr. 9 -12
R. Britton
Brent students will develop and then maintain a resource data bank for the Brent community's use as needed. This resource will comprise of contact information, blood types and donation plans of Brent families, faculty and staff. Once composed, the resources can then be used by our committee to locate blood donors for anyone in the Brent community that encounters a medical need.
Building Bridges with Biñan
• Mamplasan Elementary School
• Pagkakaisa Elementary School
Gr. 3 -12



L. Baldwin /
Fr. Jance


Z. Belaguas /
Fr. Jance
Brent students to reach out to children in our local community. We will be assisting elementary students from two local elementary schools with their English skills, forming friendships and support our neighbors.
Gawad Kalinga
• Philip's GK Village, Laguna
Gr. 9 -12
G. Dubroof
A tutoring program for children in a local community on Saturdays.
Geek Squad
Gr. 9 -12
R. Castañeda
Solve computer problems * Refurbish computers and donate to a local classroom * Help organize Tech Week *Produce videos * Develop computer programs * Play computer games * Share your knowledge and skills in I .T. and learn from others as well.
Global Issues Network (GIN)
Gr. 9 -12
R. Britton /
K. Regan
GIN approaches the 20 largest problems in the world and tries to address them at a local level. Global Issues Network (GIN) is a group focused on solving Earth's most pressing economical issues. We aim to encourage young people to take initiative to spread awareness for modern global problems such as poverty or improving education in developing countries. Working within a network of "global citizens" creates a platform to develop, share and implement sustainable methods for solving these global issues. Anyone willing to contribute brilliant ideas are welcome.
Junior Global Issues Network (GIN)
Gr. 3
T. Naude
Students will explore the global issues that we face such as shortage of water, climate change, pollution, extinction, disease and much more. Students will learn ways in which they can help the environment, create awareness and to decrease the carbon footprints implanted on earth as time goes by.
Good Samaritan
Gr. 9 - 12
K. Pozon /
D. Mapua
Aims to provide meaningful concern of and realistic commitment with the less privileged and inculcate deeper understanding and appreciation of ones many talents.
Green Earth Ambassador
Gr. 9 - 12
M. Baldwin /
D. Michaelsen
An environmental advocacy club focused on bringing sustainable solutions to environmental problems in the Philippines. Our projects have focused on recycling, food waste, refilling markers, and environmental field trips. We are looking for students who are dedicated to making the world a better place and are interested in learning about working with local stakeholders to solve local environmental problems.
Model United Nations
Gr. 6 -12
B. Jewell /
T. Selga
A student-driven educational simulation in which students learn about diplomacy, international relations, and the United Nations based on current and relevant international issues. MUN involves and teaches research, public speaking, debating, and writing skills, in addition to critical thinking, teamwork, and leadership. Brent MUN hosts an annual conference to teach these skills to local schools as a training exercise and then attends a larger MUN conference with these schools in Manila in the fall at the World Health Organization
Project Compassion
Gr. 6 - 8
R. Richards /
G. Tang /
S. Roxas
Designed to bring up culture awareness, to create solidarity and compassion for the people in needs. This club helps our students to engage in meaningful service -learning activity with the Holy Family Mission Children with kindness, empathy, and generosity.
Project Compassion
Gr. 9 -12
R. Rafiñan
A service-oriented club that develops a sense of camaraderie, leadership, and character in its members. It aims to help everyone create a better world by spreading awareness and increasing engagement in kind actions. We organize a variety of activities and projects to benefit our school and community.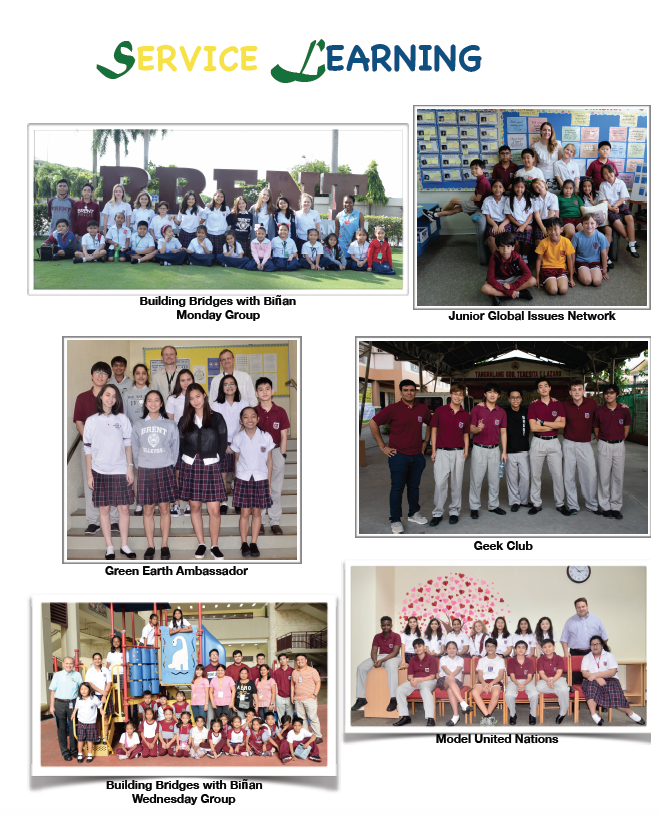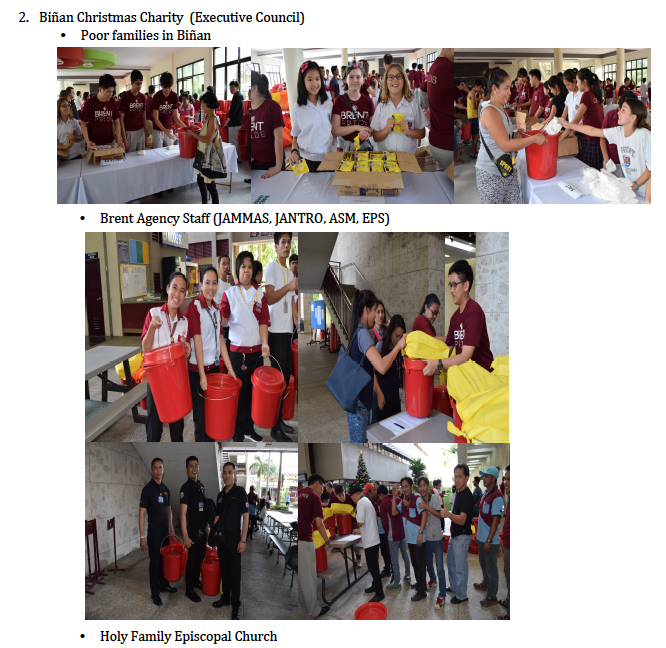 Parish Organizations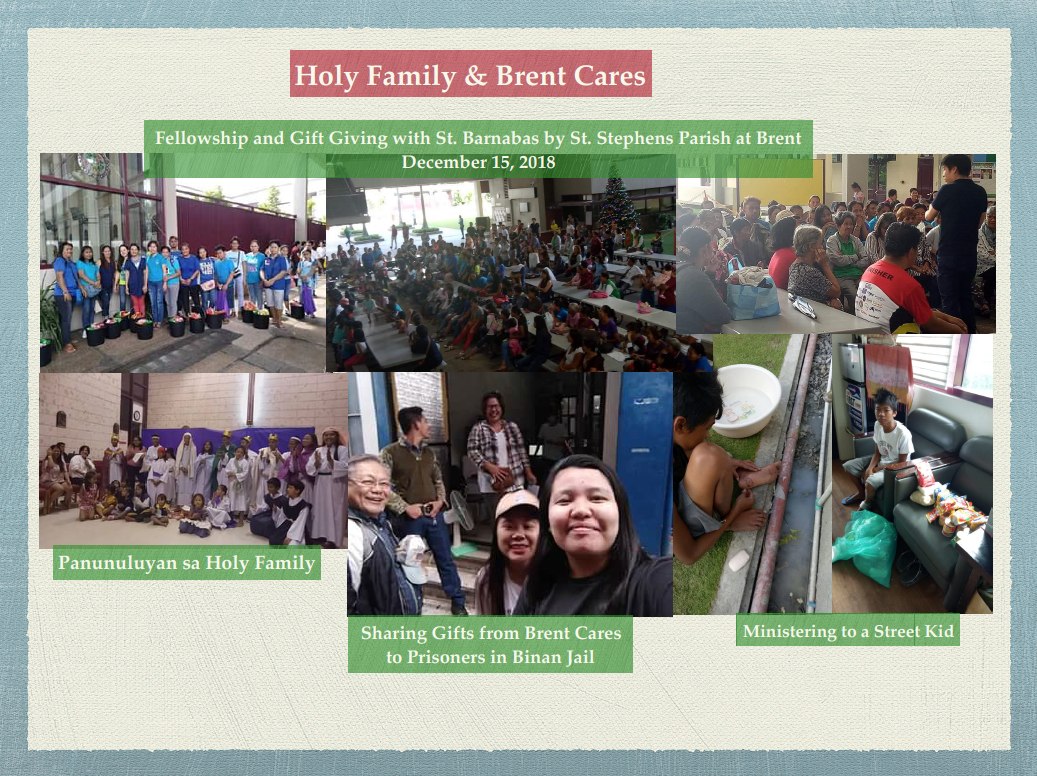 Youth Ministry (Samahan ng mga Kabataang Episcopal)
Our Youth Group is one of the most vibrant elements in our parish life.  They form a local chapter of of the National SKEP of the Episcopal Church in the Philippines, and are represented at the National and Diocesan meetings of that Organization.  Members of our youth group also participate in the life of our parish as
Sunday School Teachers (see below for Sunday School)  –  

Our Sunday School and our VCS (Vacation Church School), under the supervision of Deacon Mary Balitog  is run and taught exclusively by the older youth.

Acolytes  –  

Composed of young people, boys and girls,  between the ages of 8 and 19, the Holy Family acolytes assist at all parish Eucharists and are otherwise active in the life of the Church.  They are trained and supervised by Deacon Jonathan Britt  
ECW (Episcopal Church Women)  –  Early on, the women, the pillars of our church community,  organized themselves to form a chapter of the ECW and have since then been the heart of the community  . Beyond the traditional 'women's' tasks, which they perform with gusto,  ( washing  and ironing  church linens and vestments, polishing utensils etc)) they are instrumental in organizing most parish social events and  run highly successful  fund raising activities. They meet every first Sunday of the month under the leadership of their elected officers.  
Parish Programs
Sunday School
This program aims to provide spiritual nourishment to our youngest members  through  singing,  interactive reading and watching appropriate videos..  Average attendance is between 20 and 30 youngsters every Sunday.   Some Sunday School 'alumni'  are now  trained Sunday School teacher themselves, while others serve as acolytes and readers.
Scholarship Program (for University Students)
This program, initiated by Brent School's Project Compassion Club, supported a full time college student who graduated in April, 2017, passed the Licensure examination for teachers and has taught at a Pre- School in Biñan.  She plans to get into the Saint Andrew's Seminary as a Masters in Theology (MTh) student for the school year 2018-2019. Another recipient, graduated last April, 2018. She will be preparing to take the Licensure Examination for teachers.  The program funds come from various Brent School clubs and private sources.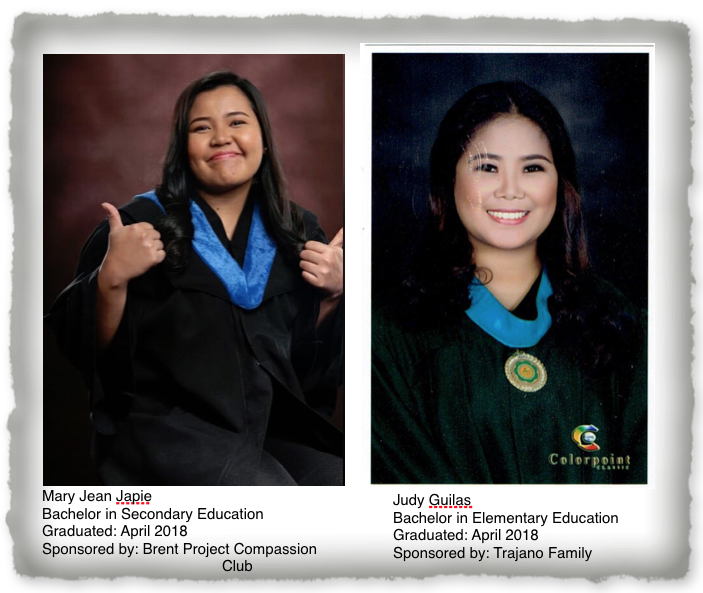 Education Assistance Loan Program (for University Students)
This program aims to support any student from a low-income family who is an active member of the parish and desires to pursue a College Degree.  Support is given in the form of interest free loans to be repaid once the student has graduated and gainfully employed.  The first student on this program will begin third-year studies this year.
Medical Emergency Fund
This program also aims to be able to provide cash for emergency purposes without any obligation from the recipient. This fund is taken from the fourth Sunday offering as well as private sources. Requests for help are evaluated by the vestry.
Parish Preaching Stations
Langkiwa
In 2015, the Pitong Gatang settlement from which most of our original members came was relocated in Langkiwa, a good 30 minute walk from Brent Chapel.  Some children still show up for Sunday School on Sunday mornings along with some adults. For those who can't find the time,   Deacon Mary Balitog visits regularly with the Celebration of Word and Communion one Sunday a month.   
Timbao
Timbao, where some of our members reside, is  located at some distance from Brent School. For those who find it hard to get to us on Sundays,   Deacon Mary Balitog visits once a month to conduct a  Celebration of Word and Communion.
Cavinti (Our Lady of Walsingham Preaching Station)
In 2012 Deacon Jonathan Britt and his wife Grace opened a preaching station on their property in Cavinti, Laguna.  Before long a small but regular congregation was formed which meets twice a month.  Deacon Jonathan conducts a Celebration of Word and Communion first Sundays, and Fr. Joe Mock celebrates the Eucharist on the third.
Mindoro (Tubili)
 A contingent of Holy Family members lead by Deacon Mary and Mrs. Grace Britt had been going to Tubili in Mindoro with the permission of the Dean of the Southern Tagalog Deanery and the Priest-In-Charge of an existing church in the area to start a mission with the Mangyan Tribe of Mindoro. This mission was initiated in 2016.
WITNESSING: PARISH AT WORK IN THE NEIGHBORHOOD
The Holy Spirit is using the Holy Family Episcopal Church through Deacon Mary by sending children in need of help her way.  Out of the blue, somebody calls Dcn. Mary about a kid in need, and there she is to help. Isn't that amazing work of the Holy Spirit?
| Name of Child | Age | Condition |
| --- | --- | --- |
| Gabriel de la Cruz | 7 | Cerebral Palsy with Epilepsy |
| Cassie Naval | 7 | Congenital heart disease due for surgery |
| Bobby Babon | 2 | Down Syndrome |
| Tricia Gagarin | 4 | healthy (sponsored) |
| Andrea Tabilog | 5 | healthy (sponsored) |
| Mark Sigue | 2 | healthy (sponsored) |
Interns:
Recently we had an intern from the US who stayed with the Parish for a month and assisted the Deacon with the programs of the Parish.  She experienced the day to day living in a less privileged area in the Philippines that is different from where she grew up.  She helped in the Sunday school and some youth activities. With her is another intern from our local school who also helped in the parish works while they are here with the supervision of Deacon Mary.