"You" Make The Best Gift
Martin BeII tells this beautiful Christmas fable about a furry rabbit named Barrington Bunny. On Christmas Eve Barrington roamed the forest to find someone to celebrate Christmas with. He came to a tree and found some squirrels having a party in the branches. Since he couldn't climb he missed their celebration. He came to a stream and heard the beavers singing and enjoying themselves. But Barrington couldn't swim, so he missed their party too.
Soon he felt depressed. He found no one with whom to celebrate. Then he looked up and saw a large silver wolf with eyes like fire. 'What's the matter, Barrington?" asked the wolf. "'I have no family. I can't climb. I can't swim. All I can do is hop along." The wolf spoke. "But that is a gift to you, with no strings attached. Feel good about yourself. Never forget that all the animals are part of your family. The wolf disappeared.
Then Barrington collected some sticks, and left them as a gift for the beavers. He gathered leaves and grass and left them for the squirrel's nest. Gifts with no strings attached for his forest family. He found a field mouse lost in the snow and crying. Barrington folded the little mouse deep within his furry body and both went to sleep.
In the morning the family mouse found their son alive and well in the embrace of the bunny. Barrington had gone to sleep forever. And all the Christmas day the silver wolf stood like an honor guard by this generous little creature.
~ Martin Bell, Way of the Wolf: The Gospel in New Images, New York, NY;
Seabury Press, 1970. . .
So many wonderful stories surround the birth of Jesus. All of them attempt to express the value of the gift of person. So many Christmas gifts are purchased with money. The greatest gifts come from personal sacrifice and thoughtfulness.
O' Henry tells the story of two lovers, one of whom sells her long hair to buy a watch for her beloved even as he sacrifices all he has to buy a beautiful comb for her hair. The music of the Drummer Boy reminds us that he offered Christ the best gift he knew – to play the drum well for the Lord. This is a variation of the lovely medieval story of Our Lady's Juggler, in which the humble entertainer goes to the shrine of the Mother and Child and performs his best juggling act for them. It is the only gift he knows how to give them. The monks look on as the statue of mother and child come alive and fill the shrine with light and warmth and joy.
The Magi brought Christ royal gifts. But their best present was the energy and faith that brought them so many hundreds of miles to find Christ. The shepherds brought Christ some sheep and lambs to warm the stable. But their best gift was their loving faith and humble gratitude for the greatest event in history. The angels did what they always do best, sing heavenly music. They wanted the world to know what great things have come to pass.
And now for ourselves. We have already purchased our presents for each other. We may wonder what to give to the Lord. All the stories seem to say: Give the Lord something of yourself, like Barrington, the Drummer Boy, Our Lady's Juggler, the Magi, the Shepherds, the Angels. And give to each other something of your hearts.
We are so good at giving each other a "piece of our minds." We could have "loved away" the problem with the gift of our hearts. Christmas is a good time to try. Feel good about yourself. Share that with Jesus and your family and friends.
~ "Reflections on the Sunday Readings" by Rev McBride
Let us pray,
Lord, in this holy season of prayer and song and laughter, we praise you for the great wonders you have sent us: for shining star and angel's song, for infant's cry in lowly manger. We praise you for the Word made flesh in a little Child. We behold his glory, and are bathed in its radiance.
Be with us as we sing the ironies of Christmas, the incomprehensible comprehended, the poetry made hard fact, the helpless Babe who cracks the world asunder. We kneel before you shepherds, innkeepers, wise men. Help us to rise bigger than we are. Amen. (- author unknown)
May you be filled with the wonder of Mary, the obedience of Joseph, the joy of the angels, the eagerness of the shepherds, the determination of the magi, and the peace of the Christ child. Almighty God, Father, Son and Holy Spirit bless you now and forever. Amen.
Merry Christmas and a Peaceful New Year!
Take care and God bless.
Fr. Benjamin A. Jance III
School Chaplain/Community Relations Officer
Prayers, Poems and Artwork
St. Thomas, the Apostle
Feast Day: December 21
Born, probably Galilee—died 53 CE, Madras, India; Western feast day December 21, feast day in Roman and Syrian Catholic churches July 3, in the Greek church October 6, one of the Twelve Apostles. His name in Aramaic (Teʾoma) and Greek (Didymos) means "twin"; John 11:16 identifies him as "Thomas, called the Twin." He is called Judas Thomas (i.e., Judas the Twin) by the Syrians.
Thomas's character is outlined in The Gospel According to John. His devotion to Jesus is clearly expressed in John 11:5–16: when Jesus planned to return to Judaea, the disciples warned him of the Jews' animosity ("now seeking to stone you"), to which Thomas soon replied, "Let us also go, that we may die with him." At the Last Supper (John 14:1–7) Thomas could not comprehend what Jesus meant when he said, "I will come again and will take you to myself, that where I am you may be also. And you know the way where I am going." Thomas's question "How can we know the way?" caused Jesus to answer, "I am the way, and the truth, and the life."
Perhaps the best-known event in his life is the one from which the phrase "doubting Thomas" developed. In John 20:19–29 he was not among those disciples to whom the risen Christ first appeared, and, when they told the incredulous Thomas, he requested physical proof of the Resurrection, fulfilled when Christ reappeared and specifically asked Thomas to touch his wounds. His sudden realization of truth ("My Lord and my God") made Thomas the first person to explicitly acknowledge Jesus' divinity.
https://www.britannica.com/biography/Saint-Thomas
Brent Cares / Service Learning
Brent School has, over the years kept a strong Service Learning arm as an important part of its holistic approach to the Brent Educational System. Students, teachers, staff and administrators participate actively in the after school activity by giving of their time and resources in reaching out to those in need. The whole school goes into full support mode when the need arises, especially during the typhoon season. The generous time and preparations that everyone gives to those in need are concrete expressions of the values that Brent stands for.
Brent's Expected School-wide Learning Results touch on the need for self-development, sincerely reaching out to our community certainly develops the minds and hearts of those in our school. Being responsible in all that we do at school and at work reinforces the service-learning element.
Helping another might be viewed as giving of your time and/or of sharing your talents and resources. It is, and more. It is in fact, a two-way street. The child and person who goes out of his/her way in return gets something that contributes to her/his own wellbeing. "You never know when one act, or one word of encouragement, can change a life forever." ~( Zig Ziglar)
There is an inherent and spontaneous reward that comes from helping one another. Jesus speaks of such reality when He said: "for I was hungry and you gave me food, I was thirsty and you gave me something to drink, I was stranger and you welcomed me, I was naked and you gave me clothing, I was sick and you took care of me, I was in prison and you visited me…. Truly I tell you, just as you did it to one of the least of theses who are members of my family, you did it to me." ~ (Matthew 25:35-36, 40)
Indeed, the joy that one receives in giving far surpasses anything that anyone can ever wish for.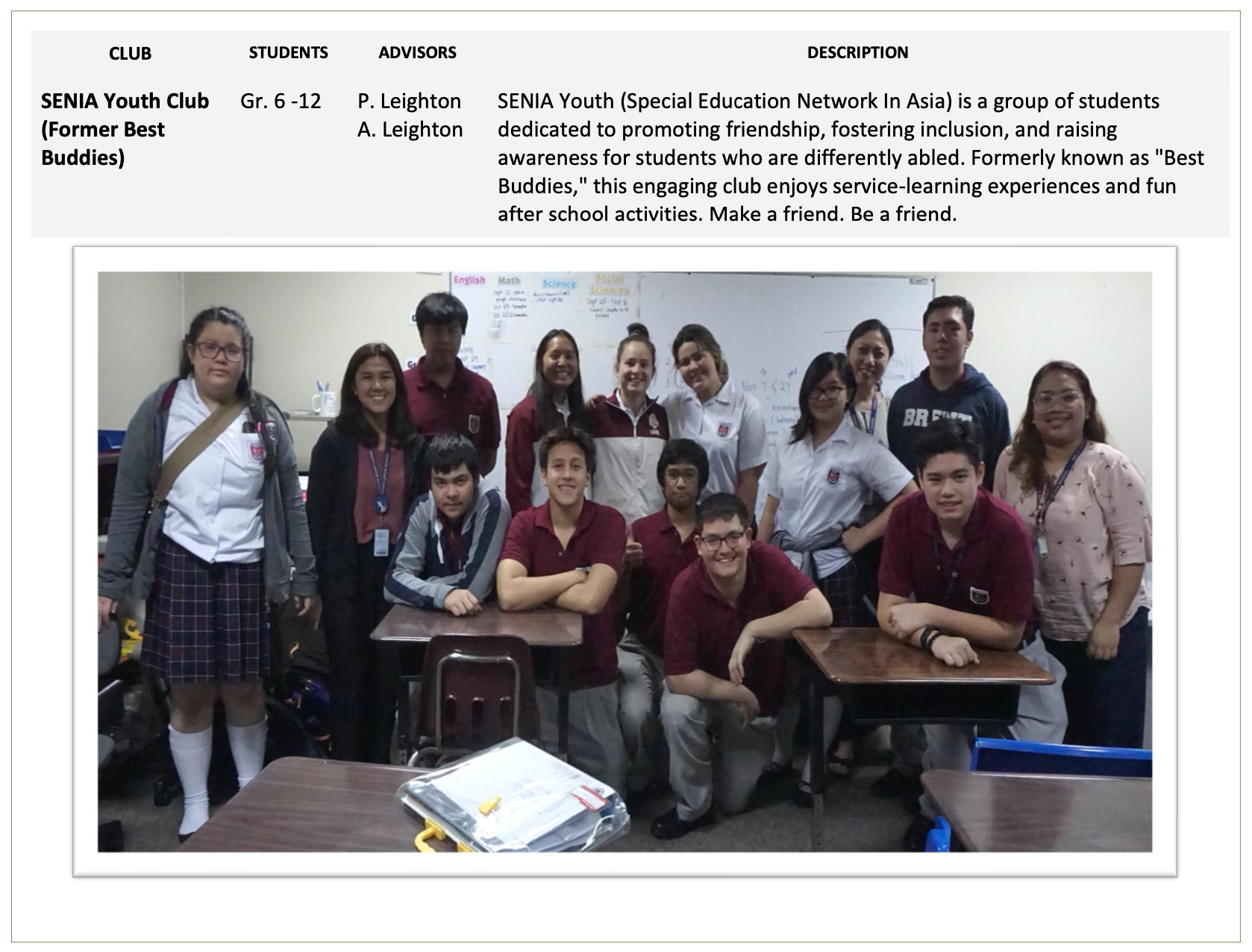 Holy Family Episcopal Church
How have we been?
"If you are a person of faith and you are reading this, be bold for the sake of those around you. Love thy neighbor is not a bumper sticker. It means the people you share this planet with come before you. Demonstrate love through works. Ask what you can do for the people around you. Bearing fruit means doing something for others with no expectation of anything in return. When people think of the Father, they must feel his love through us. God Bless! Let God lead your life!!" ~ Molly Dooker, Wealth Management/Finance at Self-Employment (2000-present) https://www.quora.com/What-are-some-facts-about-coronavirus-that-everyone-should-
December 2019
Caroling at Riles: Alay Pasko Sa Riles 2019
As Christmas was fast approaching, the Youth of the Holy Family, along with some students and teachers of Brent School brought Christmas cheer at the residents of Riles and Apat na Gatang with Christmas carols accompanied by some instruments, courtesy of Master Paul Leggatt, his children, Joseph and William along with some students.
January 2020
Taal relief
St. Barnabas, Tagaytay
A group of Brent Students accompanied by Padi Mary and Ms. Genevieve Dubroof went to St. Barnabas in Tagaytay to bring relief goods from donations of Brent Family (Brent Cares). They also brought books to read to the children evacuees.

February 2020
Candelaria, Holy family Fiesta, February 2, 2020
The feast of the Candelaria is also the Feast for the Holy Family. The Episcopal Diocese Bishop, the Rt. Rev. Rex B. Reyes, graced this occasion as the celebrant. A sumptuous lunch was enjoyed by all after a little entertainment from the Sunday School, ECW and SKEP as well as the goodies raffle draw of the ECW. Everybody was happy to go home especially those who won some good from the raffle.
Lemery, Batangas
A group of Brent Students with some Holy Family Youth and two ECW accompanied by Padi Mary and Ms.
Genevieve Dubroof went to St. Barnabas in Tagaytay to bring relief goods from donations of Brent Family (Brent Cares). They also brought books to read to the children evacuees.
ECW garage sale
Some women who were not able to go with the Lemery contingent had a garage sale at Brent to raise money for the Taal cause.
ECW Diocesan Convention
The annual EDCP-ECW was held last February 15-16 in the St.,Luke's Cahedral in Novaliches, Quezon City. Delegates from Holy Family were Mrs. Jane Oreste, ECW-HFC President and Mrs. Nellie Japie.
March 2020
EDCP Convention
The Annual Episcopal Diocese of Central Philippines (EDCP) convention was held at the Cathedral of St. Mary and St. John last March 2-5, 2020 with the theme, "Celebrating with thankfulness: lengthening our cords; strengthening our stake" (Colossians 2:6- 7, Isaiah 54:2-4). It was attended by the delegates from Our Lady of Walsingham, an outstation of Holy Family, Mrs. Grace Britt and Michael. The Holy Family also was represented by Mrs. Nelly Japie with Padi Mary and Fr. Jonathan Britt.
Lay Training, Deanery Level,
After the Convention, the Southern Tagalog Deanery Lay Training took place to take advantage of the presence of the delegates from Aklan, Mindoro, Tagaytay and Lemery. Engineer Bucat volunteered his rest house in Tagaytay as the venue for this event.
Enhanced Community Quarantine – Luzon Lockdown o Food shelf – relief goods
A peaceful Sunday day to all of us. Our parish has taken a little help from some of our friends in Brentville. That's why whoever of us or our neighbor has full needs and no income and income during this time, it happens to sign up to cover a little PANTAWID HUNGRY in our FOOD SHELF. Please text me to give your name to the Guard and know if there are still any left. Thank you so much and may God always bless and keep you away from any sickness. (Padi Maria, Brent Holy Family, March 22, 2020)
A food shelf was organized by Padi Mary encouraged by some Brent School teachers living in Brentville to provide relief goods particularly food items to some daily wage workers affected by the enhanced quarantine of Luzon. Daily jobs were stopped, thereby no income to bring home to their families. The food shelf aims to somehow augment the lack of daily sustenance. Beneficiaries were mostly from the congregation of the Holy Family. Some SKEP members of the Holy Family helped the good Padi to pack the goods while observing social distancing and safety measures. Family members in the list were advised to come pick up their goods from the Brent Chapel while strictly observing safety measures such as wearing face masks and dousing their hands with alcohol.
Lenten events
Due to the Enhanced Community Quarantine (ECQ) and Social Distancing protocol by the National Government enforced by the Local Government to control the spread of COVID-19 from March 13 to April 13, 2020, all gatherings were suspended including Church events and Holy Eucharist. Sunday Eucharist were observed at home through online streaming. The good Rector sends through social media, i.e. Facebook the readings and collects and even her reflection for members to read in lieu of the regular Sunday Eucharist. Each family was encouraged to do family devotions while at home guided by the Daily Office Liturgy in the Book of Common Prayer (BCP) A morning prayer, Noonday Prayer or Evening Prayer may be observed.
Holy Family Episcopal Church is a parish of the Diocese of Central Philippines, one of the 7 dioceses that make up the Episcopal Church in the Philippines, an autonomous province in the world-wide Anglican Communion. Our congregation came into being when in 2009 Brent International School, in accordance with the wishes of its founder, Bishop Charles Henry Brent that the school participate in the Church's mission, opened Brent Memorial Chapel services to members of the surrounding local communities seeking a regular place of worship, whatever their denomination. The response was quite enthusiastic, and we were admitted as an Organized Mission at the Diocesan Convention in March 2010 and upgraded to Aided Parish in March 2012. Today we form a lively and enthusiastic congregation with an average Sunday attendance of around 60, a thriving Sunday School and a very active women's group – and our acolytes are second to none! Services are mostly in English though readings are frequently in Tagalog.
Our present rector is Padi Mary Balitog, also the Assistant Chaplain of Brent International School Manila, after Father Joe Mock, retired and is now the interim rector at the Church of the Holy Trinity in Forbes Park, Makati.
All regularly scheduled services at the chapel will be maintained as follows and are open to both the Brent and the Holy
Family communities. All services are according the Book of Common Prayer of the Episcopal Church in the Philippines.
Daily services are: Monday to Friday
• Morning Prayer at 7:15 a.m.
• Noonday Prayer at 11:30 a.m. and
• Evening Prayer at 3:30 p.m.
Mass: Sundays
• Holy Eucharist – 10:00 a.m. (Brent Memorial Chapel)
• Holy Eucharist – 4:00 p.m. (Langkiwa Outstation ever 1st and 3rd Sunday of the month)
Parish Organizations
1. Youth Ministry (Samahan ng mga Kabataang Episcopal) – SUNERGOS
Our Youth Group call themselves "Sunergos" meaning working together is one of the most vibrant elements in our parish life. They form a local chapter of the National SKEP of the Episcopal Church in the Philippines, and are represented at the National and Diocesan meetings of that Organization. Members of our youth group also participate in the life of our parish as
Sunday School Teachers (see below for Sunday School)
Our Sunday School and our VCS (Vacation Church School), supervised by Padi Mary Balitog, run and taught exclusively by the older youth.
Acolytes
Composed of young people, boys and girls, between the ages of 8 and 19, the Holy Family acolytes assist at all parish Eucharist and are otherwise active in the life of the Church. They are trained and supervised by Rev. Jonathan Britt
2. ECW (Episcopal Church Women)
Early on, the women, the pillars of our church community, organized themselves to form a chapter of the ECW and have since then been the heart of the community. Beyond the traditional 'women's' tasks, which they perform with gusto, (washing and ironing church linens and vestments, polishing utensils, etc.)) they are instrumental in organizing most parish social events and run highly successful fund-raising activities. They meet every first Sunday of the month under the leadership of their elected officers.
Parish Programs
1. Sunday School
This program aims to provide spiritual nourishment to our youngest members through singing, interactive reading and watching appropriate videos. Average attendance is between 20 and 30 youngsters every Sunday. Some Sunday school 'alumni' are now trained Sunday school teacher themselves, while others serve as acolytes and readers.
2. Education Assistance Program
This program aims to support any student from a low-income family who is an active member of the parish and desires to pursue a College Degree. The sources of fund come from offerings made during school wide Eucharist and Sunday school fund-raising efforts made by concerned members of the Brent community who continually support the programs of the parish.
• Educational Loan Program
Support is given in the form of interest-free loans to be repaid once the student has graduated and gainfully employed. At the end of the school year 2018-2019, one recipient finished a technical course and an incoming fourth year for a degree of BS in Elementary Education.
• Scholarship Program (for University Students)
This program, initiated by Brent School's Project Compassion Club, supported a full time college student who graduated in April, 2017, passed the Licensure examination for teachers and has taught at a Pre- School in Biñan. Another recipient graduated last April 2018.
The program hasn't been active recently as it is dependent on the project of a Brent School club or
sustained by private individuals supporting a student but managed by the parish.
3. Edukalye Program
This is a new program recently launched this June 2019. Initially it was planned to be a Kariton Klassroom patterned from the CNN Hero in 2009, Efren Peñaflorida, who brought education to poor children in Cavity City. A Kariton was constructed for this purpose. As this program is still in the infant stage, lots of needs were identified after the first successful trial in two target communities in Biñan. Funding is a primacy concern since the Kariton can not be rolled along the main thoroughfare of the city, the teachers volunteers need transportation, except the nearby communities as Apat na Gatang or Mamplasan. As for resources there are lots of children's books donated by a generous member of the congregation so reading stories is the jump-start activity but other activities such as arts and crafts are in the plan.
The volunteer young 'teachers' from the Sunergos with Padi Mary and Ms. Laura Murray, also with the support of Mrs. Jocelyn Morales (ECW) has been going to the target communities, Riles, Apat na Gatang and Mamplasan, to read to young interested children despite being interrupted by rain. While some of the women stay at the chapel to cook for these young people when they come back tired and hungry. Sometimes, if there is more food, they take some to share with the children. Our thanks go to generous donors of food items.

To our Edukalye children: Rain or shine, we come to you. We roll our kariton with books to bring you. If at all available, we bring food (sopas or lugaw) to share with you. Just sit tight and … we will be there.
Parish Preaching Stations
Langkiwa
In 2015, the Pitong Gatang settlement from which most of our original members came was relocated in Langkiwa, a good 50 minute by public transport, i.e tricycle from Brent Chapel. Some children still show up for Sunday school on Sunday mornings along with some adults. For those who can't find the time, Deacon Mary Balitog visits regularly with the Celebration of Word and Communion one Sunday a month. A house in the area is being rented to serve as a house of worship and at the same a fellowship site or other Church functions. Brent school sent old tables chairs , and shelves to furnish the building.
Timbao
Timbao, where some of our members reside, is located at some distance from Brent School. For those who find it hard to get to us on Sundays, Deacon Mary Balitog visits once a month to conduct a Celebration of Word and Communion.
Mindoro (Tubili)
A contingent of Holy Family members lead by Deacon Mary and Mrs. Grace Britt had been going to Tubili in Mindoro with the permission of the Dean of the Southern Tagalog Deanery and the Priest-In-Charge of an existing church in the area to start a mission with the Mangyan Tribe of Mindoro. This mission was initiated in 2016.
Cavinti (Our Lady of Walsingham Preaching Station)
In 2012 the former Deacon Jonathan Britt and his wife Grace opened a preaching station on their property in Cavinti, Laguna. Before long a small but regular congregation was formed which meets on a regular Sunday Service. Deacon Jonathan conducts a Celebration of Word and Communion second and fourth Sunday of the month and Fr. Joe Mock celebrates the Eucharist on first and third.
Deacon Jonathan is also seeking ordination to the priesthood. Soon, the services at the Our Lady of Walsingham will be maintained by a resident priest and will eventually upgrade to an Organized Mission.
WITNESSING: PARISH AT WORK IN THE NEIGHBORHOOD
The Holy Spirit is using the Holy Family Episcopal Church through the then Deacon Mary by sending children in need of help her way. Out of the blue, somebody calls Padi Mary about a kid in need, and there she is to help. Isn't that amazing work of the Holy Spirit?
Name of Child Age Condition
1. Gabriel de la Cruz 8 Cerebral Palsy with Epilepsy
2. Bobby Babon 4 "Down Syndrome"
3. Andrea Tabilog 7 healthy (sponsored)
4. Rachelle Casingoy 8 Blind
5. Aniluv Padohinog 13 healthy (sponsored)
6. Evan Blanco 10 healthy (sponsored)