ADD A LITTLE NOW TO YOUR LATER
You have really heard the importance of setting and achieving goals countless times. For right now, forget about it. Setting goals for the future may be important but it is nowhere near as important as learning to be present.
Sometimes the real go-getters become anxious at the suggestion of letting go of goals, even for a moment. Don't worry, future oriented goals are certainly not all negative. Yet if they are your whole life and you always go from one goal to the next, you are not going to find consistent happiness.
By now you are seeing that focusing on the moment is a central point of Attitudinal Healing. Without it, your happiness will always be fleeting. To get an idea of where you stand in being present, get out a piece of paper and divide into three columns; past, now and present. Contemplate your life and what you spend your time thinking about. Then place in the three columns the percentage of time that you spend in each. If you are like most people, you will discover that you spend far more time holding unto grudges or guilt about the past, and worrying or trying to control the future, than you do living in the present. With awareness and intention this can change.
On this morning's news, I saw a Physician/mountaineer who was caught in a severe storm a few hours ago on Mount Everest. Most of his party died. He lost his nose and hands due to frostbite. On the news he was describing how he had been well on his way toward achieving his goal of ascending the great mountain peaks of the world. To his surprise, it was through his failure on Everest that he learned his most important lesson. He acknowledged how he had been so goal –oriented that he overlooked his heart, his love for his family and who he was. Though he lost the hands that had helped him reach his goals, he discovered the heart that delivered him home. "I would never trade them back," he said, his voice trembling with emotion.
To bring a little now to your later, you will need to have strong intentions. This is because your mind is accustomed to obsessing on the past and the future. To break the habit, and bring your mind to go where it will undoubtedly continue to be preoccupied with the past and future, and you will literally put off being happy.
Here is an alternative. In the morning, before your feet hit the floor, establish spiritually-based goals that can be accomplished in the moment throughout the day. These goals will bring balance to your life and any future-oriented goals you may have. Examples of these peace-ensuring goals are:
My goal is to listen with my heart today.
My goal is to extend kindness to all I meet.
My goal is to forgive rather than judge.
My goal is to give Love.
The following is a five-step meditation you can do each day to focus on creating peace-ensuring goals. I suggest you practice it each morning when you wake. It is easy to remember because it is an acronym for PEACE. Thus I call it the PEACE Plan.
Picture how you want to feel today and the thoughts you want to have in your mind.
Notice I didn't say "what you want to have happen," for this is often out of your control. But what you think and feel in reaction to external circumstances is completely up to you. This may be hard to see right now, but it is true. It also the key to your happiness.
Expect that you will think these thoughts and feel this way.
This step uproots the common habit of saying, "Yeah, but if something happens that I don't like, I will have every reason to be angry and upset. "Today escape this pattern of giving up your happiness by knowing that you alone choose your thoughts and feelings.
Ask, "What is my peace-ensuring goal for the day?"
Peace-ensuring goals are ones that can be accomplished in the moment and result in you being peaceful and happy.
Choose to listen to the gentle voice within you as it offers you your answer.
Enjoy your day and share your peace –ensuring goal with at least one other person.
By practicing
peace-ensuring goals
you will add a little now
to your later and a smile to your life.
From the book: Smile for no good reason by Dr. Lee Jampolsky
Take care and God bless.
Fr. Benjamin A. Jance III
School Chaplain/Community Relations Officer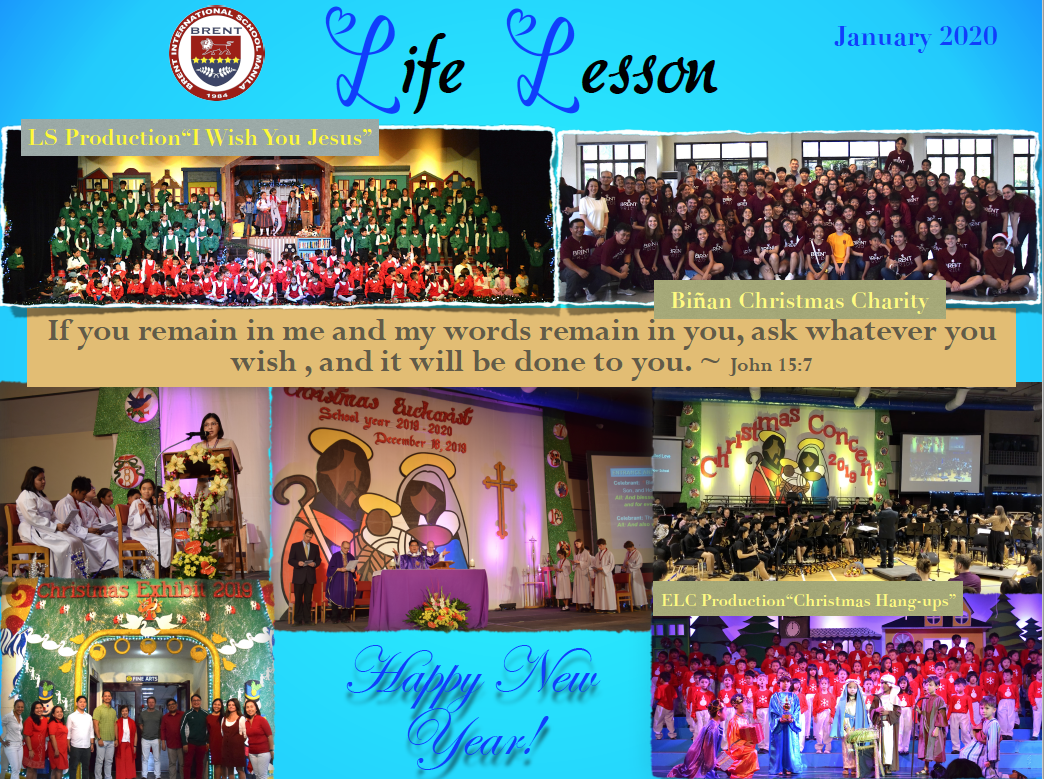 Prayers, Poems and Artwork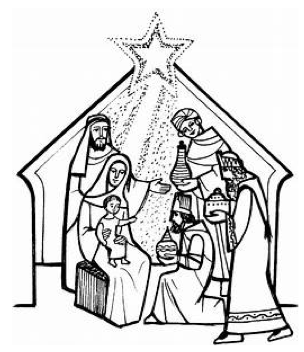 The Epiphany of our Lord (January 6)
Epiphany is the manifestation of Christ to the peoples of the earth. The winter solstice was kept on Jan. 6 at some places during the first centuries of the Christian Era. In opposition to pagan festivals, Christians chose this day to celebrate the various manifestations, or "epiphanies," of Jesus' divinity. These showings of his divinity included his birth, the coming of the Magi, his baptism, and the Wedding at Cana where he miraculously changed water into wine. The day was called "The Feast of Lights." Celebration of the Son of God replaced celebration of the sun. Baptisms were done, and a season of preparation was instituted. It was later called Advent.
The coming of the Magi is celebrated on the Feast of the Epiphany, Jan. 6, in the BCP. The Baptism of our Lord is celebrated on the First Sunday after the Epiphany.
Source: https://episcopalchurch.org/library/glossary/epiphany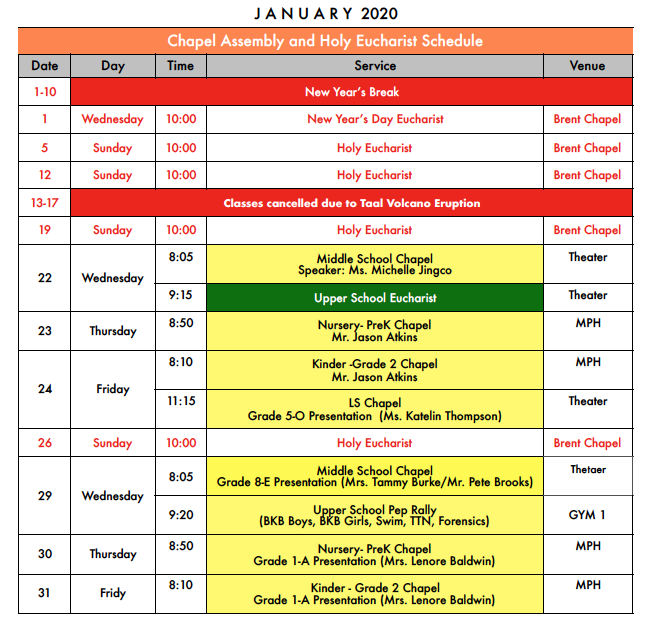 Brent Cares / Service Learning
Brent School has, over the years kept a strong Service Learning arm as an important part of its holistic approach to the Brent Educational System. Students, teachers, staff and administrators participate actively in the after school activity by giving of their time and resources in reaching out to those in need. The whole school goes into full support mode when the need arises, especially during the typhoon season. The generous time and preparations that everyone gives to those in need are concrete expressions of the values that Brent stands for.
Brent's Expected School-wide Learning Results touch on the need for self-development, sincerely reaching out to our community certainly develops the minds and hearts of those in our school. Being responsible in all that we do at school and at work reinforces the service-learning element.
Helping another might be viewed as giving of your time and/or of sharing your talents and resources. It is, and more. It is in fact, a two-way street. The child and person who goes out of his/her way in return gets something that contributes to her/his own wellbeing. "You never know when one act, or one word of encouragement, can change a life forever." ~( Zig Ziglar)
There is an inherent and spontaneous reward that comes from helping one another. Jesus speaks of such reality when He said: "for I was hungry and you gave me food, I was thirsty and you gave me something to drink, I was stranger and you welcomed me, I was naked and you gave me clothing, I was sick and you took care of me, I was in prison and you visited me…. Truly I tell you, just as you did it to one of the least of theses who are members of my family, you did it to me." ~ (Matthew 25:35-36, 40)
Indeed, the joy that one receives in giving far surpasses anything that anyone can ever wish for.
Clubs
Name of Club
Students
Advisors
Brief Description
SENIA Youth Club
(Former Best Buddies)
Gr. 6 -12
P. Leighton /
A. Leighton
SENIA Youth (Special Education Network In Asia) is a group of students dedicated to promoting friendship, fostering inclusion, and raising awareness for students who are differently abled. Formerly known as "Best Buddies," this engaging club enjoys service-learning experiences and fun after school activities. Make a friend. Be a friend.
Building Bridges with Biñan
• Mamplasan Elementary School
• Pagkakaisa Elementary School
Gr. 3 -12
L. Baldwin /
Fr. Jance
(Monday Group)

Z. Belaguas /
Fr. Jance
(Wednesday Ggroup)
Monday (Fr. Jance and Ms. L. Baldwin) Building Bridges with Biñan (Mamplasan) is a wonderful way for Brent students to reach out to children in our local community. We will be assisting elementary students from Mamplasan Elementary with their English skills, and forming friendships with our neighbours. Students from grades 3-12 are welcome to join. Please note that this group is separate from the
Wednesday Building Bridges group. Wednesday (Fr. Jance and Mr. Z. Belaguas) We have invited 15 students from Pagkakaisa Elementary School to come on Wednesdays to improve their English . We are looking for 3rd-12th grade students who can commit one day a week to enrich the life of one of these students . We read, we converse, and we encourage them in their studies.
Gawad Kalinga
• Philip's GK Village, Laguna
Gr. 9 -12
G. Dubroof /
L. Faber
Brent students attend biweekly meetings during lunch to prepare activities for the local students we support. Saturday morning trips to the GK Village allow Brent students to work with grades 1-6 local students. IB students may earn CAS experience.
Geek Squad
Gr. 9 -12
R. Castañeda
Solve computer problems and discover new technologies * Participate in Tech for Teaching * Explore the world of Robotics (Arduino, Raspberry Pi, Microbits) * Produce audio and video * Practice Programming * Help organize Tech Week * Play computer games * Share your knowledge and skills in I.T. and learn from others as well * Join the GEEK SQUAD!
Global Issues Network (GIN)
Gr. 9 -12
L. Trajano /
D. Cho
Global Issues Network facilitates the development of student-led projects that represent "sustainable solutions for our shared global issues." The club's primary aim is to build a network of community service opportunities in which students can contribute and from which students can learn.
Junior Global Issues Network (GIN)
Gr. 3
T. Naude /
C. Hagen
Students will explore the global issues that we face such as shortage of water, climate change, pollution, extinction, disease and much more. Students will learn ways in which they can help the environment, create awareness and to decrease the carbon footprints implanted on earth as time goes by.
Good Samaritan
Gr. 9 - 12
K. Pozon /
D. Mapua
The Good Samaritan Club is a service learning group that caters to the needs of the local community of Biñan Laguna . The members of this group meet every week to discuss projects that address these needs. The club also provides the opportunity for its members to take on various leadership roles and earn credits for CAS.
Green Earth Ambassador
Gr. 9 - 12
M. Baldwin /
D. Michaelsen
The Green Earth Ambassadors is an environmental advocacy club focused on bringing sustainable solutions to environmental problems in the Philippines. Our projects have focused on recycling, food waste, refilling markers, and environmental field trips. We are looking for students who are dedicated to making the world a better place and are interested in learning about working with local stakeholders to solve local environmental problems. Five… four… TREE… two… one! Green Earth Ambassadors is Brent's environmental club. Members seek to do what we can to make Brent, and the community around us, a greener place. Some projects include Tree Planting, the Eco-Fashion Show, the Color Run, the My Green Cup project, and a trip to Subic for a beach clean up! Through the projects we have fun and get to know each other. If you have ideas, if you want to make a difference, and if you want to get involved, Green Earth Ambassadors is the place for you.
Model United Nations
Gr. 6 -12
B. Jewell /
T. Selga
A student-driven educational simulation in which students learn about diplomacy, international relations, and the United Nations based on current and relevant international issues. MUN involves and teaches research, public speaking, debating, and writing skills, in addition to critical thinking, teamwork, and leadership. Brent MUN hosts an annual conference to teach these skills to local schools as a training exercise and then attends a larger MUN conference with these schools in Manila in the fall at the World Health Organization
Project Compassion
Gr. 6 - 8
R. Richards
Designed to bring up culture awareness, to create solidarity and compassion for the people in needs. This club helps our students to engage in meaningful service -learning activity with the Holy Family Mission Children with kindness, empathy, and generosity.
Holy Family Episcopal Church
What's new at Holy Family….
On the first Sunday of Advent, December 1, 2019 were momentous events at the Holy Family Episcopal Church with three blissful occassions in one ceremony: Blessing of the Advent Wreath and lighting the first candle; Reception of ten new communicants and the Celebration of a new ministry. The Rt. Rev. Bishop Rex B. Reyes installed Rev. Mary T. Balitog as the third Rector of Holy Family Episcopal Chruch. Ten regular parishioners also decided to become members of the Episcopal Church and thereby received
by the Bishop.
Jonas Jude Combate, Krizialyn Jane Oreste, Jericson Tabilog, Froilan Sigue, Jr., Kane Ramil A. Pineda, Francis Kenneth Lubricio, Nelly Japie Marcelo, Mary Jane Orsete, Maricor Saraniogon, Ma. Soney Rivera, welcome to the family!
Mr. Jason Atkins, the Headmaster of Brent International School graced this occasion as the preacher, "BE STRONG AND COURAGEOUS" he says as he quoted from the reading according to the book of Joshua. He further expounded his sermon about ministry from all the readings in Joshua 1:7-9, Psalm 43, the Second Epistle of St. Paul to the Roamans 12:1-8 and the Gospel according to John 15:9-16. At the installation rite, he also handed the keys to the Brent Memorial Chapel, the "home" of the Holy Family, to Padi Mary.
The Parish also welcomed our honored guests from Brent School, Mr. Ben Josephson, Middle School Principal, Mrs. Heather Atkins, Admissions Director, Mr. and Mrs. Lorenzo Trajano, may not be called guests as they come to church often, and from as far as Masla, Tadian, Padi Mary's hometown by Padi Mary's relatives and as far as northern Manila by Mr. and Mrs. Danilo Ocampo, Mrs. Laura Ocampo handing over the Constitution and Canons of the Philippine Episcopal Church to Padi in the installation rite and all those friends and relatives who have come to join and celebrate with us.
Indeed, as any joyous occasion in the history of the church, a sumptuous meal was shared after the service. Kudos to the ever ready and ever willing to serve ECW of the Holy Family.
Holy Family Episcopal Church is a parish of the Diocese of Central Philippines, one of the 7 dioceses that make up the Episcopal Church in the Philippines, an autonomous province in the world-wide Anglican Communion. Our congregation came into being when in 2009 Brent International School, in accordance with the wishes of its founder, Bishop Charles Henry Brent that the school participate in the Church's mission, opened Brent Memorial Chapel services to members of the surrounding local communities seeking a regular place of worship, whatever their denomination. The response was quite enthusiastic, and we were admitted as an Organized Mission at the Diocesan Convention in March 2010 and upgraded to Aided Parish in March 2012. Today we form a lively and enthusiastic congregation with an average Sunday attendance of around 60, a thriving Sunday School and a very active women's group – and our acolytes are second to none! Services are mostly in English though readings are frequently in Tagalog.
Our present rector is Padi Mary Balitog, also the Assistant Chaplain of Brent International School Manila, after Father Joe Mock, retired and is now the interim rector at the Church of the Holy Trinity in Forbes Park, Makati.
All regularly scheduled services at the chapel will be maintained as follows and are open to both the Brent and the Holy
Family communities. All services are according the Book of Common Prayer of the Episcopal Church in the Philippines.
Daily services are: Monday to Friday
• Morning Prayer at 7:15 a.m.
• Noonday Prayer at 11:30 a.m. and
• Evening Prayer at 3:30 p.m.
Mass: Sundays
• Holy Eucharist – 10:00 a.m. (Brent Memorial Chapel)
• Holy Eucharist – 4:00 p.m. (Langkiwa Outstation ever 1st and 3rd Sunday of the month)
Parish Organizations
1. Youth Ministry (Samahan ng mga Kabataang Episcopal) – SUNERGOS
Our Youth Group call themselves "Sunergos" meaning working together is one of the most vibrant elements in our parish life. They form a local chapter of the National SKEP of the Episcopal Church in the Philippines, and are represented at the National and Diocesan meetings of that Organization. Members of our youth group also participate in the life of our parish as
Sunday School Teachers (see below for Sunday School)
Our Sunday School and our VCS (Vacation Church School), supervised by Padi Mary Balitog, run and taught exclusively by the older youth.
Acolytes
Composed of young people, boys and girls, between the ages of 8 and 19, the Holy Family acolytes assist at all parish Eucharist and are otherwise active in the life of the Church. They are trained and supervised by Rev. Jonathan Britt
2. ECW (Episcopal Church Women)
Early on, the women, the pillars of our church community, organized themselves to form a chapter of the ECW and have since then been the heart of the community. Beyond the traditional 'women's' tasks, which they perform with gusto, (washing and ironing church linens and vestments, polishing utensils, etc.)) they are instrumental in organizing most parish social events and run highly successful fund-raising activities. They meet every first Sunday of the month under the leadership of their elected officers.
Parish Programs
1. Sunday School
This program aims to provide spiritual nourishment to our youngest members through singing, interactive reading and watching appropriate videos. Average attendance is between 20 and 30 youngsters every Sunday. Some Sunday school 'alumni' are now trained Sunday school teacher themselves, while others serve as acolytes and readers.
2. Education Assistance Program
This program aims to support any student from a low-income family who is an active member of the parish and desires to pursue a College Degree. The sources of fund come from offerings made during school wide Eucharist and Sunday school fund-raising efforts made by concerned members of the Brent community who continually support the programs of the parish.
• Educational Loan Program
Support is given in the form of interest-free loans to be repaid once the student has graduated and gainfully employed. At the end of the school year 2018-2019, one recipient finished a technical course and an incoming fourth year for a degree of BS in Elementary Education.
• Scholarship Program (for University Students)
This program, initiated by Brent School's Project Compassion Club, supported a full time college student who graduated in April, 2017, passed the Licensure examination for teachers and has taught at a Pre- School in Biñan. Another recipient graduated last April 2018.
The program hasn't been active recently as it is dependent on the project of a Brent School club or
sustained by private individuals supporting a student but managed by the parish.
3. Edukalye Program
This is a new program recently launched this June 2019. Initially it was planned to be a Kariton Klassroom patterned from the CNN Hero in 2009, Efren Peñaflorida, who brought education to poor children in Cavity City. A Kariton was constructed for this purpose. As this program is still in the infant stage, lots of needs were identified after the first successful trial in two target communities in Biñan. Funding is a primacy concern since the Kariton can not be rolled along the main thoroughfare of the city, the teachers volunteers need transportation, except the nearby communities as Apat na Gatang or Mamplasan. As for resources there are lots of children's books donated by a generous member of the congregation so reading stories is the jump-start activity but other activities such as arts and crafts are in the plan.
The volunteer young 'teachers' from the Sunergos with Padi Mary and Ms. Laura Murray, also with the support of Mrs. Jocelyn Morales (ECW) has been going to the target communities, Riles, Apat na Gatang and Mamplasan, to read to young interested children despite being interrupted by rain. While some of the women stay at the chapel to cook for these young people when they come back tired and hungry. Sometimes, if there is more food, they take some to share with the children. Our thanks go to generous donors of food items.

To our Edukalye children: Rain or shine, we come to you. We roll our kariton with books to bring you. If at all available, we bring food (sopas or lugaw) to share with you. Just sit tight and … we will be there.
Parish Preaching Stations
Langkiwa
In 2015, the Pitong Gatang settlement from which most of our original members came was relocated in Langkiwa, a good 50 minute by public transport, i.e tricycle from Brent Chapel. Some children still show up for Sunday school on Sunday mornings along with some adults. For those who can't find the time, Deacon Mary Balitog visits regularly with the Celebration of Word and Communion one Sunday a month. A house in the area is being rented to serve as a house of worship and at the same a fellowship site or other Church functions. Brent school sent old tables chairs , and shelves to furnish the building.
Timbao
Timbao, where some of our members reside, is located at some distance from Brent School. For those who find it hard to get to us on Sundays, Deacon Mary Balitog visits once a month to conduct a Celebration of Word and Communion.
Mindoro (Tubili)
A contingent of Holy Family members lead by Deacon Mary and Mrs. Grace Britt had been going to Tubili in Mindoro with the permission of the Dean of the Southern Tagalog Deanery and the Priest-In-Charge of an existing church in the area to start a mission with the Mangyan Tribe of Mindoro. This mission was initiated in 2016.
Cavinti (Our Lady of Walsingham Preaching Station)
In 2012 the former Deacon Jonathan Britt and his wife Grace opened a preaching station on their property in Cavinti, Laguna. Before long a small but regular congregation was formed which meets on a regular Sunday Service. Deacon Jonathan conducts a Celebration of Word and Communion second and fourth Sunday of the month and Fr. Joe Mock celebrates the Eucharist on first and third.
Deacon Jonathan is also seeking ordination to the priesthood. Soon, the services at the Our Lady of Walsingham will be maintained by a resident priest and will eventually upgrade to an Organized Mission.
WITNESSING: PARISH AT WORK IN THE NEIGHBORHOOD
The Holy Spirit is using the Holy Family Episcopal Church through the then Deacon Mary by sending children in need of help her way. Out of the blue, somebody calls Padi Mary about a kid in need, and there she is to help. Isn't that amazing work of the Holy Spirit?
Name of Child Age Condition
1. Gabriel de la Cruz 8 Cerebral Palsy with Epilepsy
2. Bobby Babon 4 "Down Syndrome"
3. Andrea Tabilog 7 healthy (sponsored)
4. Rachelle Casingoy 8 Blind
5. Aniluv Padohinog 13 healthy (sponsored)
6. Evan Blanco 10 healthy (sponsored)