Vol. XIX • Issue 37 • May 19, 2017
CONGRATULATIONS!
As we bring the 2016-2017 school year to a close, we want to take this opportunity to express our sincere appreciation to the many individuals who helped make this school year so successful. Certainly our talented and energetic students, their equally talented and professional faculty, the helpful and dedicated parents, and our most amazing and loyal support staff have all contributed to this success. As we say thank you to all, we look forward to even bigger and better accomplishments next year and beyond.
We salute the Class of 2017! They have provided our school with leadership by example, with enthusiasm, with attention to academic rigor, and with incredible energy in the many other facets of Upper School life here at Brent. We challenged them at the beginning of the year to be the leaders in our school and they have not disappointed us one bit. Wherever they may be heading next year, we wish them well knowing they are well prepared academically and spiritually to meet the challenges awaiting them. Thank you, Seniors; God bless you all!
To our valued faculty members moving on next year, we likewise take this opportunity to honor their contributions to the total life here in Brent Upper School. Several of our faculty members will be leaving us this year including Katrina Baron, Ellen and Kevin Fallon, Erin Hogshead, Kealy Mccleery, Imon Monzon, Brett Petrillo and Kris Skrutvold. We congratulate and thank them for their many wonderful years of selfless service to the students of Brent School. Thank you all for your passion, your expertise, and the concern for student learning that has marked your tenure with us!
To the students and parents leaving Brent and changing locations this summer, we thank you for your many and varied contributions to the success of this school year. We also want to wish you every success in the future and we look forward to hearing from you from time to time. After all, "Once a Brent family member, always a Brent family member!" To those returning to us next year, please travel safe and return to us energized and ready to meet the challenges of a new school year. We wish you all a safe vacation!
As we prepare to meet the challenges of the 2017-2018 school year, we do so with the confidence that dedicated and talented individuals surround us on all fronts. We look forward to those challenges knowing we are all focused on doing what is best for Brent School and for the students we serve. Again, our congratulations and sincere appreciation for the many contributions each Brent family member has made this year. We are definitely a better place because of you!
SECOND SEMESTER FINAL EXAMINATIONS
Our second semester final examinations are set for Monday through Thursday, May 22 to 25. Teachers will be in school on Friday the 26th, but other than make up exams it is a non-student day, and there will be no regular bus service. We encourage everyone to bring their textbooks with them to the exams so that they can be collected and student accounts cleared early. Thank you and best of luck on these important assessment tasks.
JUNIOR SENIOR PROM 2017
This year's prom will be held on Tuesday, May 30, 2017, from 7:00pm to 11:00pm at the Crimson Hotel, Filinvest City, Metro Manila. Attire is strictly formal, with a "Bella Notte" theme.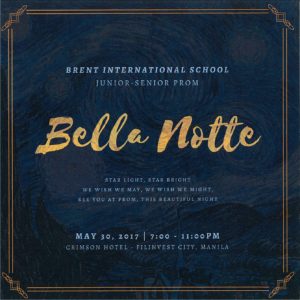 PARENTS INVITED TO YEAR-END EVENTS
There are several year-end events parents are invited to attend:
Monday, May 29
8:15 in Gym 1 – Baccalaureate Eucharist
10:00 in Gym 1 – Activities and Athletic Awards Assembly
Tuesday, May 30
9:20 in Gym 1 – Moving Up Day
If you are the parent of a senior in particular you may want to join our Baccalaureate Eucharist as well as our Graduation Ceremony.
All these events and others can be viewed on the Upper School Calendar
http://www.brent.edu.ph/Academics/upper.school/calendar/
Come join us as we celebrate the end of a year full of accomplishments.
IMPORTANT SENIOR DATES IN MAY
Seniors are the focus of some important end-of-the-year events, and because many of them are attending school on an irregular basis due to IB examinations starting on Friday, April 28, we have outlined their commitments in a special announcement so they and their parents and guardians can plan accordingly. Every Grade 12 student will receive a hard copy of this announcement this week and a pdf copy is attached.
Parents, thanks for reading it and staying informed.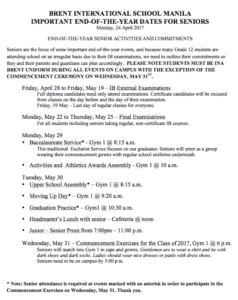 BUS SCHEDULE FOR THE REMAINDER OF THE SY
During exams Monday, May 22 through Thursday, May 25, there will be only ONE bus time at 1:30 pm and all student bus riders are to be on those buses.
On Monday, May 29 the Baccalaureate and Activities award day, student buses will depart at 12:00 noon. On Tuesday, May 30 the Upper School Awards Assembly and Moving Up Day, the student buses will leave at 11:15.
END OF YEAR CLEARANCE
Reduce the end of year stress by starting early. Make sure you have found and returned any outstanding books or other materials checked out from the Media Center, Activities Office, Upper School Office, or other areas in the school. Make sure any outstanding balances are cleared. In particular make sure your POS account with the cafeteria is clear.
COLLEGE ACCEPTANCES FOR CLASS OF 2017
Our list of college acceptances is here and growing. We want to congratulate our seniors for their terrific accomplishments this year!!
SUMMER PROGRAM OPTIONS
The following is a selection of summer programs offered at colleges and universities around the world.
Please note – none of these programs have been endorsed by Brent International School Manila. This is provided only as a resource and the list is not exhaustive, more programs exist. Check the individual program websites for details.
Additional options can be found at the following website created by Shaun McElroy, international school counselor.  http://www.internationalcounselor.org/summer2/Summer_Omnibus/Omnibus.html
IMPORTANT DATES FOR THE START OF 2017-2018 SCHOOL YEAR
Below are some important dates at the start of next school year. Please also refer to the Upper School Calendar http://www.brent.edu.ph/Academics/upper.school/calendar/
Open House and New Student Orientation – 10:00am-11:00am, Friday, August 4 in the Theater.
Important Meeting for grade 11 IB students and parents in the Theater – 11:00am-12:00pm, Friday, August 4.
First Day of Classes – Monday, August 7.
Freshman Parent Orientation – 1:45pm in the Theatre, Wednesday, August 23.
Upper School Parent Orientation – 2:45pm in the Theatre, Wednesday, August 23.
SAT TEST DATES
2017-2018 SCHOOL YEAR CALENDAR IS NOW AVAILABLE
Next years school calendar can now be viewed on our website here:
http://brent.edu.ph/wp-content/uploads/2017/02/school-calendar-sy-2017-2018.pdf
CLOSING OF SCHOOL – CANCELLATION OF CLASSES
Brent International School Manila adheres to the Storm Signal Guidelines established by PAGASA – (the Philippine Atmospheric, Geophysical and Astronomical Services Administration). Accordingly, when storm signals are posted over Biñan, Laguna, classes will be affected as follows:
Storm Signal #1 Normal Operation: All Brent classes will proceed as scheduled.
Storm Signal #2 No Classes or Activities: No students or teachers are to report, however the school offices will remain open for the day. Administrators and office support staff report as usual if it is safe to do so.
Storm Signal #3 and #4 No School: The entire school operation will be closed. No classes, offices or activities will take place.
Please be aware that the storm signal for Laguna is not the same as that of Metro Manila. Weather reports regarding Manila, therefore, may not apply to the conditions at Brent.
Every attempt will be made to contact parents, students and teachers in the event of a cancellation of classes. When available and applicable, we use corporate texts to inform those whose cell phone numbers are registered in our system. If you have not heard from the school, you can assume that classes will happen as scheduled.
If you are still unsure, calling the school at +63-2-697-9043 or +63-49-511-4330 to 33 after 6:00 a.m. or checking to see if there is a notice on our website (www.brent.edu.ph) may help.
Finally, we realize that parents have the ultimate responsibility for determining whether or not their children go to school. Even if no order for the suspension of classes has been issued, if parents feel that traveling to or from school will place their children at risk, we certainly understand and will honor their decision.
COMMUNICATING WITH HOME
If there is anything else we in the Upper School can do to help you better understand our school, please feel to call us or stop by the Upper School Office. We thank you all for your continued support of the people and the programs in our Upper School.
Please also note that we have provided the names of all Upper School faculty on our website for ease of communication: http://brent.edu.ph/academics/upper-school/faculty/. For the most part Faculty emails are their first initial and last name followed by @brent.edu.ph.
Thank you, in advance for your support of the people and programs in our Upper School. Our doors are open and we welcome your presence. Working together, respecting one another, we will have an outstanding year. We wish you all the best, this school year!