Vol. XIX • Issue 33 • April 21, 2017
IMPORTANT SENIOR DATES IN MAY
Seniors are the focus of some important end-of-the-year events, and because many of them are attending school on an irregular basis due to IB examinations starting on Friday, April 28, we have outlined their commitments in a special announcement so they and their parents and guardians can plan accordingly. Every Grade 12 student will receive a hard copy of this announcement this week and a pdf copy is attached.
Parents, thanks for reading it and staying informed.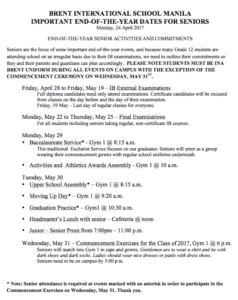 IB EXAMS BEGIN FRIDAY, APRIL 28
The May 2017 IB Written exams begin on Friday, April 28, with 25 IB candidates sitting the Business Management HL and SL Paper 1 starting at 1:00 PM.
On Monday, May 1, the same 25 IB candidates  Business Management HL and SL Paper 2 exams will start at 8:00 AM AND 53 IB candidates will sit the IB Bio HL and SL Papers 1 and 2 in the afternoon starting at 12:45 PM.
If you are sitting both IB Business Management and IB Biology exams on Monday, May 1, please make sure that you bring your packed lunch or you may order for food delivery.
Also on Monday, May 1, the bus schedule is as follows:
Monday, May 1, Morning Pick Up: 
Tiendesitas:         6:45 AM
HTC:                     7:15 AM
Parque Esapana: 7:45 AM
The bus will leave campus on May 1 at 4:45 PM.
BEST OF LUCK TO OUR 100 IB CANDIDATES!
COLLEGE ACCEPTANCES FOR CLASS OF 2017
Our list of college acceptances is here and growing. We want to congratulate our seniors for their terrific accomplishments this year!!
LABOR DAY HOLIDAY ON MONDAY, MAY 1
Please note there will be no school on Monday, May 1 in observance of Labor Day. IB Exams will proceed for seniors as planned. Other than what is necessary for IB exams, offices will be closed.
NEWS FROM THE ACTIVITIES OFFICE
THE ANNUAL FESTIVAL OF THE ARTS WEEK
The end of the school year is filled with opportunities for all of us to enjoy the many talents of our fine and performing arts students. Come enjoy exhibits and performances by our bands, choirs, dance troupe, piano and strings players as well as our visual arts students. Please take note of the following exciting events:
Monday, April 24 – Solo & Ensemble Recital at 3:00 p.m. in the Theater.
Tuesday, April 25 the fabulous arts week ends with our Contemporary Dance Recital at 4:00 p.m. in the Theater.
We hope you will take the time to enjoy all of these exciting performances and understand for yourselves just how healthy and vibrant are the visual and performing arts here at Brent International School Manila!
MAP TESTING
Testing will begin on Monday, April 3, through Wednesday, April 26. Our grade 9 and 10 students will be taking the Measure of Academic Progress (MAP) tests. The tested subjects are in English Language, Mathematics and Reading Comprehension.
NINETEEN MORE INSTRUCTIONAL DAYS!
Can you believe there are only nineteen class days until Second Semester Final Examinations begin on Monday, May 22?!? That's only nine Day "1" and ten Day "2" classes! IB Diploma students will only see each class about 2 more times! We hope every student is focusing on all of his or her academic responsibilities in order to position her or himself for a successful finish to this school year. If you need extra assistance, your teachers and guidance counselors are here to help. Stay academically focused please!
SUMMER PROGRAM OPTIONS
The following is a selection of summer programs offered at colleges and universities around the world.
Please note – none of these programs have been endorsed by Brent International School Manila. This is provided only as a resource and the list is not exhaustive, more programs exist. Check the individual program websites for details.
Additional options can be found at the following website created by Shaun McElroy, international school counselor.  http://www.internationalcounselor.org/summer2/Summer_Omnibus/Omnibus.html
IB CALENDAR OF DEADLINES
Parents and students here are the IB calendar of deadlines for the upcoming school year.
COLLEGE VISITS
Throughout the year various universities that give presentations about their school and the university admissions process in general visit us. Juniors and Seniors as well as their parents may be interested in attending the following presentations.
2016-2017 COUNSELOR COFFEE TALK SCHEDULE
SAT TEST DATES
2017-2018 SCHOOL YEAR CALENDAR IS NOW AVAILABLE
Next years school calendar can now be viewed on our website here:
http://brent.edu.ph/wp-content/uploads/2017/02/school-calendar-sy-2017-2018.pdf
MOMS-IN-PRAYER
Hi Brent Moms! Moms-in-Prayer will be meeting on Mondays from 2:35 to 3:30. We will meet in the Lower School Science Lab (S-208). (We will not meet when there is no school for students)
Our primary purpose is to pray for the students, teachers, administrators and staff at BRENT. We will have a short Bible study followed by prayer. No previous knowlege/experience of the Bible or prayer required.
Please contact Marge at 0928-503-7880 if you have any questions or concerns.
CLOSING OF SCHOOL – CANCELLATION OF CLASSES
Brent International School Manila adheres to the Storm Signal Guidelines established by PAGASA – (the Philippine Atmospheric, Geophysical and Astronomical Services Administration). Accordingly, when storm signals are posted over Biñan, Laguna, classes will be affected as follows:
Storm Signal #1 Normal Operation: All Brent classes will proceed as scheduled.
Storm Signal #2 No Classes or Activities: No students or teachers are to report, however the school offices will remain open for the day. Administrators and office support staff report as usual if it is safe to do so.
Storm Signal #3 and #4 No School: The entire school operation will be closed. No classes, offices or activities will take place.
Please be aware that the storm signal for Laguna is not the same as that of Metro Manila. Weather reports regarding Manila, therefore, may not apply to the conditions at Brent.
Every attempt will be made to contact parents, students and teachers in the event of a cancellation of classes. When available and applicable, we use corporate texts to inform those whose cell phone numbers are registered in our system. If you have not heard from the school, you can assume that classes will happen as scheduled.
If you are still unsure, calling the school at +63-2-697-9043 or +63-49-511-4330 to 33 after 6:00 a.m. or checking to see if there is a notice on our website (www.brent.edu.ph) may help.
Finally, we realize that parents have the ultimate responsibility for determining whether or not their children go to school. Even if no order for the suspension of classes has been issued, if parents feel that traveling to or from school will place their children at risk, we certainly understand and will honor their decision.
A FRIENDLY REMINDER TO PARENTS WHO TRAVEL
If traveling requires you to leave your child/ren in the care of someone else, please complete the Temporary Contact Information form, which can be found here. Sharing it with the office will help Brent better handle any security, medical, or legal concerns that might come up while you are away.
The forms are also available to pick up in each of the school offices.
Please give the completed form to the office before you depart for your trip. Thank you!
COMMUNICATING WITH HOME
If there is anything else we in the Upper School can do to help you better understand our school, please feel to call us or stop by the Upper School Office. We thank you all for your continued support of the people and the programs in our Upper School.
Please also note that we have provided the names of all Upper School faculty on our website for ease of communication: http://brent.edu.ph/academics/upper-school/faculty/. For the most part Faculty emails are their first initial and last name followed by @brent.edu.ph.
Thank you, in advance for your support of the people and programs in our Upper School. Our doors are open and we welcome your presence. Working together, respecting one another, we will have an outstanding year. We wish you all the best, this school year!