Vol. XX • Issue 8 • September 22, 2017
Message From The Principal
Dear ELC & Lower School Parents,
Our online PTC sign-ups have started last Friday and more and more parents have signed up for appointments to meet with their children's teachers for our Parent-Teacher Conference Day on October 2 (Monday). If you have not done so, please visit
https://form.jotform.me/brentitc/LS_1stSem_2017
to book your appointment(s). We also have a computer set up in the Lower School Office for you to use in case you need assistance in going through the process.
The Spring MAP tests for Grades 3 to 5 are finally over. You will be receiving the results of your child's tests soon. It will be sent home with your child's Report Card or Progress Report. These will be released next Friday, September 29.
We finally have our cast, as well as dancers and singers for the LS Christmas Production this year entitled, Wrapping All the Way! Congratulations to all the students who have made it. For the complete list, please see announcement below. Rehearsals will soon commence for this. Your support in getting your child ready for the scheduled song, dance and acting practices is much appreciated.
The revised GANZA Picture-Taking Schedule for ELC is now available. The two missed days we had last week is now reset to October. Check out the separate announcement for that.
We have the first draft of our October Calendar of Activities below for your reference. Other than PTC Day, we are looking forward to the UN Day Parade & Cultural Fair on October 12 and our House Cross Country on October 25. Do save these dates, as well as other grade level events that your child's Homeroom Teacher will be sharing with you.
Finally, thank you for having your children participate in Spirit Week! Thank you also to all of you who have joined us today for the House Rallies. It was wonderful to see you enjoy watching, and even participating in, the activities.
Warm regards,
KIDISMS
House Arrest
Student:   What's your House, Miss Jingco?
Principal: I don't have a House.
Student:   What?! You live here in school?
You Are Who You Are
4 year-old:  My papa's name is Raul and my mama's name is Mommy.
A Picture Says a Thousand Words
Principal: Your older sister did a pretty good drawing of herself. See?
3 year-old: That looks silly! She really is a silly girl!
Transformed by Patience
Teacher:   We need to practice patience until it becomes a natural habit.
Grade 1 Boy:      Hobbit? Why would we want to become a hobbit?
LS Christmas Production Audition Results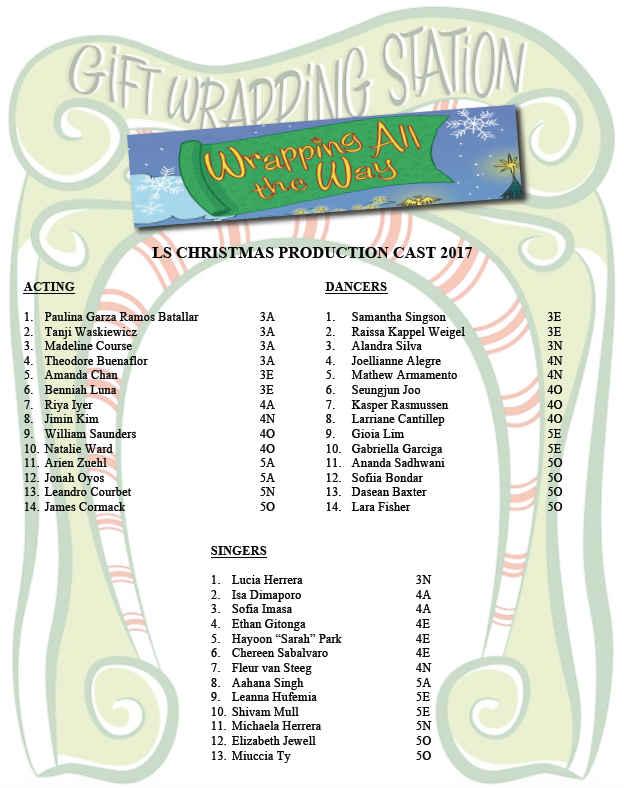 GANZA Photo Schedule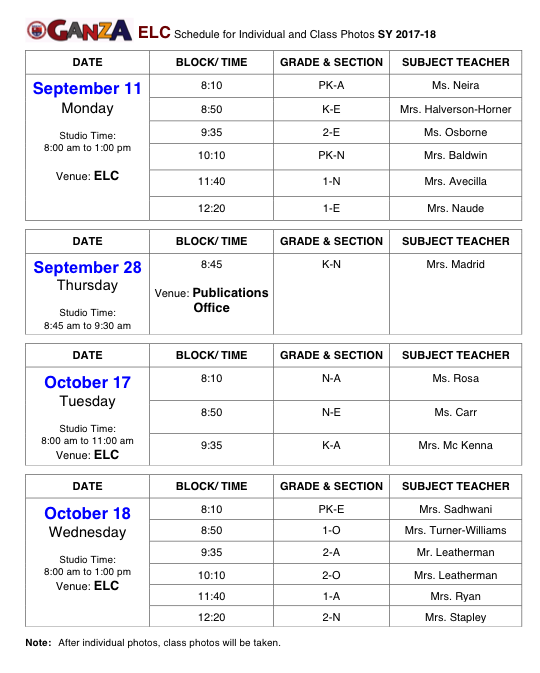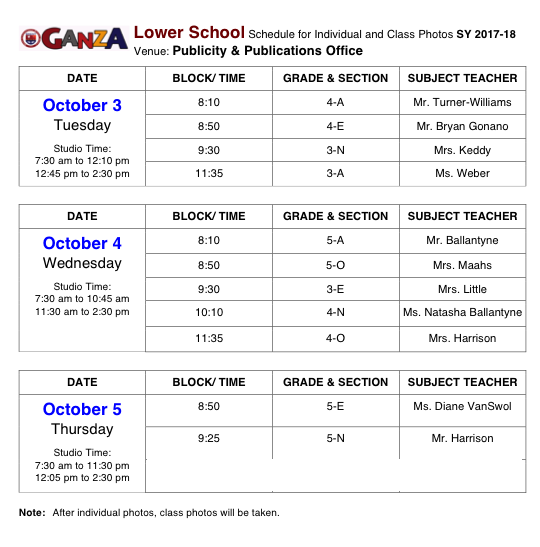 Calendar of Activities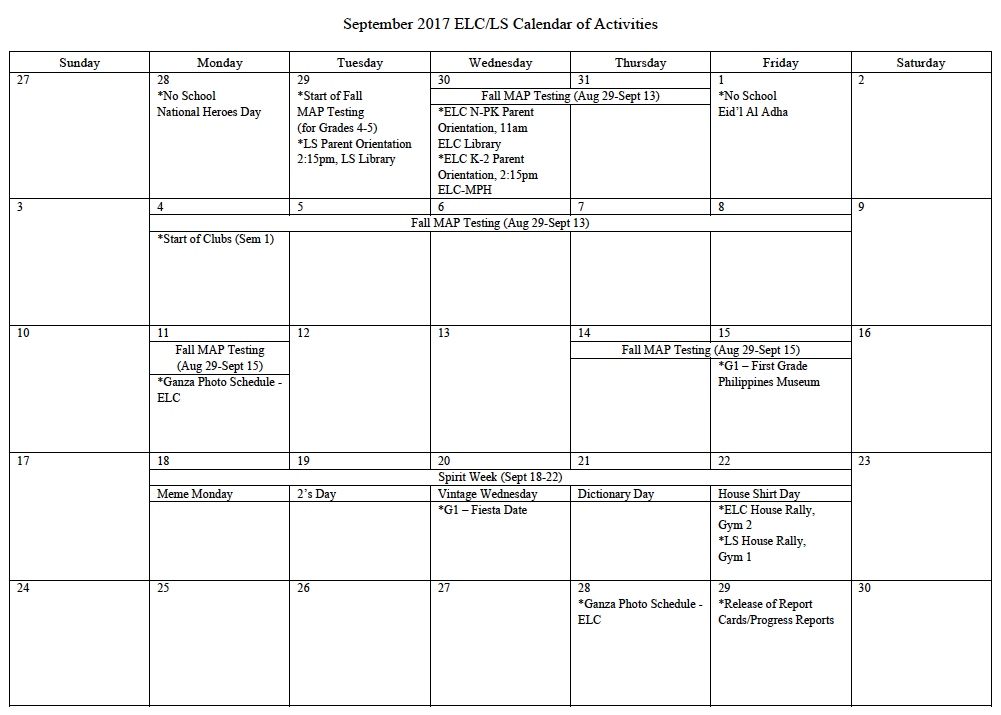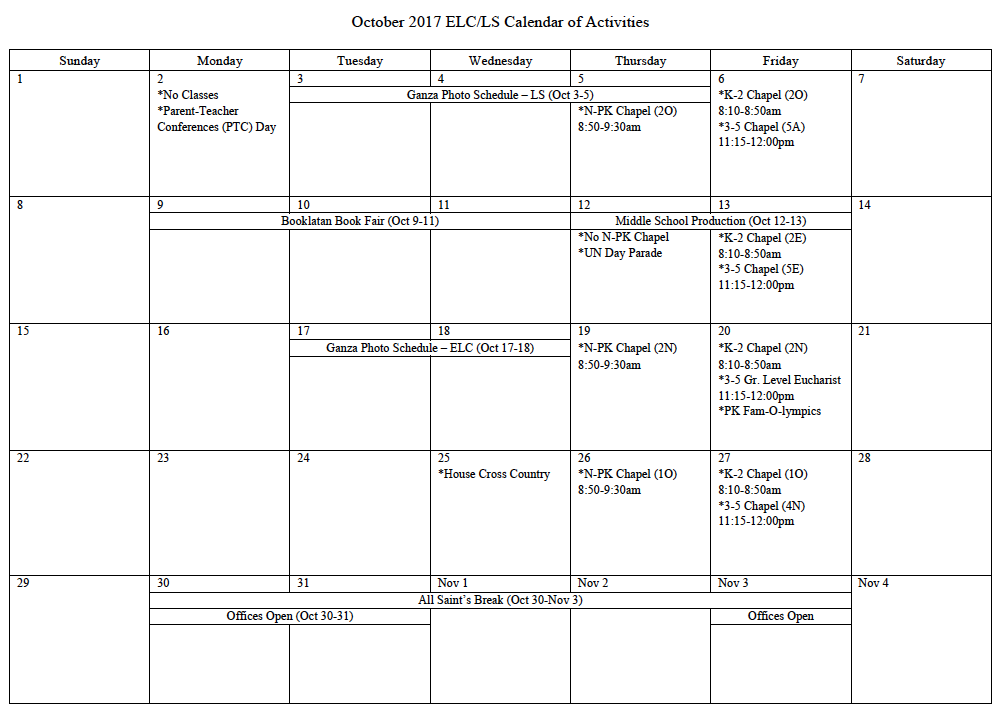 News and Notes
•  Books, Bags, and Belongings – All unattended bags will be collected by our Security Personnel and taken to the Security Office. Students will personally have to show their Brent School I.D. to retrieve their bag. It is highly recommended, therefore, that student names be placed on all bags for easy identification.
All students in Grades 6 to 10 have two private lockers in which to leave their belongings – their book locker and their P.E. locker. Students in Grades 11 and 12 may get a second locker – in the Gym 1 or P.E. locker rooms, or in the S210 hallway – to store any additional athletic gear or other items. Lower School students going to swimming or another athletic activity after school may check their bags with the Security Guard in the P.E. Offices hallway.
All bags left unattended between classes and after school in places like the atrium, the cafeteria, the Activities Office, the Media Center, inside or outside of the gyms, the tables by the swimming pool, and in the P.E. Offices hallway will be collected and taken to the Security Office.
•   Attendance is checked at the beginning of each day. If you know that your child will not be in school, please call the ELC (Verna) at (049) 511-4330 to 33 or (02) 779-5140 to 46 ext. 711 or Lower School (Abby) at ext. 111 by 9:00 A.M. We view absences as "explained" or "unexplained," so please send in a note/excuse letter ahead of time for planned student absences, going out of town, etc., for consideration/approval.
Students arriving after 8:00 a.m. Mondays to Fridays except Thursdays at 8:40 a.m. are considered tardy and should not be permitted in to class without a pass from the ELC/Lower School Office. Exceptions are made for late buses and heavy traffic days (accidents/out of the ordinary) on the south super highway, etc.
Please note that five or more tardiness per semester will eliminate a student for consideration of the Annual Perfect Attendance Award.
•  Student Pass – If your children are leaving early, before the end of the school day, a parent/guardian must come by the school office to sign them out and secure a student pass. Also any changes to your child's dismissal pattern (going home with a friend, car instead of bus, etc.) must be submitted in writing (with parent signature) at least one day prior to the change. The homeroom teacher and bus coordinator (if they ride) need to be informed. This is for children's safety and security. We appreciate your assistance in knowing their whereabouts during dismissal and mode of transport home.
•  Brent International School requires all parents/visitors to sign in and get a visitor's ID card. Permanent ID cards are available for all parents through the Security Office in the Administration building. When displaying a permanent ID card, parents are no longer required to get a visitor ID card each visit.
•  For Bus Services/Concerns you can contact the Transportation Office at (049) 511-4354 or Trunk Line (049) 511-4330 to 33 or (02) 779-5140 to 46 ext. 518. Any Transportation concerns after 4:30 pm, please call the following: Zusie 0918-912-4230 or Meng 0918-913-2756.
•   Cellular Phones, Electronics, and Other Valuables. Parents and guardians are requested to help make sure that students do not bring valuables to school such as cellular phones, electronic devices, large amount of cash, and expensive jewelry. When the children are swimming or involved in sports, remember that all jewelry and watches are removed for safety purposes.  Students are not allowed to wear valuables on sporting/P.E. days.  These items are very difficult to find once they have gone missing and there is no need for them in the ELC and Lower School.
•   Temporary Change in Contact Information. For general information as well as security, medical and legal reasons, we ask for your support in completing our Temporary Contact Information form if travels require you temporarily leave a student in the care of another individual. Copies of the form are currently available in each of the school offices and can be downloaded from our website. We ask that you please submit the completed form to your child's school office before your travels take place.
•   Birthday parties of any type are not allowed in classrooms/cafeteria. Birthday parties of any type are not allowed in classrooms nor in the Cafeteria. Parties that are acceptable throughout the year and in general include Christmas and end of the school year parties only.
If a student wishes to distribute invitations for a private party they must be given to all students in the class or to none at all. If they wish to only invite select students/part of the class the invitations must be distributed in another manner or mailed to the invitees. Addresses and phone numbers of students in a particular homeroom class may be obtained by the student recording them from classmates during recess time. Due to personal privacy the school is unable to release this information.