Day By Day
September 2017
Count your blessings. Count them again, because I'm pretty sure you forgot at least three.
"I like your summer hat," I said. "  Why, thank you." He beamed.
I'd never spoke to this man before, though I'd seen him a hundred times over the last few years, and he always had a big-brimmed leather hat on, à la 1960s Bob Dylan. Now he sported a straw fedora.
I wasn't sure if he was homeless; but today I thought I saw him with a cup, and I crept close enough when he turned away a moment to peek in and see that yes, there were a few coins inside. (I certainly didn't want to offend him if it was just a cup of coffee.) Frankly, I guess I had never considered that he is poor, because he always seems so happy. To myself, I've always called him Old Man River-Paul Robeson would be shaking in his boots if he and this man were both American Idol finalists, I can tell you that.
Because this man has a voice that would bring you to your knees. It's deep, it's rich, it's mellifluous. I know this because he sings all the time, in booming baritone. He sings as he strolls down the street. He sings when he's sitting near the bus stop on a milk crate. When the bookstore I work in was in a smaller venue around the corner, he sang in there and made it seem like a cathedral.
"I miss you coming in to the old store," I admitted. "You know we're only just down the street now. I never see you in there."
More beaming. "I used to come in to use the bathroom," he replied, a little sadly. "But there are just too many stairs over there now."
"Well, it's always good to hear you singing, wherever it is." I slipped a little money into his cup.
Beaming to the fullest. "It's good to see you, too. And bless you."
The rest of the day, the same thought kept coming back to me: why does it always seem like it's someone who has the least among us who is blessing us most?
– taken from the book, "One Good Deed" by Erin McHugh
1O give thanks to the LORD, call on his name, make known his deeds among the peoples. 2Sing to him, sing praises to him; tell of all his wonderful works. 3Glory in his holy name; let the hearts of those who seek the LORD rejoice. Seek the LORD and his strength; seek his presence continually. Remember the wonderful works he has done, his miracles, and the judgments he has uttered, 1I give you thanks, O LORD, with my whole heart; before the gods I sing your praise; 2I bow down towards your holy temple and give thanks to your name for your steadfast love and your faithfulness; for you have exalted your name and your word above everything.* 3On the day I called, you answered me, you increased my strength of soul.* 4All the kings of the earth shall praise you, O LORD, for they have heard the words of your mouth. 5They shall sing of the ways of the LORD, for great is the glory of the LORD. 6For though the LORD is high, he regards the lowly; but the haughty he perceives from far away.
Psalms 105:1-5, 138:1-7
Take care and God bless.
Fr. Benjamin A. Jance III
School Chaplain
Life Lesson
Poems and Prayers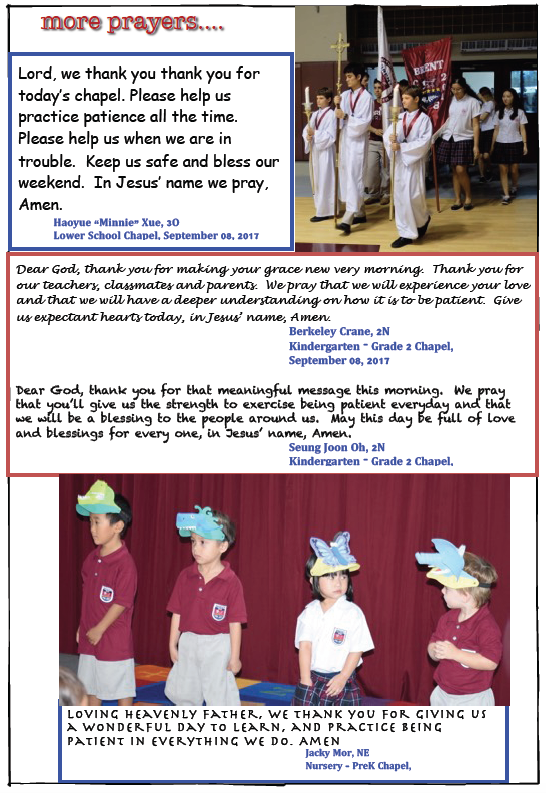 Saint of the Month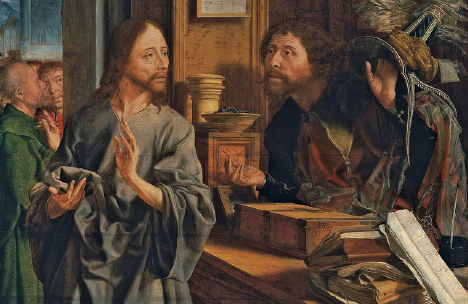 St. Matthew, Apostle and Evangelist
One day Jesus was walking and saw a tax collector named Matthew sitting at a tax collection post, and said to him, "Follow me." And Matthew stood up and followed Him, and became one of His twelve apostles. (See M 9:9-13 = P 2:13-17 = L 5:27-32) Tax collectors in those days were social outcasts.  Devout Jews avoided them because they were usually dishonest (the job carried no salary, and they were expected to make their profits by cheating the people from whom they collected taxes). Patriotic and nationalistic Jews hated them because they were agents of the Roman government, the conquerors, and hated them with a double hatred if (like Matthew) they were Jews, because they had gone over to the enemy, had betrayed their own people for money. Thus, throughout the Gospels, we find tax collectors (publicans) mentioned as a standard type of sinful and despised outcast. Matthew brought many of his former associates to meet Jesus, and social outcasts in general were shown that the love of Jesus extended even to them.
QUICK FACTS
• Feast Day: September 21
• Type of Feast: Feast
• Readings: Ephesians 4:1-7, 11-13; Psalm 19:2-3, 4-5; Matthew 9:9-13
• Dates: Unknown (Capernaum)-Unknown
• Birth Name: Levi
• Patron of: Accountants, bankers, bookkeepers, customs officers, money managers, stockbrokers, tax collectors
THE LIFE OF SAINT MATTHEW
Matthew was a tax collector at Capernaum, which is traditionally designated as the place of his birth. Tax collectors were despised in the ancient world, especially among the Jews at the time of Christ, who saw the imposition of taxes as a mark of their occupation by the Romans. (Even though Matthew collected taxes for King Herod, a portion of those taxes would be passed on to the Romans.)
Thus, after his calling, when Saint Matthew gave a feast in Christ's honor, the guests were drawn from among his friends—including fellow tax collectors and sinners (Matthew 9:10-13). The Pharisees objected to Christ eating with such people, to which Christ responded, "I am not come to call the just, but sinners," summing up the Christian message of salvation.
The remaining references to Saint Matthew in the New Testament are in lists of the apostles, in which he is placed either seventh (Luke 6:15, Mark 3:18) or eighth (Matthew 10:3, Acts 1:13).
ROLE IN THE EARLY CHURCH
After Christ's Death, Resurrection, and Ascension, Saint Matthew is said to have preached the Gospel to the Hebrews for as many as 15 years (during which time he wrote his Gospel in Aramaic), before heading east to continue his efforts at evangelization. By tradition, he, like all of the apostles with the exception of Saint John the Evangelist, was martyred, but accounts of his martyrdom varied widely. All place it somewhere in the East, but, as the Catholic Encyclopedia notes, "it is not known whether he was burned, stoned, or beheaded."
FEAST DAYS, EAST AND WEST
Because of the mystery surrounding Saint Matthew's martyrdom, his feast day is not consistent in the Western and Eastern Churches. In the West, his feast is celebrated on September 21; in the East, on November 16.
THE SYMBOLS OF SAINT MATTHEW
Traditional iconography often shows Saint Matthew with a money sack and account books, to signify his old life as a tax collector, and an angel above or behind him, to signify his new life as a messenger of Christ.
PRAYER
We thank thee, heavenly Father, for the witness of your apostle And evangelist Matthew to the Gospel of your Son our Savior; and we pray that, after his example, we may with ready wills and hearts obey the calling of our Lord to follow him; through Jesus Christ our Lord, who lives and reigns with you and the Holy Spirit, one God, now and for ever.
Sources: http://justus.anglican.org/resources/bio/56.html
https://www.thoughtco.com/saint-matthew-apostle-and-evangelist-541676
Monthly Calendar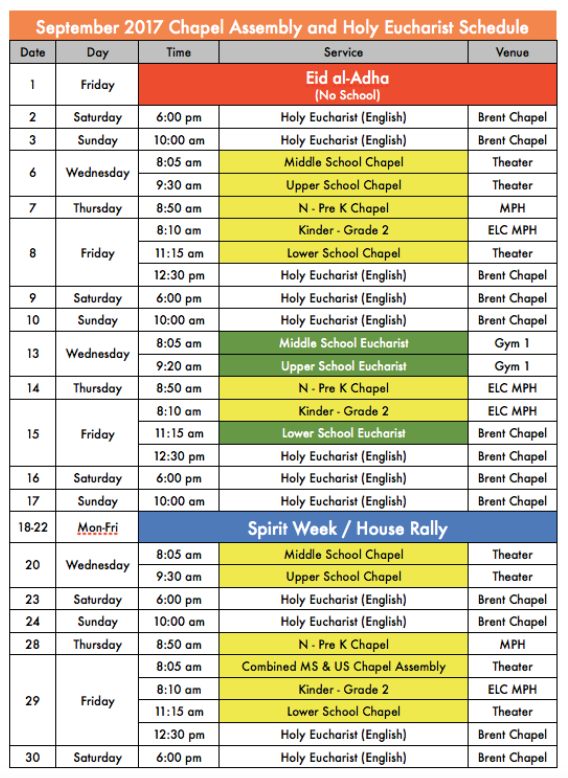 Brent Cares / Service Learning
Brent School has, over the years kept a strong Service Learning arm as an important part of its holistic approach to the Brent Educational System. Students, teachers, staff and administrators participate actively in the after school activity by giving of their time and resources in reaching out to those in need. The whole school goes into full support mode when the need arises, especially during the typhoon season. The generous time and preparations that everyone gives to those in need are concrete expressions of the values that Brent stands for.
Brent's Expected School-wide Learning Results touch on the need for self-development, and sincerely reaching out to our community certainly develops the minds and hearts of those in our school. Our current chapel theme of being responsible in all that we do at school and at work reinforces the service-learning element.
Helping another might be viewed as giving of your time and/or of sharing your talents and resources. It is, and more. They are in fact, a two-way street. The child and person who goes out of his/her way in return gets something that contributes to her/his own wellbeing. There is an inherent and almost a spontaneous 'reward' that comes from helping one another. Jesus speaks of such reality when He said: "for I was hungry and you gave me food, I was thirsty and you gave me something to drink, I was a stranger and you welcomed me, I was naked and you gave me clothing, I was sick and you took care of me, I was in prison and you visited me…. truly I tell you, just as you did it to one of the least of these who are members of my family, you did it to me." (Matthew 25:35-36, 40)
Indeed, the joy that one receives in giving far surpasses anything that anyone can ever wish for. "You never know when one kind act, or one word of encouragement, can change a life forever."– Zig Ziglar.
We do what we can, wherever and whenever we can.
Brent Cares.
Holy Family Episcopal Church
Holy Family Episcopal Church is a parish of the Diocese of Central Philippines, one of the 7 dioceses that make up the Episcopal Church in the Philippines, an autonomous province in the world-wide Anglican Communion.  Our congregation came into being when in 2009 Brent International School, in accordance with the wishes of its founder, Bishop Charles Henry Brent that the school participate in the Church's mission, opened Brent Memorial  Chapel services to members of the surrounding local communities seeking a regular place of worship, whatever their denomination. The response was quite enthusiastic, and we  were admitted as an Organized Mission at the Diocesan Convention in March 2010 and up-graded to Aided Parish   in March 2012,  Today we form a lively and enthusiastic congregation with an average Sunday attendance of around 60, a thriving Sunday School and a very active women's group – and our acolytes are second to none!  Services are mostly in English though readings are frequently in Tagalog.  
Our present rector is Father Joe Mock, Academic Director at Brent School, who is assisted by   Deacons Mary Balitog and Jonathan Britt who handle the day-to-day affairs of the parish. Our bishop is  the Right Rev. Dixie Taclobao, Bishop of the Diocese of Central Philippines.
All regularly scheduled services at the chapel are open to both the Brent and the Holy Family communities.  Daily services are: Morning Prayer at 7:15 a.m.. Noonday Prayer at 11:30 a.m. and Evening Prayer at 3:30 p.m. Monday through Friday. The  Holy Eucharist is celebrated every Friday at 12:30 p.m. and at 6:00 p.m. on Saturdays. On Sundays, there is Morning Prayer at 8:30 and a sung Holy Eucharist at 10:30 a.m.  All services are according the the Book of Common Prayer of the Episcopal Church in the Philippines.
Organizations
Youth Ministry (Samahan ng mga Kabataang Episcopal)
Our Youth Group is one of the most vibrant elements in our parish life.  They form a local chapter of of the National SKEP of the Episcopal Church in the Philippines, and are represented at the National and Diocesan meetings of that Organization.  Members of our youth group also participate in the life of our parish as
Sunday School Teachers (see below for Sunday School)  –  

Our Sunday School and our VCS (Vacation Church School), under the supervision of Deacon Mary Balitog  is run and taught exclusively by the older youth.

Acolytes  –  

Composed of young people, boys and girls,  between the ages of 8 and 19, the Holy Family acolytes assist at all parish Eucharists and are otherwise active in the life of the Church.  They are trained and supervised by Deacon Jonathan Britt  
ECW (Episcopal Church Women)  –  Early on, the women, the pillars of our church community,  organized themselves to form a chapter of the ECW and have since then been the heart of the community  . Beyond the traditional 'women's' tasks, which they perform with gusto,  ( washing  and ironing  church linens and vestments, polishing utensils etc)) they are instrumental in organizing most parish social events and  run highly successful  fund raising activities. They meet every first Sunday of the month under the leadership of their elected officers.  
Programs
Sunday School
This program aims to provide spiritual nourishment to our youngest members  through  singing,  interactive reading and watching appropriate videos..  Average attendance is between 20 and 30 youngsters every Sunday.   Some Sunday School 'alumni'  are now  trained Sunday School teacher themselves, while others serve as acolytes and readers.
Scholarship Program (for University Students)
This program,  initiated by Brent School's  Project Compassion Club supports  a full time college student who is will graduate in April, 2017 and another who is now in her third year.  The program funds come from various Brent School clubs and private sources.
Education Assistance Loan Program (for University Students)
This program aims to support any student from a low-income family who is an active member of the parish and desires to pursue a College Degree.  Support is given in the form of interest free loans to be repaid once the student has graduated and gainfully employed.  The first student on this program will begin third-year studies this year.
Medical Emergency Fund
This program also aims to be able to provide cash for emergency purposes without any obligation from the recipient. This fund is taken from the fourth Sunday offering as well as private sources. Requests for help are evaluated by the vestry.
Outreach
Langkiwa
In 2015, the Pitong Gatang settlement from which most of our original members came was relocated in Langkiwa, a good 30 minute walk from Brent Chapel.  Some children still show up for Sunday School on Sunday mornings along with some adults. For those who can't find the time,   Deacon Mary Balitog visits regularly with the Celebration of Word and Communion one Sunday a month.   
Timbao
Timbao, where some of our members reside, is  located at some distance from Brent School. For those who find it hard to get to us on Sundays,   Deacon Mary Balitog visits once a month to conduct a  Celebration of Word and Communion.
Cavinti (Our Lady of Walsingham Preaching Station)
In 2012 Deacon Jonathan Britt and his wife Grace opened a preaching station on their property in Cavinti, Laguna.  Before long a small but regular congregation was formed which meets twice a month.  Deacon Jonathan conducts a Celebration of Word and Communion first Sundays, and Fr. Joe Mock celebrates the Eucharist on the third.