Day By Day
February 16-28, 2017
Just because someone isn't on your path doesn't mean they're lost.
When my daughter was 23, she fell into a funk.
Her friend who lived in Manhattan was talking about moving to L.A. Her friend who grew up in Kent was heading for Atlanta. Her friends who were getting married were into couplehood. Her friends who were having babies were into motherhood.
Gabrielle found herself stuck in the quarterlife crisis. It hits sometime in the 20s, when you're trying to get a life but everyone else's life looks better than yours. At first I thought my daughter was alone in this quandary. Then she showed me an anonymous e-mail circulating among her friends. It answered the question: How do you know you've moved into adulthood?
"You keep more food than beer in the fridge. You hear your favorite song on an elevator. You don't know what time Taco Bell closes anymore. You no longer take naps from noon to 6 p.m. You go from 130 days of vacation time to 7."
That last one was killing my daughter. She used to work every summer—on her tan. For the first time in her life, she had a real job, a nine-to-five that didn't allow for tanning between noon and two o'clock. She loved the job; she just hated the concept of working nine to five for the rest of her life. I remember the day the realization of finishing school for good hit her and she said to me, "You mean I'm going to have to work every summer for the rest of my life?"
My daughter graduated from college engaged to a great guy. The plan was to get a career job using that $50,000 communications degree and live at home to save money for a fall wedding. As they say, life is what happens when you're making other plans. Life happened.
After four months, she quit the job that required her to work 12-hour days for 8 hours' pay.
Then somewhere between booking a reception hall and shopping for a wedding gown, she wasn't ready to get married and gave back the ring.
She got a new job, but she wasn't sure what would happen next. She looked for an apartment but couldn't afford much. She struggled to build a life that no longer came with a blueprint. Basically, she was adrift.
I tried to be her anchor, but that didn't help her move on. It was great having her around the house to watch reruns of Friends, try new recipes, and take long walks together. Then one week she sacred me by checking out flights to Atlanta and New York City. Worried that she might be tempted to move, I suggested she might want to get an apartment here first.
"I don't want to be stuck in this town forever," she sighed.
Stuck in this town? This is Cleveland, I reminded her, land of opportunities, home of the Rock Hall, the Flats, the Tribe, not some Podunk small town with nothing to do. She rolled her eyes. Anywhere your parents live is a town too small.
Living at home too long can make an adult child regress. Parents, too. Hover too long, and you hurt the child's social life and motivation to move on. I thought I was giving her a financial cushion to help her. It turned out that cushion was suffocating her. I wanted to tell her it was okay to fail, to take a risk, to choose something—a city, a career, a guy, a hobby—and build a life. It won't be perfect. No life is.
Life is messy. The five-year plan is highly overrated. Most of the things I planned in life never took. Most of the things that took, I never planned. So far, it's turned out to be a life better than anything I could have imagined. One day she would realize that the world is her oyster. But back then, my pearls of wisdom were useless. It was time for her to discover her own, and she did, without me writing out a map for her. She forged her own path by listening to her own heart, not mine.
Sometimes you have to get lost to find yourself. My nephew Michael did just that after he graduated college. He had a plan: three guys, a van, and a map. It didn't sound like much of a plan to me, but Michael counted on it to carry him all the way from Ohio to the University of New Mexico. He was setting out for graduate school. The 26-hour drive from rural Garrettsville, Ohio, to Albuquerque would take a mere three days, he said.
I've seen too many independent films to think it was a good idea. A lot can happen between here and New Mexico to a guy with Ohio plates, long hair, and three guitars. I wanted to save him from breaking down, going broke, or getting lost. So I made him an offer. As a graduation gift, I would fly him to New Mexico. I was giddy when I presented the offer.
He turned me down flat. He and his buddies wanted to take a road trip in his friend's van.
How many miles were on it?
He didn't know.
Was he covered under the insurance?
He didn't know.
What kind of shape was the van in?
He didn't know.
I kept picturing him lost in the middle of nowhere.
But I couldn't stop him.
Then I left for my own road trip to the beach. My husband wanted to make sure we didn't get lost the way we did the previous year while I was driving, so he bought a GPS. How could I argue? I'm the one who missed the exit and drove a half hour before realizing it.
The GPS looked like a tiny TV stuck to the windshield. The map unfolded on screen as you drove. If you took a wrong turn, it told you to take a U-turn. A female voice told you where to go. "In 800 yards, turn left onto the motorway," she said. After about 20 minutes, I wanted to tell her where to go. I don't like someone telling me how to drive every five minutes, especially some stranger with a British accent who called every interstate "the motorway."
"Isn't this great?" my husband chirped.
No. I hated it. He snored away in the passenger seat, trusting our ride to an anonymous compass.
It's not so bad getting lost, I pouted. It merely extends the vacation. One year we ended up lost but found a lovely view of the Shenandoah Valley. One year we found ourselves on a tiny road no wider than a hair on the map. We saw a sign with a large L. Lost? No. It signaled the old Lincoln Highway. My husband perked up. His great uncle, Mike Singer, hiked from New Jersey to San Francisco on it in 1914. His uncle was 18. What a wild trip that must have been. The massive mountain in front of us didn't look so daunting when we pictured him climbing it.
Unfortunately, the next year, our GPS kept us on track and on time. My husband was happy, but I felt robbed by the perfection of it all. There's so much of America to explore. With MapQuest, Google or a GPS, the art of getting lost is becoming a lost art. I miss the old days when you trusted a map and the man at Texaco to be your guide. Or you just hopped in the car and followed your inner compass.
I thought about that when I said good-bye to Michael. By then, his plans had changed. Three guys and a van turned into two guys and a car. The guy with the van had backed out. But instead of giving him advice, I gave Michael my atlas full of states I've only dreamed of seeing. I was no longer worried that he would get lost.
Truth is, I envied him. He squeezed everything he owned in the back of a Dodge Neon and no one was telling him where to go on the motorway.
He did end up getting lost an hour from home before he even left Ohio. Then the power steering and air-conditioning broke and they melted all the way to Albuquerque.
He got lost, but he found himself on the journey. He is finishing a master's degree in philosophy and is ready to tackle his PhD. He's not sure where that will happen, but he'll forge his own path and do it his way.
– taken from the book: "God is always hiring" by Regina Brett
1Brothers and sisters, I could not speak to you as spiritual people, but rather as people of the flesh, as infants in Christ. 2I fed you with milk, not solid food, for you were not ready for solid food. Even now you are still not ready, 3for you are still of the flesh. For as long as there is jealousy and quarrelling among you, are you not of the flesh, and behaving according to human inclinations? 4For when one says, 'I belong to Paul', and another, 'I belong to Apollos', are you not merely human? 5What then is Apollos? What is Paul? Servants through whom you came to believe, as the Lord assigned to each. 6I planted, Apollos watered, but God gave the growth. 7So neither the one who plants nor the one who waters is anything, but only God who gives the growth. 8The one who plants and the one who waters have a common purpose, and each will receive wages according to the labour of each. 9For we are God's servants, working together; you are God's field, God's building.–1 Corinthians 3:1-9

"Be Courageous and Humble"
– Chapel Theme S.Y. 2016-17
Take care and God bless.
Fr. Benjamin A. Jance III
Registrar and School Chaplain
Life Lesson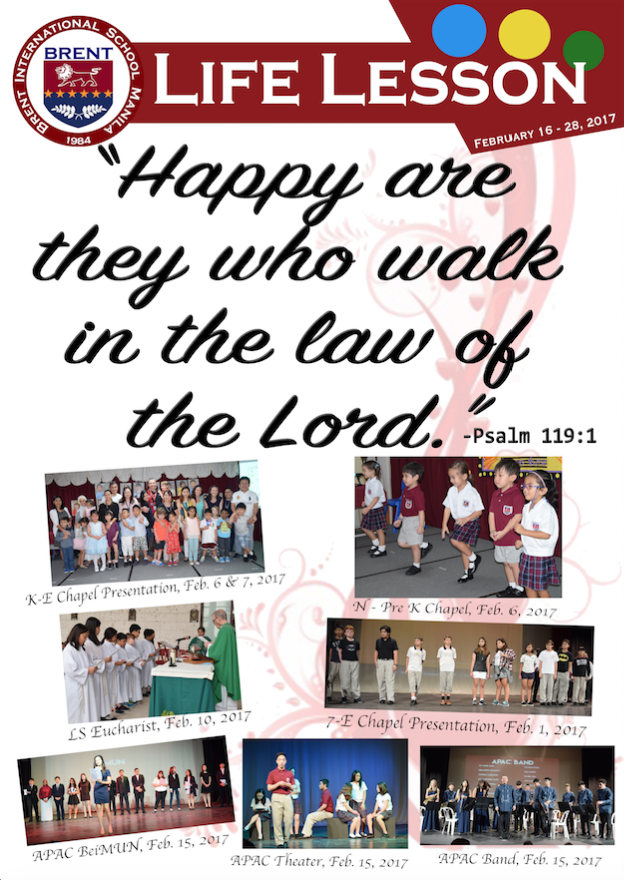 Calendar
Poems, Prayers and Short Stories
Saint of the Month
Scholastica,
Abbess of Plombariola
10 February
Scholastica is a more shadowy figure than her famous brother, St Benedict. She too was born at Nursia, central Italy, around the year 480. At an early age she chose to consecrate herself to God, but probably continued to live at home. Only after Benedict moved to Monte Cassino did she settle at Plombariola nearby, joining or maybe founding a nunnery under his direction. As abbess she sought to follow his Rule, and met him each year at a house near his monastery where they would praise God together and discuss spiritual matters. She died in about the year 543. Benedict had a vision of her soul rising up to heaven and, collecting her body, he had her buried in the tomb prepared for himself. Scholastica soon became a figure for veneration by all nuns who followed Benedict's Rule.
The Collect
Almighty God, by your Holy Spirit you have made us one with your saints in heaven and on earth: Grant that in our earthly pilgrimage we may always be supported by this fellowship of love and prayer, and know ourselves to be surrounded by their witness to your power and mercy. We ask this for the sake of Jesus Christ, in whom all our intercessions are acceptable through the Spirit, and who lives and reigns for ever and ever. Amen.
Brent Cares / Service Learning
Brent School has, over the years kept a strong Service Learning arm as an important part of its holistic approach to the Brent Educational System. Students, teachers, staff and administrators participate actively in the after school activity by giving of their time and resources in reaching out to those in need. The whole school goes into full support mode when the need arises, especially during the typhoon season. The generous time and preparations that everyone gives to those in need are concrete expressions of the values that Brent stands for.
Brent's Expected School-wide Learning Results touch on the need for self-development, and sincerely reaching out to our community certainly develops the minds and hearts of those in our school. Our current chapel theme of being responsible in all that we do at school and at work reinforces the service-learning element.
Helping another might be viewed as giving of your time and/or of sharing your talents and resources. It is, and more. They are in fact, a two-way street. The child and person who goes out of his/her way in return gets something that contributes to her/his own wellbeing. There is an inherent and almost a spontaneous 'reward' that comes from helping one another. Jesus speaks of such reality when He said: "for I was hungry and you gave me food, I was thirsty and you gave me something to drink, I was a stranger and you welcomed me, I was naked and you gave me clothing, I was sick and you took care of me, I was in prison and you visited me…. truly I tell you, just as you did it to one of the least of these who are members of my family, you did it to me." (Matthew 25:35-36, 40)
Indeed, the joy that one receives in giving far surpasses anything that anyone can ever wish for. "You never know when one kind act, or one word of encouragement, can change a life forever."– Zig Ziglar.
We do what we can, wherever and whenever we can.
Brent Cares.
Brent Organized Mission
Brent Chapel Organized Mission has officially been in existence since March 2010, when it was formally recognized by the Diocese of Central Philippines at the annual Diocesan Convention.
Sunday services have been regularly held at the Brent Chapel since 2001 for Brent faculty and staff, but in 2009 a concerted effort was made to invite people from the local communities in Mamplasan – and the response was overwhelming. Within a few months Sunday attendance grew from an average of 20 to over 150 and it soon became clear that a new worshipping community was being born.  Sunday School was organized early on, with over fifty children attending every Sunday. An acolyte corps was set up, a chapter of the ECW (Episcopal Church Women) formed, and by Convention time in March 2010 we were ready to apply for recognition as an Organized Mission – the first step towards parish hood.
Sunday morning worship at the Brent Chapel now gathers over 150 worshippers of all ages and social classes. Expats from Alabang and 'informal settlers' from Pitong Gatang worship alongside teachers and families from Brentville in a service that usually includes hymns and readings and a sermon in both Tagalog and English.  Plans are afoot to build up community services and expand our work with the local youth – it's an exciting time and the future is bright.  We are looking to involve more students and teachers in our activities and becoming a real part of the local community.
Our main Sunday service is a Sung Eucharist at 10:30 with Sunday School – we are planning to start an earlier service as well sometime in the near future.
This is an Anglican/Episcopal church, so all Christians are welcome.