Day By Day
Say "thank you" today
How many times have you actually thanked someone whose extra effort transformed your day … or your life? This story shows how much a simple gesture of appreciation can mean in someone's life.
BE KIND AND MERCIFUL. LET NO ONE EVER COME TO YOU WITHOUT
COMING AWAY BETTER AND HAPPIER.
= Mother Teresa=
THE LIFE-CHANGING GIFT OF APPRECIATION
A story by BARBARA GLANZ
In my keynote speech and workshops, CARE is an acronym I use for the elements of a caring, creative, joyful (and more productive!) workplace and home.The "A" in CARE stands for "Appreciation for ALL."  As I speak about appreciation, I use one of my favorite quotations from Albert Schweitzer:
"Sometimes our light goes out but is blown again into flame by an encounter with another human being. Each of us owes the deepest thanks to those who have rekindled this inner light."
Then I ask my audiences to please shut their eyes and think about someone who at some time in their lives has rekindled their inner light.  I leave the room in silence for several minutes, and it is always profound experience for everyone as they remember the joy they received from being appreciated by someone when they needed it the most.
Afterward, I ask them to write down the name of the person they thought of and to commit to their act of appreciation by letting that person know in the next seventy-two hours that he or she was thought of.  I suggest a phone, a note, or even a little prayer if they are no longer living.
After one moving session, a gentleman came up to talk with me and thanked me for creating a new awareness in him.  He said he thought of his eighth-grade literature teacher because she was everyone's favorite teacher and had really made a difference in all of their lives. He planned to track her down and let me know what happened.
One afternoon, I received a call from him.  He was chocked up on the phone and could hardly get through his story.  He said that it had taken him nearly two months to track his teacher down, and when he finally found her, he wrote to her.
The following week he received this letter:
Dear John,
You will never know how much your letter meant to me.  I am eighty-three years old, and I am living all alone in one room.  My friends are all gone.  My family's gone.  I taught fifty years and yours is the first "thank you" letter I have ever gotten from a student.  Sometimes I wonder what I did with my life.  I will read and reread your letter, until the day I die.
He just sobbed on the phone. He said, "She is always the one we talk about at every reunion.  She was everyone's favorite teacher- we loved her!" But no one had ever told her… until she received his letter.
Excerpted from the introduction of the Simple Truths book
The Simple Truths of Appreciationby Barbara Glanz
1I give you thanks, O LORD, with my whole heart; before the gods I sing your praise; 2 I bow down towards your holy temple and give thanks to your name for your steadfast love and your faithfulness; for you have exalted your name and your word above everything.* – Psalm 138: 1-2-
Take care and God bless.
Fr. Benjamin A. Jance III
School Chaplain
Life Lesson
Prayers, Poems and Artworks
Saint of the Month
Monnica, Widow and Mother of Augustine of Hippo, 332 – 387
Feast Day: August 27
Born in north Africa at Tagaste of Berber parents, Monnica was married to Patricius, a Latinized provincial of Tagaste. By her patient persistence Monnica won over her husband, who was baptized the year before he died. By Patricius, Monnica was the mother of three children: Augustine, Navigius, and Perpetus. She is especially venerated as the mother of Augustine, later bishop of Hippo, and in her patient treatment of him through many years of anxiety ending in his conversion, she is seen as the model of Christian motherhood.
The Collect
O Lord, through spiritual discipline you strengthened your servant Monnica to persevere in offering her love and prayers and tears for the conversion of her husband and of Augustine their son: Deepen our devotion, we pray, and use us in accordance with your will to bring others, even our own kindred, to acknowledge Jesus Christ as Savior and Lord; who with you and the Holy Spirit lives and reigns, one God, for ever and ever. Amen.
https://forallsaints.wordpress.com/2015/05/04/monnica-widow-and-mother-of-augustine-of-hippo-387-4/
Monthly Calendar
Brent Cares / Service Learning
Brent School has, over the years kept a strong Service Learning arm as an important part of its holistic approach to the Brent Educational System. Students, teachers, staff and administrators participate actively in the after school activity by giving of their time and resources in reaching out to those in need. The whole school goes into full support mode when the need arises, especially during the typhoon season. The generous time and preparations that everyone gives to those in need are concrete expressions of the values that Brent stands for.
We do what we can, wherever and whenever we can.
Brent Cares.
Holy Family Episcopal Church
Holy Family Episcopal Church is a parish of the Diocese of Central Philippines, one of the 7 dioceses that make up the Episcopal Church in the Philippines, an autonomous province in the world-wide Anglican Communion.  Our congregation came into being when in 2009 Brent International School, in accordance with the wishes of its founder, Bishop Charles Henry Brent that the school participate in the Church's mission, opened Brent Memorial  Chapel services to members of the surrounding local communities seeking a regular place of worship, whatever their denomination. The response was quite enthusiastic, and we  were admitted as an Organized Mission at the Diocesan Convention in March 2010 and up-graded to Aided Parish   in March 2012,  Today we form a lively and enthusiastic congregation with an average Sunday attendance of around 60, a thriving Sunday School and a very active women's group – and our acolytes are second to none!  Services are mostly in English though readings are frequently in Tagalog.  
Our present rector is Father Joe Mock, Academic Director at Brent School, who is assisted by   Deacons Mary Balitog and Jonathan Britt who handle the day-to-day affairs of the parish. Our bishop is  the Right Rev. Dixie Taclobao, Bishop of the Diocese of Central Philippines.
All regularly scheduled services at the chapel are open to both the Brent and the Holy Family communities.  Daily services are: Morning Prayer at 7:15 a.m.. Noonday Prayer at 11:30 a.m. and Evening Prayer at 3:30 p.m. Monday through Friday. The  Holy Eucharist is celebrated every Friday at 7:15 a.m.  On Sundays, there is Morning Prayer at 8:30 and a sung Holy Eucharist at 10:30 a.m.  All services are according the Book of Common Prayer of the Episcopal Church in the Philippines.
Parish Organizations
Youth Ministry (Samahan ng mga Kabataang Episcopal)
Our Youth Group is one of the most vibrant elements in our parish life.  They form a local chapter of of the National SKEP of the Episcopal Church in the Philippines, and are represented at the National and Diocesan meetings of that Organization.  Members of our youth group also participate in the life of our parish as
Sunday School Teachers (see below for Sunday School)  –  

Our Sunday School and our VCS (Vacation Church School), under the supervision of Deacon Mary Balitog  is run and taught exclusively by the older youth.

Acolytes  –  

Composed of young people, boys and girls,  between the ages of 8 and 19, the Holy Family acolytes assist at all parish Eucharists and are otherwise active in the life of the Church.  They are trained and supervised by Deacon Jonathan Britt  
ECW (Episcopal Church Women)  –  Early on, the women, the pillars of our church community,  organized themselves to form a chapter of the ECW and have since then been the heart of the community  . Beyond the traditional 'women's' tasks, which they perform with gusto,  ( washing  and ironing  church linens and vestments, polishing utensils etc)) they are instrumental in organizing most parish social events and  run highly successful  fund raising activities. They meet every first Sunday of the month under the leadership of their elected officers.  
Parish Programs
Sunday School
This program aims to provide spiritual nourishment to our youngest members  through  singing,  interactive reading and watching appropriate videos..  Average attendance is between 20 and 30 youngsters every Sunday.   Some Sunday School 'alumni'  are now  trained Sunday School teacher themselves, while others serve as acolytes and readers.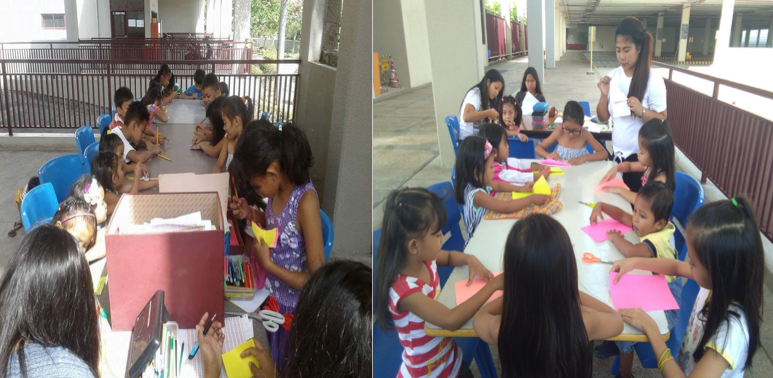 Scholarship Program (for University Students)
This program, initiated by Brent School's Project Compassion Club, supported a full time college student who graduated in April, 2017, passed the Licensure examination for teachers and has taught at a Pre- School in Biñan.  She plans to get into the Saint Andrew's Seminary as a Masters in Theology (MTh) student for the school year 2018-2019. Another recipient, graduated last April, 2018. She will be preparing to take the Licensure Examination for teachers.  The program funds come from various Brent School clubs and private sources.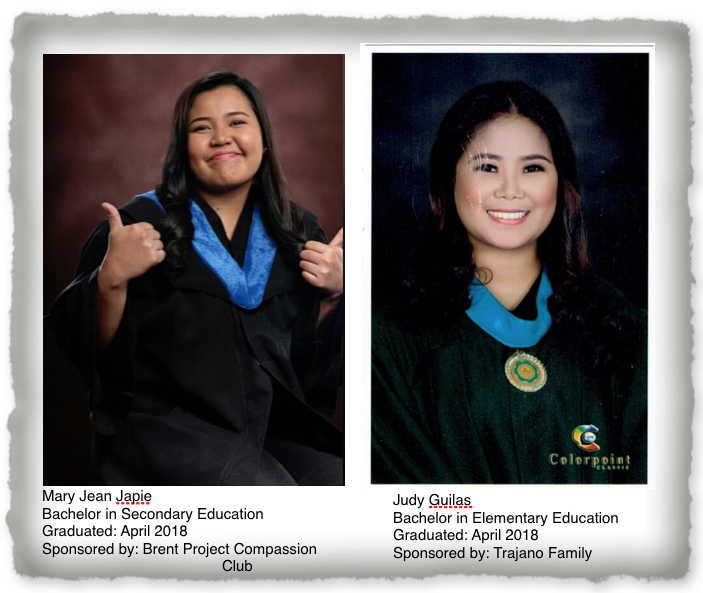 Education Assistance Loan Program (for University Students)
This program aims to support any student from a low-income family who is an active member of the parish and desires to pursue a College Degree.  Support is given in the form of interest free loans to be repaid once the student has graduated and gainfully employed.  The first student on this program will begin third-year studies this year.
Medical Emergency Fund
This program also aims to be able to provide cash for emergency purposes without any obligation from the recipient. This fund is taken from the fourth Sunday offering as well as private sources. Requests for help are evaluated by the vestry.
Parish Preaching Stations
Langkiwa
In 2015, the Pitong Gatang settlement from which most of our original members came was relocated in Langkiwa, a good 30 minute walk from Brent Chapel.  Some children still show up for Sunday School on Sunday mornings along with some adults. For those who can't find the time,   Deacon Mary Balitog visits regularly with the Celebration of Word and Communion one Sunday a month.   
Timbao
Timbao, where some of our members reside, is  located at some distance from Brent School. For those who find it hard to get to us on Sundays,   Deacon Mary Balitog visits once a month to conduct a  Celebration of Word and Communion.
Cavinti (Our Lady of Walsingham Preaching Station)
In 2012 Deacon Jonathan Britt and his wife Grace opened a preaching station on their property in Cavinti, Laguna.  Before long a small but regular congregation was formed which meets twice a month.  Deacon Jonathan conducts a Celebration of Word and Communion first Sundays, and Fr. Joe Mock celebrates the Eucharist on the third.
Mindoro (Tubili)
 A contingent of Holy Family members lead by Deacon Mary and Mrs. Grace Britt had been going to Tubili in Mindoro with the permission of the Dean of the Southern Tagalog Deanery and the Priest-In-Charge of an existing church in the area to start a mission with the Mangyan Tribe of Mindoro. This mission was initiated in 2016.
WITNESSING: PARISH AT WORK IN THE NEIGHBORHOOD
The Holy Spirit is using the Holy Family Episcopal Church through Deacon Mary by sending children in need of help her way.  Out of the blue, somebody calls Dcn. Mary about a kid in need, and there she is to help. Isn't that amazing work of the Holy Spirit?
| Name of Child | Age | Condition |
| --- | --- | --- |
| Gabriel de la Cruz | 7 | Cerebral Palsy with Epilepsy |
| Cassie Naval | 7 | Congenital heart disease due for surgery |
| Bobby Babon | 2 | Down Syndrome |
| Tricia Gagarin | 4 | healthy (sponsored) |
| Andrea Tabilog | 5 | healthy (sponsored) |
| Mark Sigue | 2 | healthy (sponsored) |
Interns:
Recently we had an intern from the US who stayed with the Parish for a month and assisted the Deacon with the programs of the Parish.  She experienced the day to day living in a less privileged area in the Philippines that is different from where she grew up.  She helped in the Sunday school and some youth activities. With her is another intern from our local school who also helped in the parish works while they are here with the supervision of Deacon Mary.