Day By Day
TO A CHILD LOVE IS SPELLED T-I-M-E
In the faint light of the attic, an old man, tall and stooped, bent his great frame and made his way to a stack of boxes that sat near one of the little half windows. Brushing aside a wisp of cobwebs, he tilted the top box toward the light and began to carefully lift out one old photograph album after another. Eyes once bright but now dim searched longingly for the source that had drawn him here.
It began with the fond recollection of the love of his life, long gone, and somewhere in these albums was a photo of her he hoped to rediscover. Silent as a mouse, he patiently opened the long-buried treasures and soon was lost in a sea of memories. Although his world had not stopped spinning when his wife left it, the past was more alive in his heart than his present aloneness.
Setting aside one of the dusty albums, he pulled from the box what appeared to be a journal from his grown son's childhood. Why did Elizabeth always save the children's old junk? he wondered, shaking his white head.
Opening the yellowed pages, he glanced over a short reading, and his lips curved in an unconscious smile. Even his eyes brightened as he read the words that spoke clear and sweet to his soul. It was the voice of the little boy who had grown up far too fast in this very house and whose voice had grown fainter and fainter over the years. In the utter silence of the attic, the words of a guileless six-year-old worked their magic and carried the old man back to a time almost totally forgotten.
Entry after entry stirred a sentimental hunger in his heart like the longing gardener feels in the winter for the fragrance of spring flowers. But it was accompanied by the painful memory that his son's simple recollections of those days were far different from his own. But how different?
Reminded that he had kept a daily journal of his business activities over the years, he closed his son's journal and turned to leave, having forgotten the cherished photo that originally triggered his search. Hunched over to keep from bumping his head on the rafters, the old man stepped to the wooden stairway and made descent, then headed down a carpeted stairway that led to the den.
Opening a glass cabinet door, he reached in and pulled out an old business journal. Turning, he sat down at his desk and placed the two journals beside each other. His was leather-bound and engraved neatly with his name in gold, while his son's was tattered and the name "Jimmy" had been nearly scuffed from its surface. He ran a long, skinny finger over the letters, as though he could restore what had been worn away with time and use.
As he opened his journal, the old man's eye fell upon an inscription that stood out because it was so brief in comparison to other days. In his own neat handwriting were these words:
"Wasted the whole day fishing with Jimmy. Didn't catch a thing."
With a deep sigh and shaking hand, he took Jimmy's journal and found the boy's entry for the same day, June 04. Large, scrawling letters pressed deeply into the paper read:
"Went fishing with my Dad. Best day of my life."
Excerpted from the introduction of the Simple Truth book To a Child LOVE Is Spelled T-I-M-E by Lance Wubbels
-Taken from Things That Grab Your Heart and Won't Let Go by MAC ANDERSON
4Love is patient and kind. Love is not jealous, it does not brag, and it is not proud. 5Love is not rude, is not selfish, and does not become angry easily. Love does not remember wrongs done against it. 6Love takes no pleasure in evil, but rejoices over the truth. 7Love patiently accepts all things. It always trusts, always hopes, and always continues strong. 1 Cor. 13:4-7
Take care and God bless.
Fr. Benjamin A. Jance III
School Chaplain
Life Lesson
Prayers, Poems and Artworks
Saint of the Month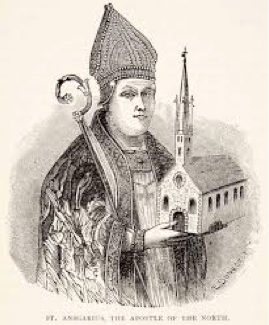 Anskar, Archbishop of Hamburg, Missionary to Denmark and Sweden, 865
The archbishop died on, February 3, 865. He spent the night before in prayer for his mission. On the morning of his death, "he lifted up his hand and prayed that God in His goodness would forgive whoever had done him any wrong. Then he began to say over and over again the verses: 'According to Thy mercy think thou upon me, according to Thy goodness, O Lord,' [Ps 25: 6] and 'God be merciful to me a sinner,' (Luke 18:18) and 'Into Thy hands, O Lord, I commend my spirit.'" (Luke 23:46 ) When he could not speak for lack of breath, he ordered one of the brethren to continue saying the same words for him. "And so, with his eyes fixed on heaven, he breathed forth his spirit which had been commended to the grace of the Lord."
https://www.christianity.com/church/church-history/timeline/601-900/anskar-apostle-of-the-north-11629769.html
Collect
Almighty and everlasting God, you sent your servant Anskar as an apostle to the people of Scandinavia, and enabled him to lay a firm foundation for their conversion, though he did not see the results of his labors: Keep your Church from discouragement in the day of small things, knowing that when you have begun a good work you will bring it to a fruitful conclusion; through Jesus Christ our Lord, who lives and reigns with you and the Holy Spirit, one God, for ever and ever. Amen.
https://confessingreader.wordpress.com/2009/02/03/anskar-archbishop-of-hamburg-missionary-to-denmark-and-sweden-865/
Monthly Calendar
Brent Cares / Service Learning
Brent School has, over the years kept a strong Service Learning arm as an important part of its holistic approach to the Brent Educational System. Students, teachers, staff and administrators participate actively in the after school activity by giving of their time and resources in reaching out to those in need. The whole school goes into full support mode when the need arises, especially during the typhoon season. The generous time and preparations that everyone gives to those in need are concrete expressions of the values that Brent stands for.
We do what we can, wherever and whenever we can.
Brent Cares.
Holy Family Episcopal Church
Holy Family Episcopal Church is a parish of the Diocese of Central Philippines, one of the 7 dioceses that make up the Episcopal Church in the Philippines, an autonomous province in the world-wide Anglican Communion.  Our congregation came into being when in 2009 Brent International School, in accordance with the wishes of its founder, Bishop Charles Henry Brent that the school participate in the Church's mission, opened Brent Memorial  Chapel services to members of the surrounding local communities seeking a regular place of worship, whatever their denomination. The response was quite enthusiastic, and we  were admitted as an Organized Mission at the Diocesan Convention in March 2010 and up-graded to Aided Parish   in March 2012,  Today we form a lively and enthusiastic congregation with an average Sunday attendance of around 60, a thriving Sunday School and a very active women's group – and our acolytes are second to none!  Services are mostly in English though readings are frequently in Tagalog.  
Our present rector is Father Joe Mock, Academic Director at Brent School, who is assisted by   Deacons Mary Balitog and Jonathan Britt who handle the day-to-day affairs of the parish. Our bishop is  the Right Rev. Dixie Taclobao, Bishop of the Diocese of Central Philippines.
All regularly scheduled services at the chapel are open to both the Brent and the Holy Family communities.  Daily services are: Morning Prayer at 7:15 a.m.. Noonday Prayer at 11:30 a.m. and Evening Prayer at 3:30 p.m. Monday through Friday. The  Holy Eucharist is celebrated every Friday at 12:30 p.m. and at 6:00 p.m. on Saturdays. On Sundays, there is Morning Prayer at 8:30 and a sung Holy Eucharist at 10:30 a.m.  All services are according the the Book of Common Prayer of the Episcopal Church in the Philippines.
Parish Organizations
Youth Ministry (Samahan ng mga Kabataang Episcopal)
Our Youth Group is one of the most vibrant elements in our parish life.  They form a local chapter of of the National SKEP of the Episcopal Church in the Philippines, and are represented at the National and Diocesan meetings of that Organization.  Members of our youth group also participate in the life of our parish as
Sunday School Teachers (see below for Sunday School)  –  

Our Sunday School and our VCS (Vacation Church School), under the supervision of Deacon Mary Balitog  is run and taught exclusively by the older youth.

Acolytes  –  

Composed of young people, boys and girls,  between the ages of 8 and 19, the Holy Family acolytes assist at all parish Eucharists and are otherwise active in the life of the Church.  They are trained and supervised by Deacon Jonathan Britt  
ECW (Episcopal Church Women)  –  Early on, the women, the pillars of our church community,  organized themselves to form a chapter of the ECW and have since then been the heart of the community  . Beyond the traditional 'women's' tasks, which they perform with gusto,  ( washing  and ironing  church linens and vestments, polishing utensils etc)) they are instrumental in organizing most parish social events and  run highly successful  fund raising activities. They meet every first Sunday of the month under the leadership of their elected officers.  
Parish Programs
Sunday School
This program aims to provide spiritual nourishment to our youngest members  through  singing,  interactive reading and watching appropriate videos..  Average attendance is between 20 and 30 youngsters every Sunday.   Some Sunday School 'alumni'  are now  trained Sunday School teacher themselves, while others serve as acolytes and readers.
Scholarship Program (for University Students)
This program,  initiated by Brent School's  Project Compassion Club supports  a full time college student who is will graduate in April, 2017 and another who is now in her third year.  The program funds come from various Brent School clubs and private sources.
Education Assistance Loan Program (for University Students)
This program aims to support any student from a low-income family who is an active member of the parish and desires to pursue a College Degree.  Support is given in the form of interest free loans to be repaid once the student has graduated and gainfully employed.  The first student on this program will begin third-year studies this year.
Medical Emergency Fund
This program also aims to be able to provide cash for emergency purposes without any obligation from the recipient. This fund is taken from the fourth Sunday offering as well as private sources. Requests for help are evaluated by the vestry.
Parish Preaching Stations
Langkiwa
In 2015, the Pitong Gatang settlement from which most of our original members came was relocated in Langkiwa, a good 30 minute walk from Brent Chapel.  Some children still show up for Sunday School on Sunday mornings along with some adults. For those who can't find the time,   Deacon Mary Balitog visits regularly with the Celebration of Word and Communion one Sunday a month.   
Timbao
Timbao, where some of our members reside, is  located at some distance from Brent School. For those who find it hard to get to us on Sundays,   Deacon Mary Balitog visits once a month to conduct a  Celebration of Word and Communion.
Cavinti (Our Lady of Walsingham Preaching Station)
In 2012 Deacon Jonathan Britt and his wife Grace opened a preaching station on their property in Cavinti, Laguna.  Before long a small but regular congregation was formed which meets twice a month.  Deacon Jonathan conducts a Celebration of Word and Communion first Sundays, and Fr. Joe Mock celebrates the Eucharist on the third.