Day By Day
Try to "save the day" once in a while.
I am avid nature lover. And when I say "nature lover," I mean the beach, dinner alfresco, a road trip inside a car. I do not mean snakes or hiking. I believe that if God really wanted people to go camping, he would not have invented hotels. Everyone knows that's why He created the bear: to discourage camping. Tonight, I may have reached the pinnacle of my Nature Girl ways when I saved the Little White Owl.
I was driving home from dinner with the cousins at about ten o'clock, top down, just rolling along the quiet streets. Already it felt like the end of summer: no one was out walking; not one car passed me by. It was s if people were indoors, setting out their school clothes. Suddenly my head –lights locked on an animal smack in the middle of the road. Now, it's not that unusual to see a deer or coyote, a possum or pheasant around here. Last year I even saw a reverse skunk: white with a black stripe. (I did too.) So I simply veered left and drove around it. And then I thought, Was that what I think it was? I backed up slowly, so as not to scare the creature, and got him in my beams again. It was a little white owl.
First off: it was just so pretty. Darkness all around, and here was this bird, only about ten inches tall, I'll bet, with his head swiveling around, just like in a Disney movie. How had I never seen one before? He looked at me but wouldn't budge.
I know nothing about owls, so I didn't want to get out of the car and try to shoo him away. Perhaps he would pick me up with his nasty claws and carry me to some owly coven, where my eyes would be scratched out and I'd be left for dead. So I inched the car closer, to try to scare him off. No dice. Closer still. I thought maybe he had a little treat he was gnawing on that he didn't want to leave, but it didn't seem so. I didn't want to toot and scare him. So I just kept at it, inch by inch, really slow, until, at last, he flew off – not injured, as I had feared –and swooped up into some nearby trees.
Did I really save him? I felt like I had, that someone else might have just turned the corner and plowed right into him. Was it a magical, dreamy experience? Oh, yes, it surely was.
– taken from "One Good Deed" by Erin McHugh
12So they went to the king. They spoke to him about his royal order. They said, "Your Majesty, didn't you sign an official order? It said that for the next 30 days your people could pray only to you. They could not pray to anyone else, whether god or human being. If they did, they would be thrown into the lions' den, "The king answered, "The order must still be obeyed. It's what the law of the Medes and Persians requires. So it can't be changed." 13Then they spoke to the king again. They said, "Daniel is one of the prisoners from Judah. He doesn't pay any attention to you, Your Majesty. He doesn't obey the order you put in writing. He still prays to his God three times a day." 14When the king heard this, he was very upset. He didn't want Daniel to be harmed in any way. Until sunset, he did everything he could to save him. 15Then the men went as a group to King Darius. They said to him, "Your Majesty, remember that no order or command you give can be changed. That's what the law of the Medes and Persians requires." 16So the king gave the order. Daniel was brought out and thrown into the lions' den. The king said to him, "You always serve your God faithfully. So may he save you!" 17A stone was brought and placed over the opening of the den. The king sealed it with his own special ring. He also sealed it with the rings of his nobles. Then nothing could be done to help Daniel. 18The king returned to his palace. He didn't eat anything that night. He didn't ask for anything to be brought to him for his enjoyment. And he couldn't sleep. 20As soon as the sun began to rise, the king got up. He hurried to the lions' den. 20 When he got near it, he called out to Daniel. His voice was filled with great concern. He said, "Daniel! You serve the living God. You always serve him faithfully. So has he been able to save you from the lions?"21Daniel answered, "Your Majesty, may you live forever! 22My God sent his angel. And his angel shut the mouths of the lions. They haven't hurt me at all. That's because I haven't done anything wrong in God's sight. I've never done anything wrong to you either, Your Majesty." 23The king was filled with joy. He ordered his servants to lift Daniel out of the den. So they did. They didn't see any wounds on him. That's because he had trusted in his God. – Daniel 6: 12-23

Take care and God bless.
Fr. Benjamin A. Jance III
School Chaplain
Life Lesson
Prayers, Poems and Artworks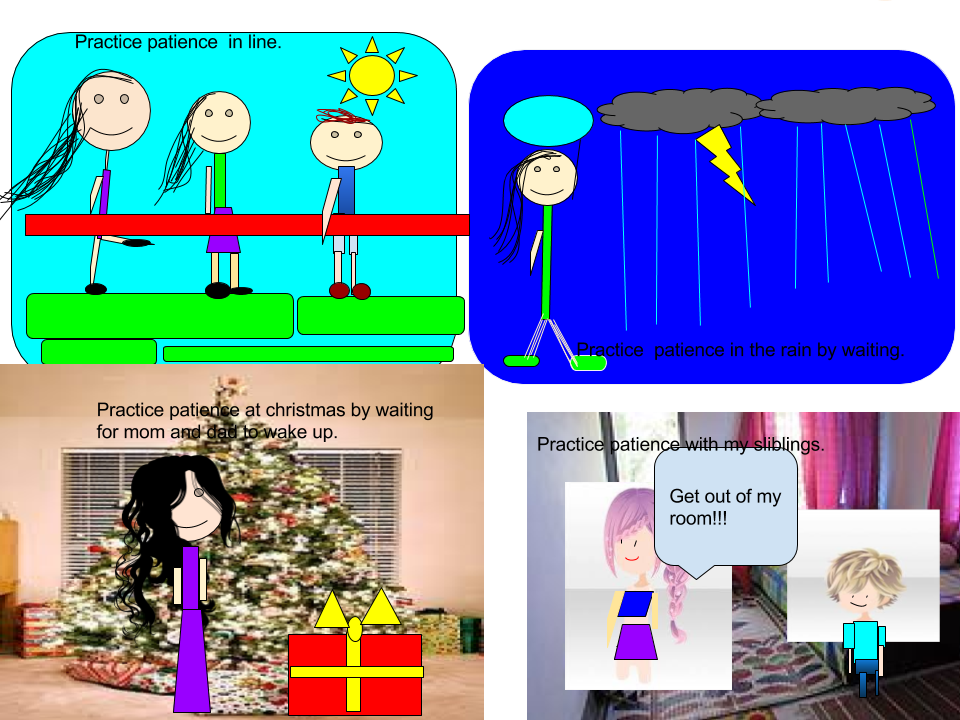 Saint of the Month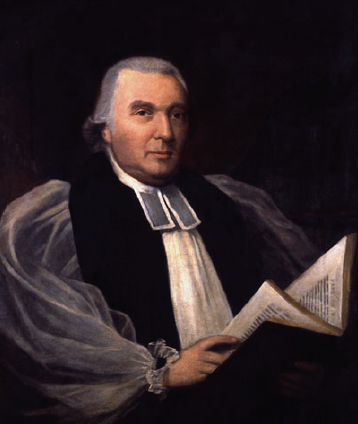 Samuel Seabury
The hard work of change demands flexibility, creativity and tenacity (Preacher: The Rev. Jennifer Andrews-Wieckerly, Nov. 14, 2013)

Today we honor the life and work of Samuel Seabury, First American Bishop of the Episcopal Church. Born in 1729 in Connecticut, and ordained priest in England in 1753, Seabury worked in New Jersey, Long Island and Westchester County, N.Y. During the American Revolution, he remained loyal to the British Crown and served as a chaplain to the British Army. In 1783, after the Revolution, Seabury was asked by Connecticut clergymen to seek episcopal consecration in England. He negotiated for a year, but could not obtain episcopal orders because as an American citizen, he couldn't swear allegiance to the Crown. He turned to the Episcopal Church in Scotland, which consecrated him bishop. In Connecticut, he was officially recognized as bishop in 1785. In 1792, he participated in the first consecration of a bishop on American soil.
Source: http://stmargaretepiscopal.org/worshipmusic/ sermons/samuel-seabury/
Monthly Calendar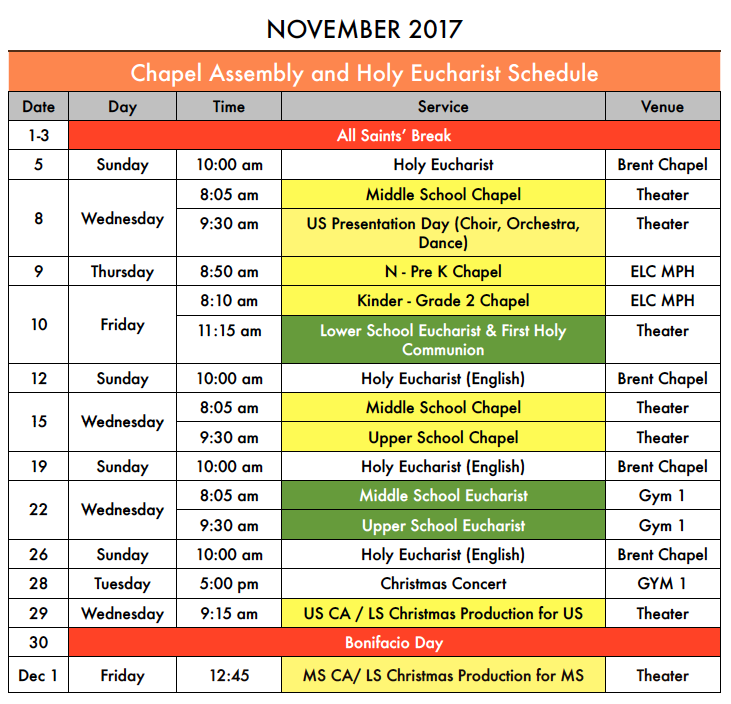 Brent Cares / Service Learning
Brent School has, over the years kept a strong Service Learning arm as an important part of its holistic approach to the Brent Educational System. Students, teachers, staff and administrators participate actively in the after school activity by giving of their time and resources in reaching out to those in need. The whole school goes into full support mode when the need arises, especially during the typhoon season. The generous time and preparations that everyone gives to those in need are concrete expressions of the values that Brent stands for.
We do what we can, wherever and whenever we can.
Brent Cares.
Holy Family Episcopal Church
Holy Family Episcopal Church is a parish of the Diocese of Central Philippines, one of the 7 dioceses that make up the Episcopal Church in the Philippines, an autonomous province in the world-wide Anglican Communion.  Our congregation came into being when in 2009 Brent International School, in accordance with the wishes of its founder, Bishop Charles Henry Brent that the school participate in the Church's mission, opened Brent Memorial  Chapel services to members of the surrounding local communities seeking a regular place of worship, whatever their denomination. The response was quite enthusiastic, and we  were admitted as an Organized Mission at the Diocesan Convention in March 2010 and up-graded to Aided Parish   in March 2012,  Today we form a lively and enthusiastic congregation with an average Sunday attendance of around 60, a thriving Sunday School and a very active women's group – and our acolytes are second to none!  Services are mostly in English though readings are frequently in Tagalog.  
Our present rector is Father Joe Mock, Academic Director at Brent School, who is assisted by   Deacons Mary Balitog and Jonathan Britt who handle the day-to-day affairs of the parish. Our bishop is  the Right Rev. Dixie Taclobao, Bishop of the Diocese of Central Philippines.
All regularly scheduled services at the chapel are open to both the Brent and the Holy Family communities.  Daily services are: Morning Prayer at 7:15 a.m.. Noonday Prayer at 11:30 a.m. and Evening Prayer at 3:30 p.m. Monday through Friday. The  Holy Eucharist is celebrated every Friday at 12:30 p.m. and at 6:00 p.m. on Saturdays. On Sundays, there is Morning Prayer at 8:30 and a sung Holy Eucharist at 10:30 a.m.  All services are according the the Book of Common Prayer of the Episcopal Church in the Philippines.
Parish Organizations
Youth Ministry (Samahan ng mga Kabataang Episcopal)
Our Youth Group is one of the most vibrant elements in our parish life.  They form a local chapter of of the National SKEP of the Episcopal Church in the Philippines, and are represented at the National and Diocesan meetings of that Organization.  Members of our youth group also participate in the life of our parish as
Sunday School Teachers (see below for Sunday School)  –  

Our Sunday School and our VCS (Vacation Church School), under the supervision of Deacon Mary Balitog  is run and taught exclusively by the older youth.

Acolytes  –  

Composed of young people, boys and girls,  between the ages of 8 and 19, the Holy Family acolytes assist at all parish Eucharists and are otherwise active in the life of the Church.  They are trained and supervised by Deacon Jonathan Britt  
ECW (Episcopal Church Women)  –  Early on, the women, the pillars of our church community,  organized themselves to form a chapter of the ECW and have since then been the heart of the community  . Beyond the traditional 'women's' tasks, which they perform with gusto,  ( washing  and ironing  church linens and vestments, polishing utensils etc)) they are instrumental in organizing most parish social events and  run highly successful  fund raising activities. They meet every first Sunday of the month under the leadership of their elected officers.  
Parish Programs
Sunday School
This program aims to provide spiritual nourishment to our youngest members  through  singing,  interactive reading and watching appropriate videos..  Average attendance is between 20 and 30 youngsters every Sunday.   Some Sunday School 'alumni'  are now  trained Sunday School teacher themselves, while others serve as acolytes and readers.
Scholarship Program (for University Students)
This program,  initiated by Brent School's  Project Compassion Club supports  a full time college student who is will graduate in April, 2017 and another who is now in her third year.  The program funds come from various Brent School clubs and private sources.
Education Assistance Loan Program (for University Students)
This program aims to support any student from a low-income family who is an active member of the parish and desires to pursue a College Degree.  Support is given in the form of interest free loans to be repaid once the student has graduated and gainfully employed.  The first student on this program will begin third-year studies this year.
Medical Emergency Fund
This program also aims to be able to provide cash for emergency purposes without any obligation from the recipient. This fund is taken from the fourth Sunday offering as well as private sources. Requests for help are evaluated by the vestry.
Parish Preaching Stations
Langkiwa
In 2015, the Pitong Gatang settlement from which most of our original members came was relocated in Langkiwa, a good 30 minute walk from Brent Chapel.  Some children still show up for Sunday School on Sunday mornings along with some adults. For those who can't find the time,   Deacon Mary Balitog visits regularly with the Celebration of Word and Communion one Sunday a month.   
Timbao
Timbao, where some of our members reside, is  located at some distance from Brent School. For those who find it hard to get to us on Sundays,   Deacon Mary Balitog visits once a month to conduct a  Celebration of Word and Communion.
Cavinti (Our Lady of Walsingham Preaching Station)
In 2012 Deacon Jonathan Britt and his wife Grace opened a preaching station on their property in Cavinti, Laguna.  Before long a small but regular congregation was formed which meets twice a month.  Deacon Jonathan conducts a Celebration of Word and Communion first Sundays, and Fr. Joe Mock celebrates the Eucharist on the third.