Recent News and Updates
Nemia Galeno
Looking ahead to next school year, our first day of school is Thursday, August 4. Please note that classes start [...]
Nemia Galeno
Please note that our offices will be closed on 4-8 July 2016 (Monday to Friday). We will be back to [...]
Brent International School Manila
Brent International School Manila is an international co-educational college preparatory day school,
Nursery to Grade 12, affiliated with the Central Diocese of the Episcopal Church in the Philippines.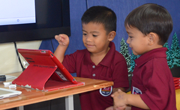 Developing the foundations of a high standard of academic excellence, a strong character founded on Christian values, and an international or global perspective.
Achieving the high expectations for our students by approaching school from a community perspective.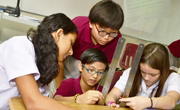 Preparing our students for Upper School and understanding the importance of balancing a rigorous academic program with their social and emotional needs.
Supporting our students on their road to maturity as they make the journey from adolescence to college via the rigorous IB program.
School Profile

"Brent Schools, in a Christian ecumenical environment in the Philippines, are committed to develop individual students as responsible global citizens and leaders in their respective communities, with a multicultural and international perspective, and equipped for entry to colleges and universities throughout the world."The Brent Manila family consists of students from over 40 different countries. With a Christian ethos, the school helps students become rational, intellectually curious and tolerant learners receptive to new ideas. While developing the talents and interests of students, the school seeks to instill a strong sense of values.
At A Glance
Brent International School Manila is equipped with state-of-the-art facilities that make learning environments more engaging and interesting.